Noah Reid Discusses Fighting for What's Right in Broadway's 'The Minutes'
Few people would argue that something is wrong with the way America is governed these days. What specifically is wrong is another matter. Tracy Letts' The Minutes, which has been nominated for a Tony Award for best play, tackles that problem head on. Everything seems routine, almost comically mundane as the titular minutes of the city council of Big Cherry are detailed in the minutest detail—that is until Mr. Peel, played by Noah Reid, returns after missing a meeting for his mother's funeral and starts to ask some uncomfortable questions. That they don't get answered raises more than a few eyebrows, if only in the audience.
Reid came to play the role of Mr. Peel when Armie Hammer left the production during the pandemic shutdown. Reid told Newsweek, "I got a phone call that there was interest in my joining the cast of this new Tracy Letts play. My jaw hit the floor. And they sent it over, and I gave it a read. I was thrilled to be able to even read a play like this, and then to consider being a part of it just felt like a total no-brainer. I mean, theater has been a massive part of my life—growing up and professionally. And Tracy may be the greatest American playwright of our time. It just was something I felt like I had to be a part of, and I couldn't believe that it had fallen into my lap."
Coincidentally, Reid also joined a group of actors who had been working together on the show for years and who are part of Chicago's famous Steppenwolf Theatre Company. While that could have made for some discomfort, the opposite turned out to be true.
He told Newsweek, "It's very interesting to be joining a group of people that have already established a rhythm. With Mr. Peel, it's not an inappropriate comparison in that I am coming into a group that knows each other quite well. This group of actors, this ensemble is truly an exceptional group of performers. And people have welcomed me in a way that was definitely unique. To rehearse a play when everyone is kind of checking back with what they've done a couple of years ago, and it's all new to me. But I wasn't being worked into a show; we were rehearsing a new show. And then Tracy, for his part, said that this is still a new play, that we are still working on a new play.
"That way of framing it gave me a lot of freedom to approach this as a new play and allow myself to explore it fully. And the beauty of the theater is that that exploration continues on some level throughout the run and deepens as we go."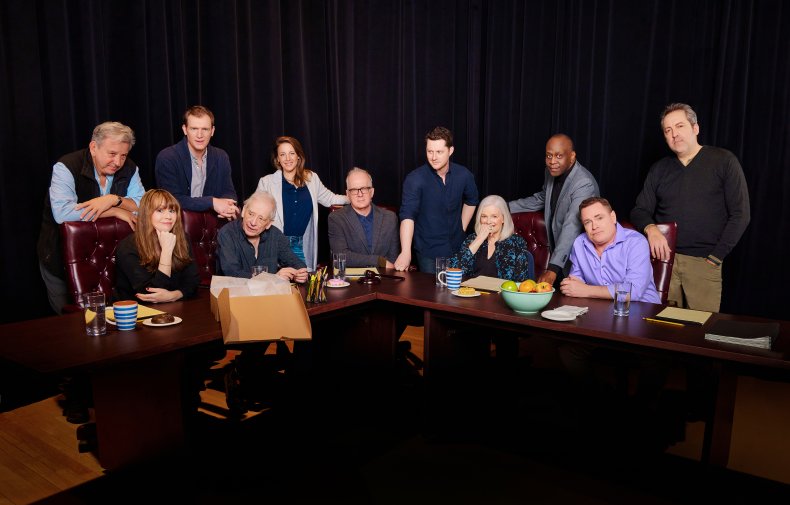 The person who saw something in Reid that fit the role of Mr. Peel was Minutes director and longtime Steppenwolf company member Anna Shapiro. She had apparently seen him on the classic television comedy Schitt's Creek. On that show, Reid plays Patrick, the love interest to Daniel Levy's David Rose. Reid is also the Alice in the Wonderland that was Schitt's Creek. In a more serious way, so too is Mr. Peel an Alice in the world of Big Cherry politics.
Reid told Newsweek, "Mr. Peel is learning the information as the audience is. He is the audience's access point to the story. He doesn't have the same information that they don't have. So, he's constantly playing catch-up. I think at the beginning of the play, he's really getting kind of ping-ponged around. And he's not quite sure why no one will talk to him about what happened at the last meeting.
"He was at his mother's funeral. He's kind of trying to be professional and leave his personal stuff at the door. And yet no one's being very clear with him about what's going on. So, I feel like part of the fun of it for me is that I get to feel the audience not knowing what it is that I don't know. And we get to kind of discover things together."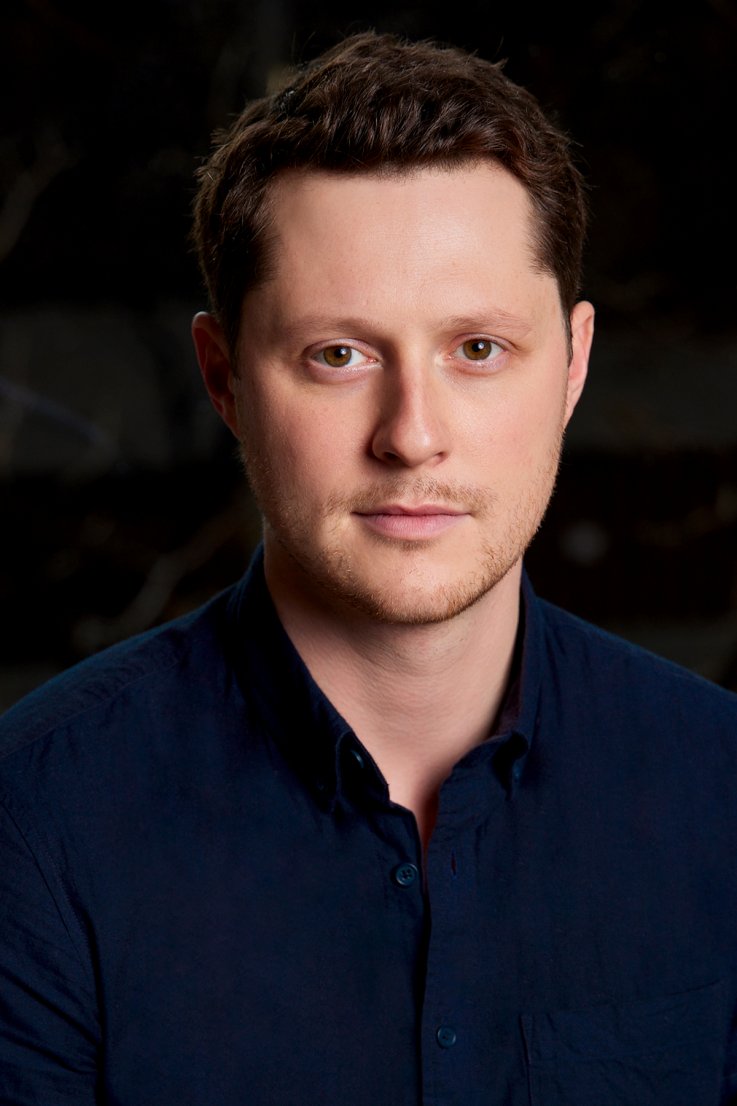 Noah Reid slips quite easily to the cast of The Minutes, as an outsider who asks a lot of tough questions about how government is run.
Jeremy Daniel
While The Minutes has always been relevant, what makes that especially true these days is due to circumstances beyond everyone's control. Reid told Newsweek, "What feels relevant to me in this play is about how we make decisions on the minute level, on a person-to-person level, and what part we all play in that, where our complicities lie and what we're willing to stand up for. And what we're willing to let go by—and how much of that can we compartmentalize. So, there have been structural things in the writing that have shifted a little bit to make the play feel very present."
The play has an undercurrent of danger or menace that one often associates with Alfred Hitchcock or Shirley Jackson, especially in her classic short story, "The Lottery." But if there is that undercurrent of menace, Reid says that "Mr. Peel is less concerned about his safety than he is concerned about the safety of society that is hinging upon his doing the right thing and being a force for good in this room. It feels to me like that's what's at stake here is not 'Will I be OK or will I not be OK?' It's 'Will we be OK?' It's 'How can we let this continue? How can we basically stand up and say, 'No, that's not gonna happen while I'm here'? This is: We're not going to redo Nazi Germany on my watch. Somebody has to stand up and say, 'That's not happening.'"
This year, as much as any in recent memory, there has been a call in the New York theater community for an ensemble award; and nowhere is that call louder than with The Minutes, which is in the unique position of being nominated for a best play Tony and nothing else. That Reid has fit in so easily to this ensemble speaks to the quality of the writing, Shapiro's direction and the strength of Reid's performance as a person who steps up to ask all the wrong questions at just the right time.
The Minutes is now on stage at Studio 54, 254 West 54th Street, For tickets and more information go to TheMinutesBroadway.com.