Nobel Prize-Winning Economist Calls Trump '2,000-Lie Man' After Getting 'Fake News' Award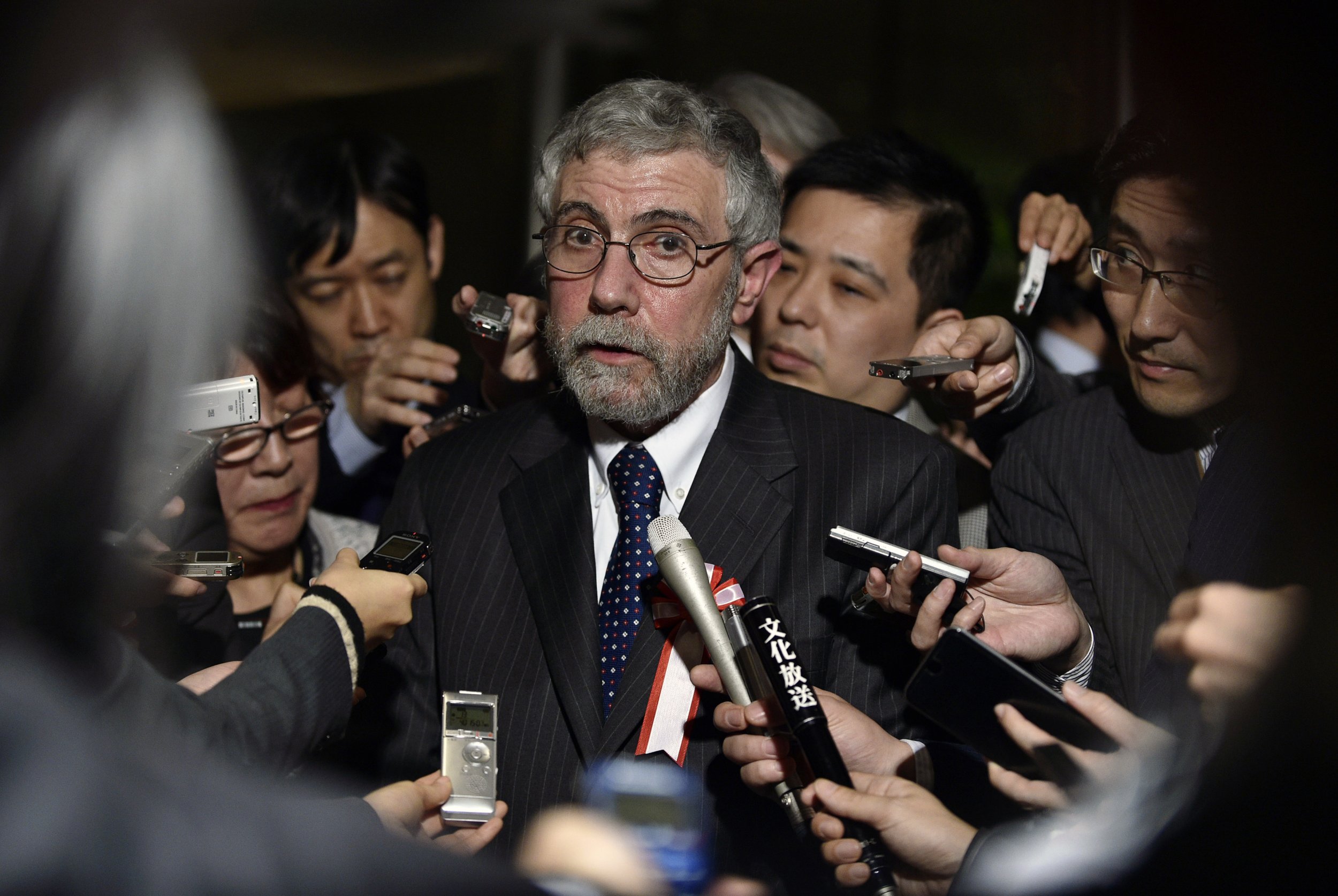 A Nobel Prize-Winning economist given the number one spot in President Donald Trump's "fake news" awards has shot back at Trump, noting that the claim the president took issue with has long since been withdrawn.
Trump handed out the controversial awards hosted on the Republican Party's website Wednesday, after Republican Senators Jeff Flake and John McCain of Arizona condemned the move for chipping away at freedom of speech and likened it to actions under an authoritarian regime.
Prize-winning economist Paul Krugman, who is also a columnist for The New York Times, pushed back against his naming in the top spot early Thursday.
"I get a 'fake news award' for a bad market call, retracted 3 days later, from 2000-lie man, who still won't admit he lost the popular vote. Sad!" Krugman, who won the Nobel Prize in 2008 his work on international trade economic models, wrote on Twitter Thursday.
By "2000-lie man" Krugman appeared to refer to the more than 1,000 verifiably false claims Trump has made since his inauguration being tracked by The Toronto Star .
The day Trump won the 2016 election Krugman wrote in a short piece that the world was "looking at a global recession, with no end in sight."
Read more: Trump's fake news awards: Newsweek clinches 8th place, but the president misses even more critical and longer stories
Days later Krugman wrote in his column that "I am retracting that call, right now. It's at least possible that bigger budget deficits will, if anything, strengthen the economy briefly."
American businesses have largely benefited from corporate tax cuts and the rollback of regulations under the Trump administration. The stock market has also soared.
"What this pathetic list really shows is that anti-Trump 'fake news' is like farms broken up by the estate tax: they're sure it happens, but can't find any real examples," Krugman wrote on Twitter.
The Washington Post carried out a fact-check on whether the "fake news" award winners really met the definition of "fake news."
According to a Gallup/Knight Foundation study published Tuesday, Americans mostly think of "fake news" as false information that is published knowingly.
The same study found "four in 10 Republicans consider accurate news stories that cast a politician or political group in a negative light to always be 'fake news.'" So Americans have differing definitions of what constitutes "fake news."
A Newsweek story about whether Polish First Lady Agata Kornhauser-Duda shook Trump's hand during his trip to Poland last summer came in 8th place in Trump's awards. The story was quickly corrected after an extended clip of their meeting was released.
Eight of the eleven stories named in the awards were misreported and quickly corrected. One CNN report about Anthony Scaramucci's meeting with a Russian led to the resignation of three employees and another saw a reporter suspended. Two awards went to tweets that were corrected, and Krugman's piece was a prediction that he then retracted.