Man Digs Out Nokia 3310 and Plays All the Classic Ringtones: 'Flashbacks'
Any millennial will remember chunky brick phones, which were the height of technology at the time with customizable cases and a battery charge that would last for a week.
The Nokia 3310, and later the 3410, were the ultimate must-have accessory, and as teens we wasted hours playing Snake, downloading ringtones and perfecting texting under the table.
Just like modern-day devices, each handset came with a pre-programmed list of sounds, which one man is delving through after switching on an old 3310.
Stephen Smith has been taking people on a trip down memory lane as he shared tunes and features of the now-archaic device to his TikTok page, @buffsteve24.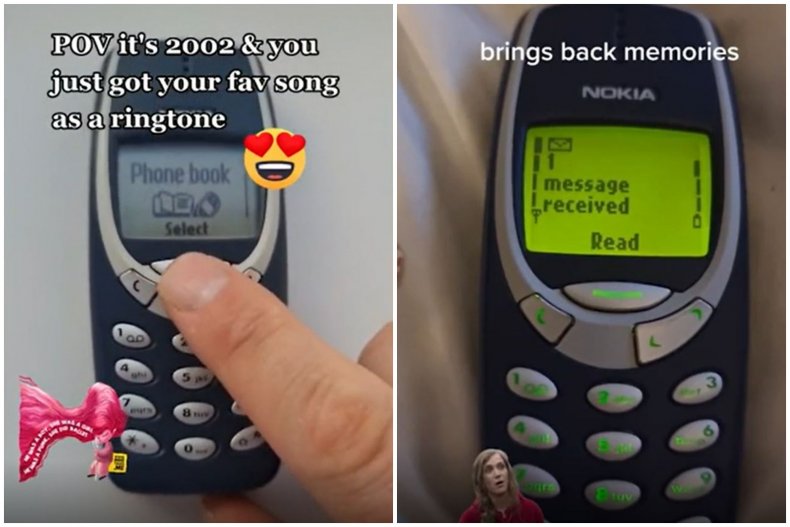 His bio, which says "love the 90s & 2000s, let me take you on a nostalgic journey," doesn't fail to deliver, as he played classics including The Buffoon and Mozart 40.
While he also blasted out "Groovy Blue and the timeless Nokia tune, as well as the notification for a text message.
And anyone who was into music was able to get their favorite song as a ringtone, as Smith played a banger from the era, Avril Lavigne's "Sk8er Boi."
"POV [point of view] it's 2002 & you just got your fav song as a ringtone," he captioned the clip.
Smith, from the U.K., told Newsweek: "I like to collect old phones, consoles, et cetera. I used to use a Nokia 8810 as my work phone up until a couple of years ago when I had to replace with something modern that I could get emails on, that was an iPhone 7.
"The charge lasts about a week but I mainly only use it to play Snake or Space Impact on these days. I love these phones, so rather than it been forgotten about in a drawer or cupboard somewhere I thought I'd keep it with me just to play the games on.
"The first TikTok with the phone I did was the "Sk8r Boi" Avril Lavigne ringtone one and never thought anything of it until I checked my smart phone, which ironically is always on silent, and I saw literally thousands of notifications. Everybody commenting about the nostalgic feelings it brought back to them, so I thought if people wanna hear 20-year-old ringtones, who am I to deny them."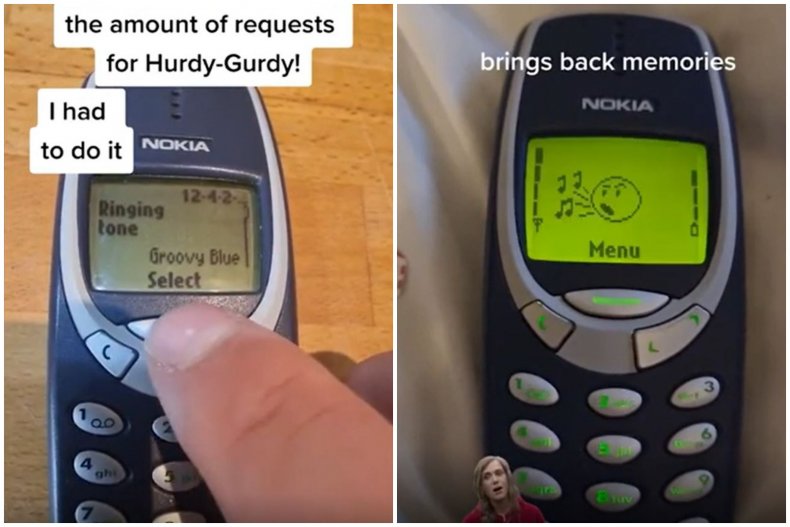 The video, shared in April, amassed more than 900,000 views, while the text message tone, posted earlier this month, racked up more than 950,000 views.
While the popular Hurdy Gurdy tune has been seen more than 900,000 times since being posted on Tuesday.
Numerous people commented on the clips, with many claiming the sounds brought back fond memories.
The Druid commented: "Memory unlocked."
Twbarber88 admitted: "I think that was the first time I'd heard that in 20 years."
Sammi Daniels asked: "Anyone else miss having the simplicity these phones give you. This was my 1st ever phone."
Nolandekoker said: "I need this now as my ringtone."
"Damn [...] flashbacks," 187 commented.
Ryan Roberts wrote: "Oh my god . Even the keypad tones took me back to my teenage years and my first mobile phone."
Bradngcobo raved: "The best phone I ever had."
While Jaun-marie Cooper added: "Best memories ever."
The Nokia 3310 was launched in 2000, and was one of the most successful models of its time.
Website Business Chief explained its appeal, saying: "Durable, sophisticated looking for its time and with an updated version of 'Snake,' the phone also incorporated a number of new ringtones and various technologies.
"Enabling longer messages to be sent, the phone was one of the first phones which could be customised and incorporated a number of new features, such as a calculator and stopwatch.
"The 3310 became the one gadget all millennials wanted, and became a bestseller through its durability and appeal to mass audiences."
Such is its reputation, Nokia revealed it was launching an updated model in 2017, costing £59.99 ($74), with the tagline on the website "the icon is back."
Update 5/12/22, 5:41 a.m. ET: This article was updated with comment, photos and video from Smith.