None of the 132 Passengers Survived China Plane Crash, State Media Says
Rescue crews have come up emptyhanded searching for survivors of a crashed China Eastern Airlines passenger plane carrying 123 passengers and nine crew members.
Chinese state media said Tuesday morning local time that no one on board had been found 18 hours after the aircraft descended rapidly and lost contact in a mountainous area of the southern Guangxi Zhuang region.
"Wreckage of the plane was found at the scene, but up until now, none of those aboard the plane with whom contact was lost have been found," state broadcaster CCTV reported Tuesday morning, according to the Associated Press (AP).
The Boeing 737-800 aircraft was headed toward Guangzhou from Kunming and crashed near the city of Wuzhou at 2:38 p.m., causing a mountain fire, reports the Xinhua news agency.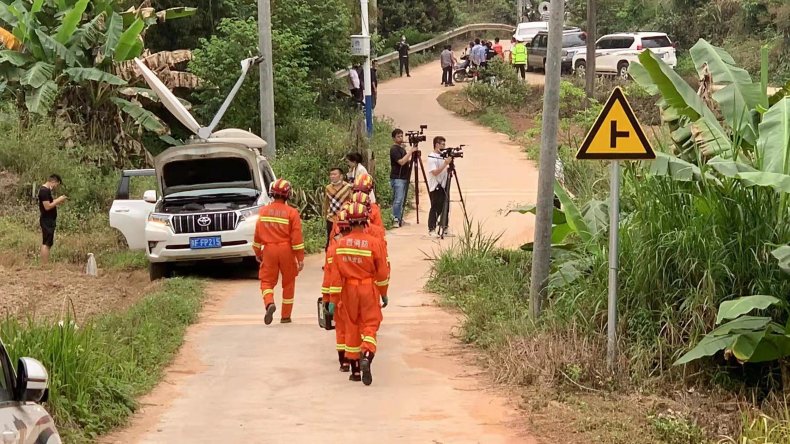 The China Eastern Airlines Boeing 737-800 aircraft, which departed from Kunming and was bound for Guangzhou, crashed into a mountainous area near the Molang village in Tengxian County in the city of Wuzhou at 2:38 p.m., causing a mountain fire, according to the department.
A video of the incident posted online shows the Boeing 737-800 plunging to the earth in what is believed the be the worst plane crash in recent Chinese history. Data from Flightradar24 shows that the aircraft was traveling at an altitude of 30,000 feet. At 2:20 p.m. local time it abruptly began losing altitude and two minutes later was plunging almost vertically to the ground at a speed of 31,000 feet per minute.
Chinese President Xi Jinping ordered an extensive search and rescue for any survivors that involved nearly 1,000 firefighters and more than 100 other emergency workers, according to Guangxi's fire department.
ChinaAviationReview posted state media photos on Twitter showing debris scattered about with little of the aircraft still recognizable.
China Eastern Airlines announced it would ground all of its Boeing 737-800 aircraft in response to the crash.
The crash came nearly four years after Boeing received widespread criticism when two of its newer-model 737 MAX aircrafts crashed. One plane came down in Indonesia in late 2018 and a second crashed in Ethiopia, killing a total of 346 people.
Previously, Boeing has come under fire after two of its newer-model 737 MAX aircrafts crashed. On in Indonesia in 2018 and another in Ethiopia, which killed 346 people. Since 1997, the 737-800 aircraft has had just 11 fatal accidents out of more than 7,000 planes delivered, Bloomberg reported.
A spokesperson for Boeing told Newsweek on Monday that the company is "aware of the initial media reports and are working to gather more information" on the crash.