Nooses Found Hanging in Oakland Will Be Investigated as Hate Crime
A hate crime investigation was announced Wednesday in Oakland, California after nooses were discovered hanging from trees near Lake Merritt.
Oakland Mayor Libby Schaaf announced the investigation as authorities further south conducted homicide investigations into the deaths of two black men, both of whom were found hanging from trees in Southern California.
"Symbols of racial violence have no place in Oakland and will not be tolerated," Schaaf said in a statement.
"We are all responsible for knowing the history and present day reality of lynchings, hate crimes and racial violence," the statement continued. "Objects that invoke such terror will not be tolerated in Oakland's public spaces."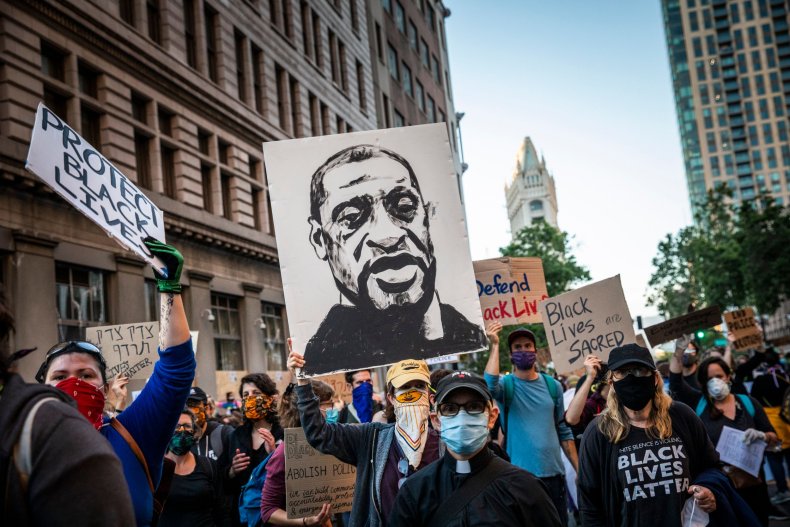 Schaaf said in a post on Twitter the nooses had been removed. The Oakland Police Department did not respond to Newsweek's request for comment in time for publication.
Less than 400 miles south, authorities on Monday announced the FBI and California Attorney General Xavier Becerra will both oversee an investigation into the death of 24-year-old Robert Fuller. Fuller's body was found hanging from a tree near the Palmdale City Hall on June 10, just 10 days after 38-year-old Malcolm Harsch's body was found hanging from a tree near the Victorville City Library.
Authorities have so far said there is no evidence of foul play in the deaths of Fuller or Harsch. But early moves to label both as suicides earned fast criticism, with some demanding independent investigations into both cases.
Like many cities across the country, Oakland has been a hotspot for protesters demanding an end to violence against black Americans and systemic racism in policing policies. The protests began in earnest after a video surfaced of the death of George Floyd, a 46-year-old black man who died in Minneapolis police custody on May 25. The names of other black Americans who have died after interactions with police were quickly added to the movement's rallying cries for change.
Though Floyd's brother has called for peaceful protests, violence and looting erupted in the days after his death, causing many city leaders to introduce temporary curfews in attempts to prevent further destruction. According to a letter the Oakland Police Department published on its Facebook page, more than 300 people were arrested by June 10. By that same date, the department said an estimated 200 businesses had been targeted by looters and 137 arson fires were set within the city.
As Schaaf announced the hate crime investigation into the nooses found in Oakland, local leaders throughout the country were confronting other symbols of racism that remain in American society. In Mississippi, lawmakers began drafting legislation to remove the Confederate symbol currently incorporated in the corner of the state's flag. Several other states—including California—have also taken steps to take down controversial statues as protesters demanded the removal of public nods to historical figures like Robert E. Lee and Christopher Columbus.