A bipartisan group of Mississippi lawmakers has been drafting legislation to replace the state's current flag, a banner that contains a miniature version of the Confederate flag, with a starry blue design called the Stennis Flag.
However, Republican Governor Tate Reeves has vowed to veto the legislation, preferring to leave the decision up to voters. In a 2001 ballot measure, Mississippi voters chose not to replace the flag by a margin of 2-to-1.
Racial justice activists in the state have long sought to replace the flag since it displays the flag of Confederate soldiers who fought to keep black people enslaved in the United States.
"Myself, and so many other people my age, can't be black or an activist and be silent on Confederate symbols such as the flag," 22-year-old black activist Jarrius Adams told CBS News.
"For so many people it represents this history that was not welcoming of our community, not inclusive, and in many cases just disregarded the contributions that our people have made to Mississippi and the nation," Adams said.
For Adams and other activists, it's painful to see the current state flag flying in front of the state capitol, its courthouses, schools and other government buildings.
The legislation to replace the flag, which was referred to the Senate Constitutional Committee on Monday, seeks to replace it with the Stennis Flag, a design that shows 19 blue stars surrounding one large star.
The Stennis flag, meant to commemorate the state's 1817 induction into the United States, bears the name of its designer, Laurin Stennis. She's the white granddaughter of late U.S. Senator John C. Stennis, a segregationist who opposed any advancement of black civil rights.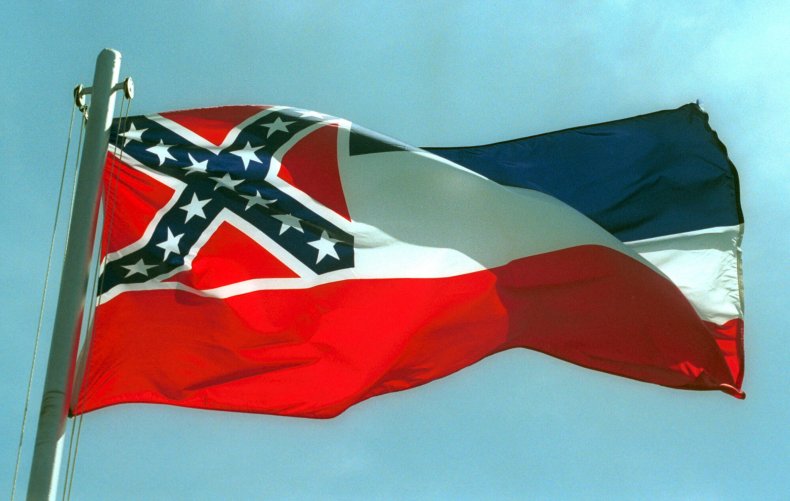 It's unclear how much support the proposed legislation will find in the state's Republican-led Senate and House of Representatives since lawmakers will need a veto-proof majority to defeat the governor's pledge to sink such a law.
But the legislation is happening in a social climate where people have allied against public Confederate emblems. On June 6, the U.S. Marine Corps issued a ban on Confederate flags on any of its installations. Three days later, the U.S. Navy issued a similar ban. On June 10, the national car racing organization NASCAR banned the flags at their events. On June 11, a bipartisan group of federal legislators drafted a proposal to rename military bases named after Confederate commanders.
Approximately 44 percent of Americans think Confederate monuments and statues should be left standing. But while a majority associate the Confederate flag with southern heritage rather than racism, three political science professors—Logan Strother, Thomas Ogorzalek and Spencer Piston—told The Washington Post that Confederate flags largely reappeared in American society during the '60s civil rights era due to southern white supremacists who opposed legislation meant to integrate blacks into white schools and neighborhoods.