When 'Nope' Will Be Streaming
Nope has been many film fans' most anticipated movie of the year, and it is nearly here.
The release date of Jordan Peele's third movie in the U.S. is July 22, at which time the countdown to its streaming premiere begins.
The Daniel Kaluuya and Keke Palmer-starring movie may have been shot in IMAX, but will still be available to watch online soon.
Here's where and when Nope is expected to stream.
Where Will Nope Stream?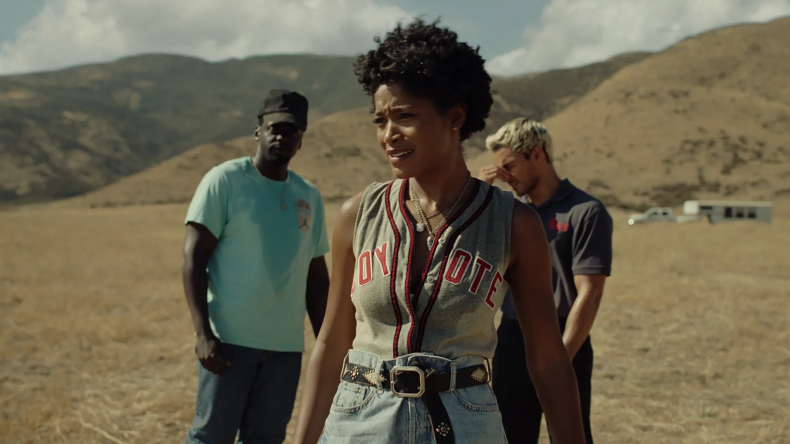 As a movie distributed by Universal, Nope is expected to come to the NBCUniversal streaming service, Peacock.
Peacock is currently available in the following countries: United States, United Kingdom, Ireland, Austria, Germany, Italy and Switzerland. Where Nope streams elsewhere in the world will depend on what local deals Universal has in place.
Though Peacock has a free tier in many countries, the film will only be available to those on one of the two paid Peacock Premium packages.
When Will Nope Be Available to Watch Online
Among the streaming services affiliated to the major Hollywood studios (Peacock and Universal, HBO Max and Warner Bros, Paramount+ and Paramount and Disney+ and Disney), 45 days is becoming the usual window between a film being released in cinemas and on streaming.
If Nope follows this pattern, its streaming release date should be Tuesday, September 6 in the U.S. —or September 9 if Peacock follows the example of other streamers and waits until the Friday to release the movie.
There are two major reasons why the film might not come out in September.
The first is that the film has different cinematic release dates in different countries. In the U.K., for example, the movie comes out three weeks later than it does in the U.S. (August 12). This could mean that Universal chooses one global streaming release date for Nope, 45 days after its latest cinematic premiere. Forty-five days after August 12 would be Tuesday, September 27.
The second is that some big releases have waited longer to come to streaming than 45 days. Top Gun: Maverick, for example, did not arrive on Paramount+ on Tuesday, July 19. Some 2021 Marvel films also waited longer than 45 days (though not the most recent Doctor Strange in the Multiverse of Madness).
There is some good evidence that Nope will follow Top Gun: Maverick and get a later streaming release. In December, Universal announced that a number of their movies would follow this new 45-day rule. However, they said at the same time that their big summer blockbusters would not follow it.
Which category Nope is in is not quite clear. It was not on the list of movies that Universal said would come to Peacock after 45 days (which include recent films like The Black Phone, Ambulance and The 355), but it was also not mentioned specifically as a film that would skip the 45-day rule like Jurassic World: Dominion or Minions: The Rise of Gru.
What does this mean for Nope? That it will probably depend how much the movie makes in theaters. If it can match the $250 million-plus that both Get Out and Us, Peele's previous films, made at the box office, viewers may be in for a longer wait. If it is a relative box office disappointment like Universal's similarly epic The Northman, it could follow that film and get a 45-day cinematic window.
Per IGN, Nope is part of the list of movies coming to Peacock after a longer window. These films are set to come to the streamer within four months of their release, which means that it might not be streaming until November 2022.