North and South Korean Leaders Embrace Each Other as Korean Summit Begins, Denuclearization and Improved Ties Most Critical Issues
North Korean leader Kim Jong Un hugged his South Korean counterpart, Moon Jae-in, as they met in Pyongyang for a third summit, which carries with it high hopes for cooperation on the peninsula.
Moon and his wife, Kim Jung-Sook, got a rousing reception when they arrived on Tuesday at Pyongyang's Sunan International Airport.
Thousands of North Koreans holding flower bouquets waved national and unification flags, and a military band played a rousing march as the couple came off the aircraft.
The Guardian reported that the crowd appeared bored as it waited but then became hysterical at the sight of their leader.
Moon is only the third South Korean leader to visit Pyongyang for a summit since the end of World War II.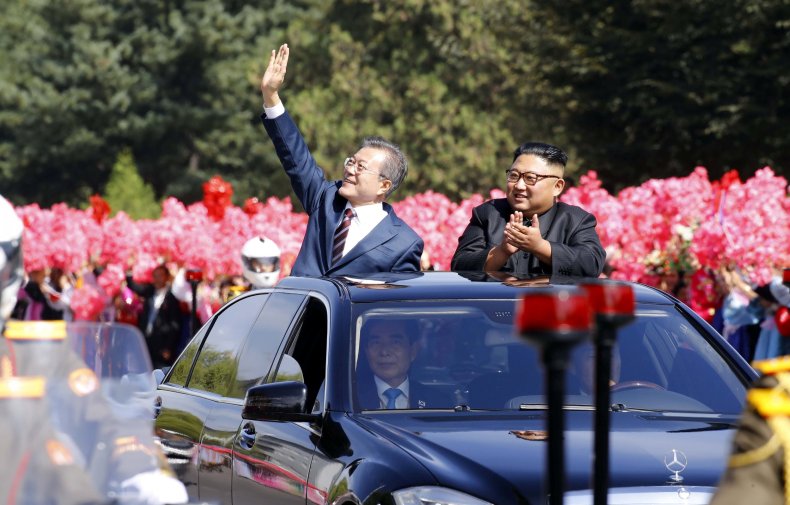 They will focus on steps to advance the Panmunjeon Declaration signed in April 2018 to end the Korean conflict and denuclearize the peninsula.
They will also discuss ways to jump-start the U.S.-North Korean talks on denuclearization and peace, which have stalled since the Trump-Kim Summit in Singapore.
However, Moon's chief of staff played down the chance that the summit would produce major progress in nuclear diplomacy, NBC News reported.
Kim is also looking for greater economic cooperation with the South, as well as sanctions relief.
The leaders previously held talks in the shared border village of Panmunjom and want Washington to formally sign off on the end of the Korean War.
Daryl Kimball, executive director of the Arms Control Association, told Newsweek that Kim would not give up nuclear weapons if he believed doing so would compromise North Korea's security.
"Progress on denuclearization steps, such as a freeze on fissile material production and a declaration detailing North Korea's program, depends on U.S. support for a joint political declaration on the end of the Korean War," he said in a statement.
Thomas Countryman, former U.S. assistant secretary of state for international security and nonproliferation, told Newsweek in a statement that it was too early to conclude that denuclearization could happen soon.
"There are dozens of reasons to distrust North Korea's approach to negotiations and to doubt the capability of the Trump administration to negotiate a meaningful, verifiable denuclearization of North Korea.
"But the pursuit of negotiation is far preferable to simply sleepwalking toward war, as we seemed to be doing a year ago," he said.