North and South Korea Are Now in Communication '24 Hours a Day' for First Time Since War
The long-divided Koreas have opened a shared communications center, allowing them to stay in touch around the clock, all year long for the first time since the 1950s war that pitted them against one another.
More than 50 officials from North and South Korea attended Friday's inauguration of a joint liaison office on the North Korean border town of Kaesong, in an unprecedented sign of improved ties as the two sides searched for the peace that has long eluded the Korean Peninsula. The two men tasked by each rival government with unifying the neighbors hailed the event as an historic occasion.
"The inter-Korean joint liaison office is a channel for round-the-clock communication in the new era of peace," South Korea's Unification Minister Cho Myoung-gyon said in a speech, according to official Yonhap News Agency. "From today, South and North Korea can have direct consultations 24 hours a day and 365 days a year over issues relating to advances in inter-Korean relations, peace and prosperity on the Korean Peninsula."
The outlet also cited Ri Son-Gwon, chairman of North Korea's own Committee for the Peaceful Reunification of the Country, as saying the development meant that "both sides are able to discuss any issues arising in their relations in a speedy and heart-to-heart manner and figure out necessary countermeasures."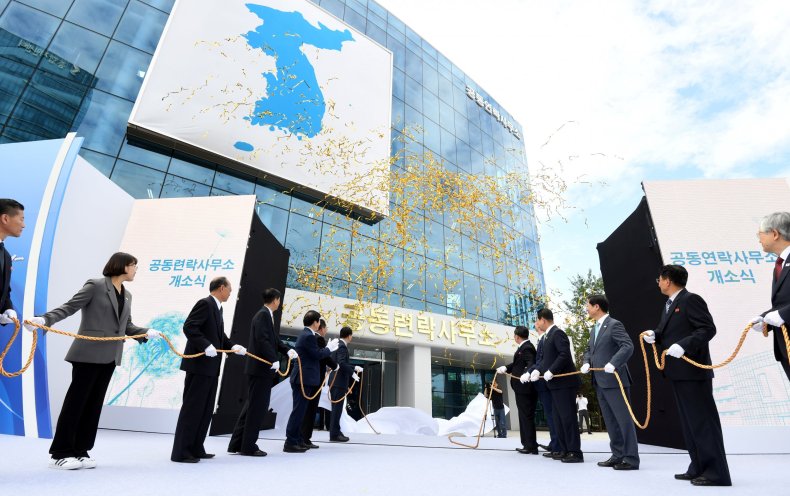 The U.S. has played a leading role in attempting to end the Cold War-era feud between its ally, South Korea, and longtime foe, North Korea. However, officials have expressed concerns over the latter's promise to abandon the nuclear weapons that the ruling Kim dynasty has long argued were necessary for the nation's self-defense. After a year of tense exchanges between North Korean supreme leader Kim Jong Un and President Donald Trump, the two have vowed to pursue peace in a historic process that already saw the first-ever bilateral summit between the nations in June.
While Trump has publicly expressed faith in Kim's pledge to denuclearize, he and his administration have criticized the pace at which relevant facilities were being dismantled. The president canceled what would have been Secretary of State Mike Pompeo's fourth visit to Pyongyang last month, citing insufficient progress and an ongoing trade conflict with China. The joint liaison office was also supposed to be opened last month, but the U.S. reportedly postponed the move as its negotiations with North Korea stalled.
Nevertheless, South Korea has moved ahead with high-level talks and prioritized diplomatic ties. Earlier this month, a South Korean presidential delegation returned from Pyongyang bearing reassurances of Kim's commitment to the denuclearization process as well as Trump's own leadership, to which the president responded positively on social media.
Kim followed up by sending Trump a new letter earlier this week that included a "very positive" message requesting further talks. White House spokesperson Sarah Huckabee Sanders told reporters Monday that the administration "is open to and are already in the process of coordinating" another meeting between the two world leaders.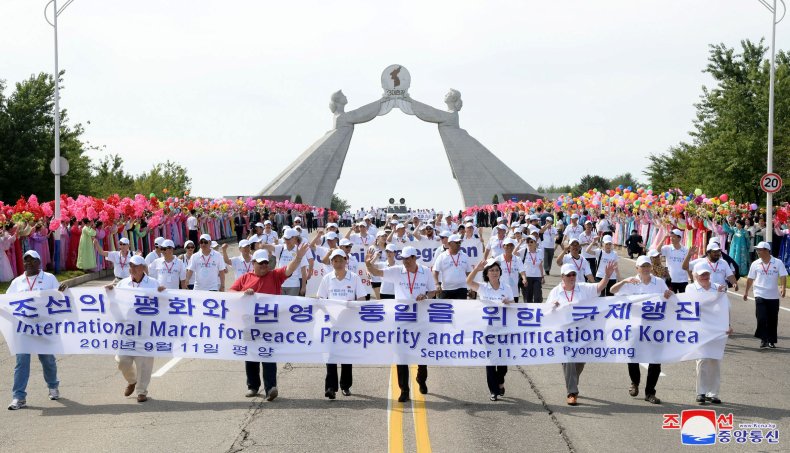 In addition to the joint liaison center, the two Koreas have also restored military communication lines. South Korean President Moon Jae-in has said he was looking into uniting North and South Korea by rail and pursuing joint infrastructure and energy projects. Moon also announced he would take the "audacious" step of working toward a peace treaty that would officially end the Korean War, something that Pyongyang has been pushing for.
South Korea's Unification Ministry set the date Friday for Moon's next visit to North Korea, announcing that the leader would fly over the Yellow Sea directly to Pyongyang on Tuesday to participate in what would be the third meeting between him and Kim and the fifth inter-Korean summit ever. An official website was also launched to facilitate international coverage of the event.