North Korea's Kim Jong Un Looks Really Happy to See South Officials, Even if U.S. Didn't Show
North Korean supreme leader Kim Jong Un was seen laughing and holding hands as he greeted and dined with a senior delegation from longtime foe South Korea, less than two weeks after the U.S. canceled a visit intended to advance peace talks.
Kim received on Wednesday representatives of South Korea President Moon Jae-in, including top security adviser Chung Eui-yong, ahead of an unprecedented third meeting between the two leaders scheduled for later this month. Chung delivered a letter from Moon to Kim and discussed setting a date for the pair to sit down for what would be the sixth inter-Korean summit since the neighbors were split by Cold War powers and went to war in the 1950s.
Despite U.S. reservations about the pace at which Kim was dismantling the nuclear program he had previously lauded as essential to his country's survival, Moon has pushed ahead with efforts to realize an elusive peace with rival North Korea.
"As the President said yesterday, the present moment is very crucial for a peace settlement on the Korean Peninsula. In addition, peace on the Korean Peninsula must be pursued alongside complete denuclearization," Chung told reporters Tuesday. "Keeping this in mind, my delegation will make its best efforts to live up to the people's expectations."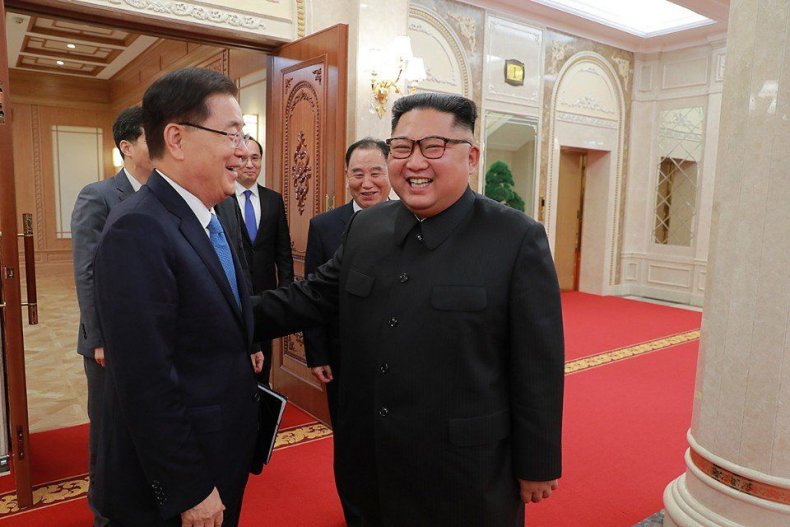 In a statement released Wednesday, South Korea's presidential Blue House said that "the special envoy, accompanied by a letter from President Moon Jae-in, met with Chairman Kim Jong-un to deliver it and exchange their opinions. The special envoys reported to the president the results of the visit and visited the presidential office immediately after returning."
After mounting, fiery rhetoric between North Korea and the U.S. throughout 2017, Kim set out on a series of peace talks with Seoul that eventually led to a reunion with Moon in April. The meeting produced the Panmunjom Declaration, a mutual commitment to settle the decades-long Korean conflict, and was followed by a second summit in May and the first-ever meeting between a North Korean leader and sitting U.S. president in June.
President Donald Trump has hailed Kim's efforts to abandon the nuclear weapons that have drawn international sanctions against the authoritarian state, but reports suggested that the process was not moving as quickly as the U.S. anticipated. Despite Kim's freeze on nuclear and missile testing, razing of certain sites associated with such tests, releasing U.S. prisoners and returning the remains of U.S. soldiers killed during the Korean War, the U.S. has maintained that no peace treaty would be signed or economic restrictions lifted until North Korea had fully denuclearized.
Last month, Trump suddenly canceled a planned fourth visit by Secretary of State Mike Pompeo to North Korea, saying, "I feel we are not making sufficient progress with respect to the denuclearization of the Korean Peninsula." He also blamed China, North Korea's longtime ally, for responding to U.S. steel and aluminum tariffs with retaliatory measures in a back-and-forth duel that threatened to erupt into an all-out trade war.
Trump added, "Secretary Pompeo looks forward to going to North Korea in the near future, most likely after our Trading relationship with China is resolved. In the meantime, I would like to send my warmest regards and respect to Chairman Kim. I look forward to seeing him soon!"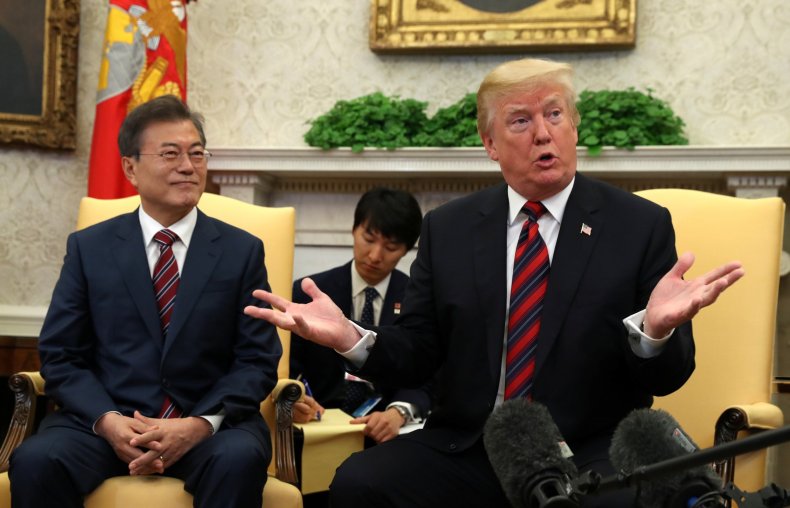 Trump and Moon spoke Tuesday ahead of Chung's visit, and the White House said the two leaders agreed to meet during the time of the United Nations General Assembly set to take place later this month in New York. With the U.S. stepping back, Moon has been asserting his own role in the dialogue with North Korea. He has vowed to make an "audacious" step toward declaring an official end to hostilities with Pyongyang as well as establishing a number of joint ventures designed to unite the two Koreas via their economies, infrastructure and energy projects.
The South Korean Defense Ministry has also floated plans to remove troops from the world's most heavily guarded border that separates it from North Korea, and it has considered getting rid of text that refers to the country as "our enemy" in Seoul's biennial defense policy paper. While the U.S. has prioritized removing North Korea's nuclear weapons, Moon's liberal leadership has more urgently sought to maintain diplomatic ties and create peace with Kim's government.
This push has been opposed by South Korean right-wingers, such as the Liberal Korea Party, which has criticized Moon's progressive peace plan. North Korea has often condemned what it calls "conservative forces" in South Korea. In a commentary published Wednesday, North Korea's official Korean Central News Agency called organizations like the Liberal Korea Party "a disgrace to the nation and a tragedy."
"The conservative group which sets itself against the national harmony and reunification is the very principal enemy common to the nation which should be buried by the Korean nation as soon as possible," the commentary read. "The conservatives who try to find a way out in stoking confrontation with fellow countrymen and destroying inter-Korean relations should be liquidated at an early date."