How Is Donald Trump Doing on North Korea? Kim Jong Un Wants to Meet Again and Has a New Message for U.S.
President Donald Trump has begun planning a second meeting with North Korean supreme leader Kim Jong Un amid an apparent slowdown in their nuclear talks.
White House press secretary Sarah Huckabee Sanders told reporters Monday that the U.S. "is open to and are already in the process of coordinating" another meeting after Trump received a letter from Kim. Before reading the letter, Trump said it would contain "a very positive statement what he said about me and also what he said about he wants to denuclearize during the Trump administration."
Sanders explained that the U.S. would not disclose the contents of the latest letter unless Kim agrees; however, the press secretary described the message as "very warm" and "very positive." The latest correspondence came after Trump canceled a planned fourth visit to Pyongyang by Secretary of State Mike Pompeo.
The trip was canceled amid U.S. concerns that North Korea's denuclearization has been "not sufficient" in the weeks since the two leaders first met in June. Nevertheless, on Wednesday, South Korea sent across the border a high-level delegation that affirmed Kim's commitment to abandoning nuclear weapons in exchange for peace and a lifting of tight sanctions against his country, as well as the leader's frustration with U.S. suspicions toward his motives for getting involved in the dialogue.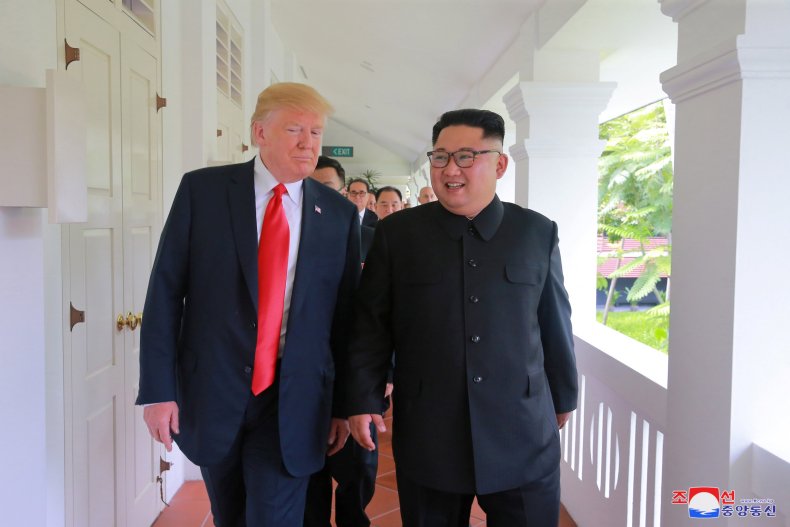 In a historic peace effort between the two Cold War-era foes, North Korea has so far returned the remains of U.S. soldiers killed while supporting South Korea during the Korean War in the 1950s, returned U.S. prisoners, suspended nuclear and missile testing and sent Kim to become the first North Korea ruler to meet a sitting U.S. president in a June summit in Singapore. Sanders said that, alongside these developments, Kim's latest letter "is [a] further indication of the progress that we hope to continue to make."
In pursuing talks with the U.S., Kim has also destroyed his country's only known nuclear testing site and razed other locations associated with his ballistic missile program, but U.S. and U.N. reports have criticized the pace at which he is dismantling the weapons of mass destruction his country has long argued were necessary for self-defense. Trump has remained publicly confident in Kim's commitment, however. After canceling Pompeo's planned visit, he partially blamed an ongoing trade conflict with China and concluded his tweet saying: "I would like to send my warmest regards and respect to Chairman Kim. I look forward to seeing him soon!"
During the press briefing, Sanders also noted that Pyongyang had not showcased any provocative weapons during a military parade held Sunday to commemorate the 70th anniversary of North Korea's founding. Such events are often used to put the elusive, militarized state's latest hardware on display, but its intercontinental ballistic missiles were notably absent this year.
Citing Fox News' coverage of the parade, Trump tweeted: "This is a big and very positive statement from North Korea. Thank you To Chairman Kim. We will both prove everyone wrong! There is nothing like good dialogue from two people that like each other! Much better than before I took office." He also quoted the channel's claim that experts backed his strategy toward North Korea, an assertion that may have split the analyst community.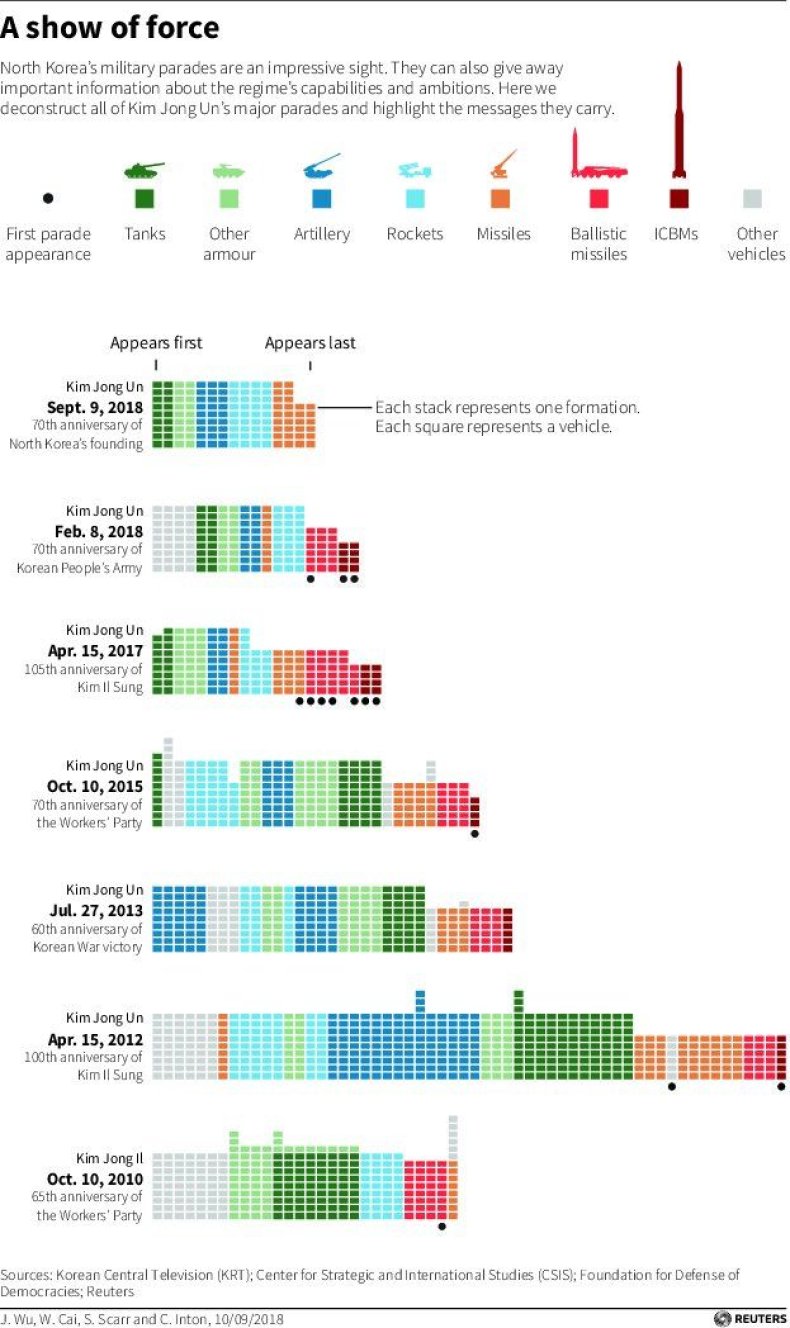 Robert E. Kelly, a professor of political science at South Korea's Pusan National University, responded directly to the president on social media, saying "everything about this tweet is wrong" and called Fox News's North Korea analysts "routinely terrible with little specific training or focus on the place." He labeled the recent development "a minor positive" and argued that "Calling NK's bloodthirsty leader 'chairman' is repugnant groveling." He then insulted Trump, saying he "is not going to prove anyone wrong" because he "is too incompetent to outsmart anyone."
Kelly warned against "raising unreal expectations" from meetings between Trump and Kim, emphasizing that this was "not a friendship or relationship," but a "business meeting." He said North Korea "will never give up its weapons" and that it "has good reasons to keep" them after the U.S. backed a 2011 rebellion to overthrow and kill Libyan leader Muammar al-Qaddafi—who had previously made a nuclear deal to secure better ties with the West—as well as Trump's own decision to abandon the Iran nuclear deal in May, despite international support for the agreement.
Notwithstanding, others felt Trump was in a more promising position to approach the talks. Harry J. Kazianis, director of defense studies from the Center for the National Interest, said that "President Trump is doing the right thing in trying to set up another meeting with Kim Jong Un as there seem to be major signs of progress over the last few days," in comments sent to Newsweek. "When you combine Kim's pledge to denuclearize by the end of Trump's first term as well as not displaying any long-range ballistic missiles during the North's recent 70th-anniversary celebrations there are reasons for optimism.
"In fact, these two events give great momentum to the Inter-Korean talks between South Korea's President Moon Jae-in and Kim next week. Don't be shocked if you see some even bigger breakthroughs then—and perhaps a major push to end the Korean War through a declaration, something that would be a major legacy builder for the Trump Administration. Such a historic event would be very hard for Trump to say no to, considering the domestic challenges the administration could face in the months to come," he added.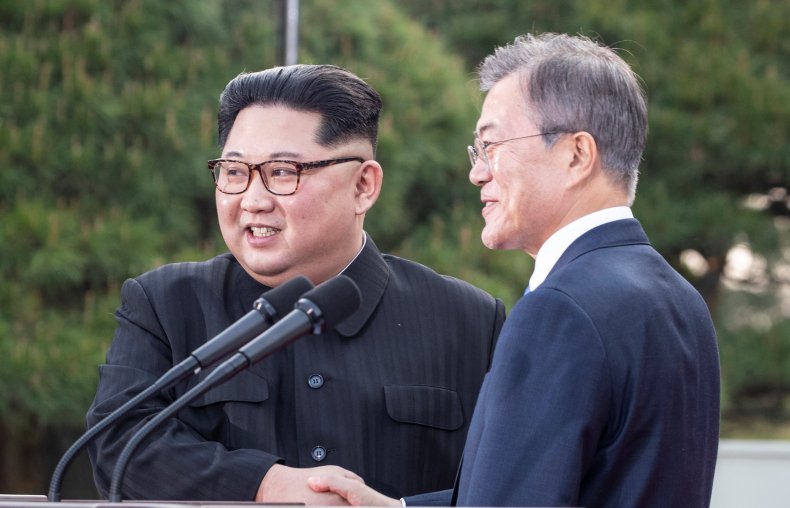 Robert Carlin, a veteran North Korean expert who serves as a nonresident fellow at the Stimson Center as well as a visiting scholar at Stanford University's Center for International Security and Cooperation, also felt a careful reading of the situation may be evidence that the parties are edging toward a potential positive outcome.
Analyzing Thursday's statement in which Kim expressed his desire to turn the Korean Peninsula "into the cradle of peace without nuclear weapons and free from nuclear threat," Carlin said such a new formulation of the leader's carefully curated language could mean "that Kim Jong Un has publicly opened the way for the talks to aim for what the US might describe as a 'full' and 'final' end to the North's nuclear weapons program—i.e., zero nuclear weapons and total dismantlement of the infrastructure support of a nuclear weapons program," Carlin wrote in an article published Monday by 38 North.
However, he cautioned that such a change, while likely significant, was open to interpretation. Similarly, the agenda of an upcoming U.S.-North Korea summit would likely be subject to speculation. Carlin noted that, as indicated by Kim's reported stated aim to denuclearize by Trump's first term, both parties are aware of the timeliness of their negotiations, which could easily be derailed by any electoral changes in U.S. politics, and are interested in keeping the dialogue on track regardless of outside criticism.