Google, Facebook Among Those Opposing North Carolina's Anti-LGBT Law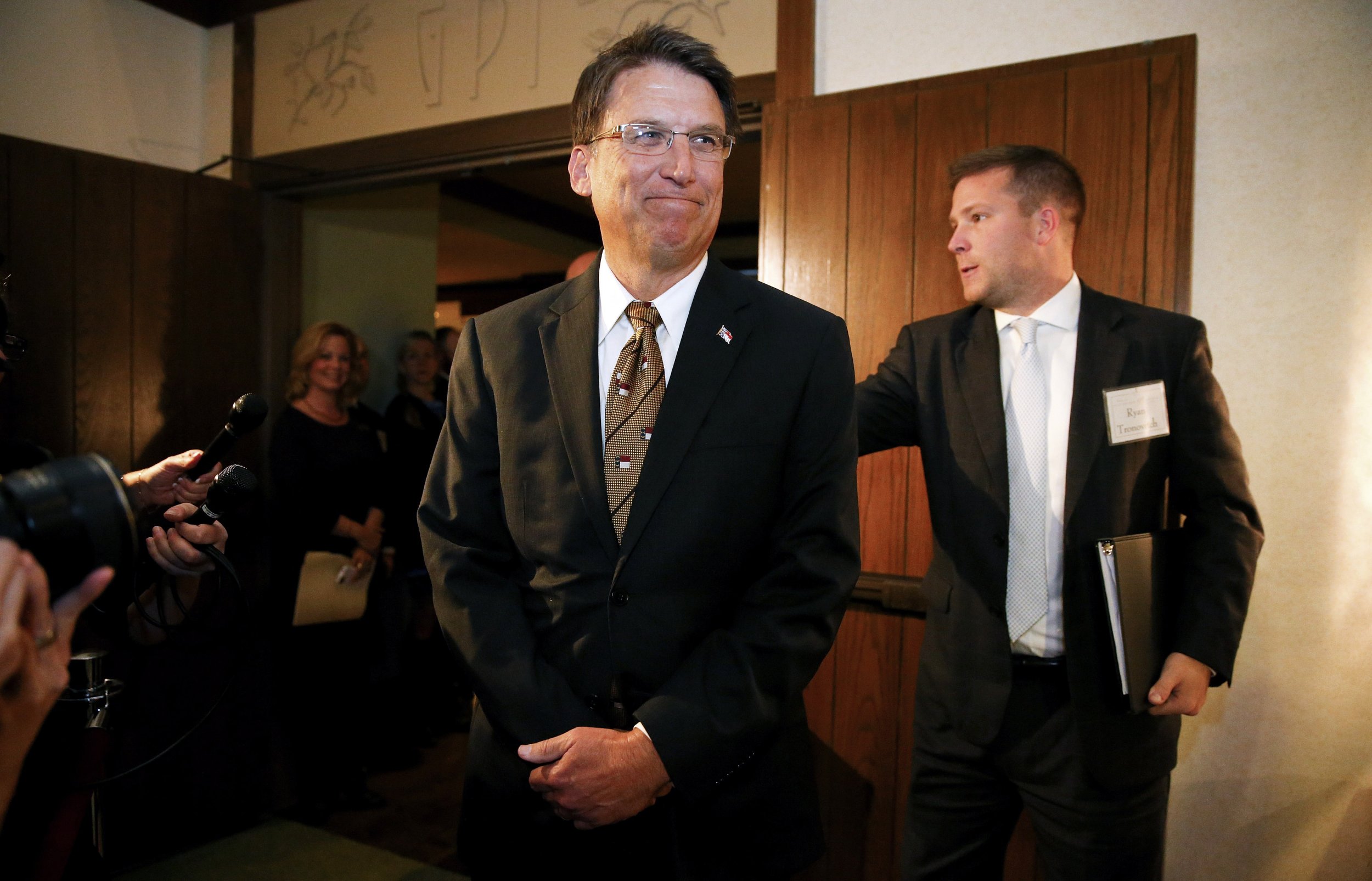 A number of high-profile companies, including Bayer, Facebook and American Airlines, have spoken out against North Carolina's move to prohibit any new LGBT protection laws in the state.
The bill, which was introduced, passed and signed into law within a matter of hours on Wednesday, was a response to a LGBT non-discrimination ordinance passed by the Charlotte City Council in February that allowed transgender people to use the bathroom according to the gender with which they identify.
Corporations, celebrities and many members of the general public were swift to condemn the action. American Airlines, which has its second-biggest hub in Charlotte, said the law goes against company beliefs.
"We believe no individual should be discriminated against because of gender identity or sexual orientation," said Ross Feinstein, an American Airlines spokesman. "Laws that allow such discrimination go against our fundamental belief of equality and are bad for the economies of the states in which they are enacted."
After the bill was signed into law on Wednesday, Charlotte Mayor Jennifer Roberts said the move "is not good for business. This is a bad bill for the Tarheel State."
The National Basketball Association released a short statement on Thursday afternoon, saying it's "deeply concerned" about the legislation.
"The NBA is dedicated to creating an inclusive environment for all who attend our games," it said. The organization ended by saying it does "not yet know what impact it will have on our ability to successfully host the 2017 All-Star Game in Charlotte."
The Charlotte Observer reports that the NCAA, which is planning to hold men's basketball tournaments in the state in 2017 and 2018, is "monitoring the situation."
Jim Whitehurst, the president and CEO of RedHat, an opensource software company, called HB2 a "clear step backwards" and said Wednesday was a "sad day." Pharmaceutical company Bayer said it has "zero tolerance for discrimination. We continue to support all of our employees & remain on the side of equality."
Some of the world's leading tech companies also spoke out against the legislation. Google tweeted the hashtag #WeAreNotThis and said "we oppose all laws that enable or encourage discrimination." In the statement, posted on Twitter on Thursday night, Google said it has previously stood against laws that discriminate against the LGBT community, including Proposition 8, the California ballot proposal that made marriage equality illegal in the state in 2008, and the Defense of Marriage Act.
Facebook said it's "disappointed by the recent events in North Carolina" and "as a company, Facebook is an open and vocal supporter of equality."
"We believe in ensuring the rights of LGBT individuals and oppose efforts that discriminate against people on the basis of their gender identity or sexual orientation," said Facebook, which has a data center in Forest City, North Carolina.
PayPal, the online payment service, tweeted on Wednesday night that it's "proud to champion LGBTQ equality in [North] Carolina and around the world." The companies Dow and Biogen also released statements opposing the bill after it was signed into law, while Chad Dickerson, the CEO of Etsy, tweeted his "support to LGBT community in NC (my home state)."
The effects of North Carolina's hastily adopted law have also reached Hollywood. The film director and actor Rob Reiner said on Thursday he "will not film another production in North Carolina," and he will "encourage my colleagues in the entertainment industry to do the same. Enough is enough." Reiner released his statement with the Human Rights Campaign, a U.S. LGBT civil rights organization.