North Carolina Supreme Court Strikes Down Republican Skewed Congressional Map
Republican-drawn congressional and state legislative maps have been ruled unconstitutional by the North Carolina Supreme Court.
In a 4-3 decision, state Democrats directed the GOP-controlled legislature to redraw the maps, stating they were partisan gerrymanders that violated the state constitution. This comes as all states and local governments redraw their political lines using the 2020 Census data. Nonprofit political groups are pushing nonpartisan changes to the redistricting process.
The maps drawn by North Carolina's GOP could have given Republicans control of 11 of the state's 14 districts. In a ruling released Friday evening, justices ruled that the maps were "unconstitutional beyond a reasonable doubt under the free elections clause, the equal protection clause, the free speech clause and the freedom of assembly clause of North Carolina's constitution."
The state Supreme Court gave the General Assembly until February 18 to submit a new redistricting proposal to the court. The GOP must provide an explanation of how they calculated the partisan fairness of the new boundaries.
Courts decisions in Ohio and Alabama also forced Republicans to redraw their right-skewed maps.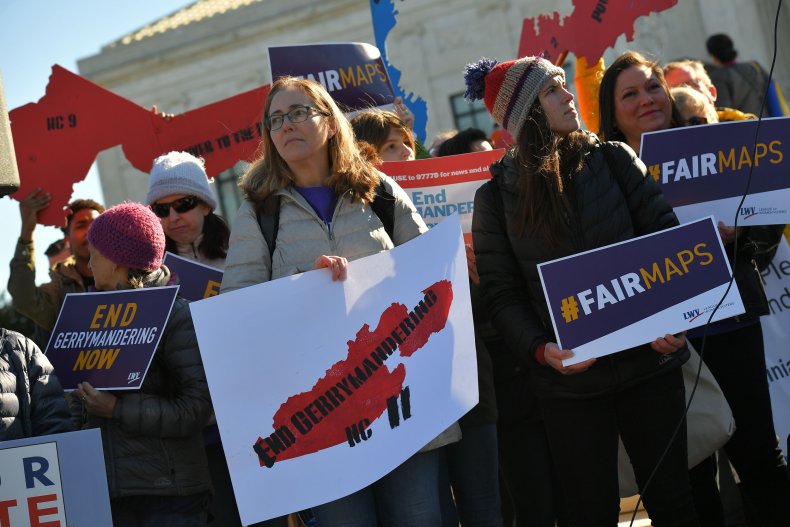 "The General Assembly violates the North Carolina Constitution when it deprives a voter of his or her right to substantially equal voting power on the basis of partisan affiliation," Justice Robin Hudson wrote in the order. "Achieving partisan advantage incommensurate with a political party's level of statewide voter support is neither a compelling nor a legitimate governmental interest."
Chief Justice Paul Newby, a Republican, said he didn't believe the courts have the authority to override redistricting. In his dissent, he wrote that the ruling "violates separation of powers by effectively placing responsibility for redistricting with the judicial branch, not the legislative branch as expressly provided in our constitution."
The Democrats on the Supreme Court disagreed. They said it is the judiciary's obligation to step in when lines are drawn to skew a party's control.
"Under our constitution, political power must be 'vested in and derived from the people' [and] our government must be 'founded upon their will only,'" North Carolina Attorney General Josh Stein said on Twitter. "Our elected leaders flout that principle when they seek to perpetuate their power irrespective of the will of the voters."
Law and public policy nonprofit the Brennan Center for Justice is calling on Congress to enact changes to the redistricting process.
"A ban on partisan gerrymandering is a crucial protection for communities of color," the Brennan Center for Justice stated in an analysis. "Whether gerrymanderers are Democrats or Republicans, the targeting of communities of color is often the key to creating a map that favors one party over the other."