North Korea's state-run media has acknowledged the country was experiencing difficulties, lauding the direction of supreme leader Kim Jong Un but staying silent on his public absence amid rumors regarding his health.
Rodong Sinmun, the newspaper of the ruling Korean Workers' Party Central Committee, published an article Wednesday saying that the country does "have some [areas] lagging behind others so far. It is also true that we are going through hardships," as translated by the South Korea-based NK News. The report ultimately placed faith in Kim's efforts to build a "strong, self-reliant foundation" that meant "catching up with the advancing countries' level is never a matter of a distant future."
Kim wields absolute power in North Korea's strict, militarized political system and the young ruler presides over everyday life in one way or another, just as his father and grandfather before him. But the young ruler's absence from last week's Day of the Sun commemorations dedicated to the dynasty's founder immediately prompted speculation about why he was unable to attend.
Such rumors often swirl around a country known for its secretive nature, but international attention was fueled by a Monday report by the Seoul-based Daily NK website—a largely North Korean defector-led outlet that receives funding from a U.S. Congress-linked NGO among other institutions—that cited an anonymous source saying Kim had undergone heart surgery. Later that day, CNN further stoked interest after the article citing an unnamed official who said U.S. intelligence was monitoring reports Kim was in grave danger after a failed operation.
Newsweek reported Tuesday that the U.S. Intelligence Community has no concrete evidence that Kim was in grave condition. One official said that North Korea's military status remained unchanged—"the biggest indicator" that something was amiss in the elusive authoritarian state—but Kim's last proof of life was April 18, so the situation was being monitored.
The official Korean Central News Agency reported that Kim "expressed his deep thanks" to Syrian President Bashar al-Assad on Wednesday in reply to a message sent for Day of the Sun but the supreme leader remained unseen in media.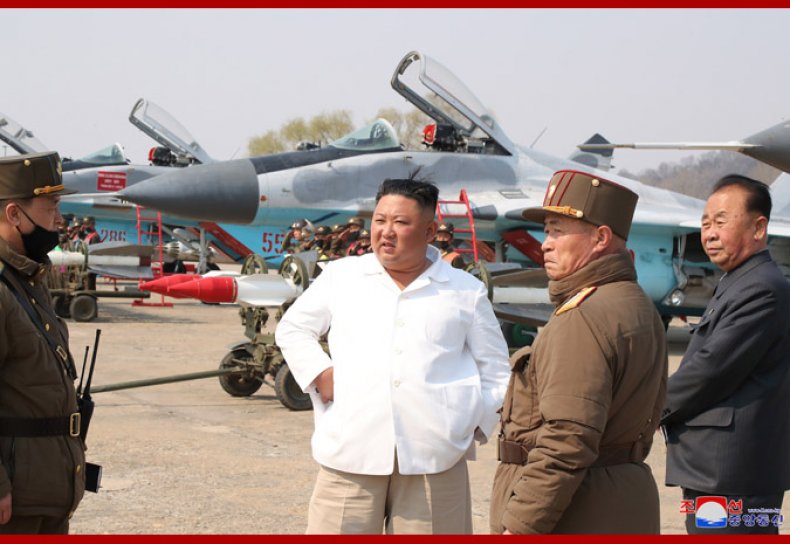 Kim's condition has caught the attention of other foreign leaders and officials. The South Korea Foreign Ministry declined Newsweek's request to comment, but referred to Tuesday's Blue House statement that noted no unusual activity regarding North Korea or the health of its leader.
Chinese and Russian officials have also questioned the sources of reports that Kim's health had taken a turn for the worst, as did President Donald Trump, who wished the supreme leader "well" and "good luck" at a press briefing Tuesday. "I just hope he's doing fine. I mean, I've had a very good relationship with Kim Jong Un, and that's to the benefit of the country," the president said.
Denuclearization-for-peace talks between the two men made early progress in 2018 but have since stalled as the Trump administration sought for Kim to first shutter his nuclear program before sanctions relief or promises of peace and security. With no progress made by the end of last year, Kim warned in January he may resume nuclear and longer-range missile tests and vowed to soon debut a "new strategic weapon."
The North Korean commander-in-chief has since been spotted at recurring short-range weapons launched and military exercises, including aerial drills reportedly conducted on April 12. He did not, however, appear at joint maneuvers that reportedly included the firing of cruise missiles on the Day of the Sun.
Still, the Pentagon was treating the situation as if Kim was still firmly in charge of his armed forces. "I assume that Kim Jong Un is still in full control of the [North] Korean nuclear forces and the Korean military forces, I have no reason not to assume that," Air Force General John E. Hyten, vice-chair of the Joints Chiefs of Staff, told reporters Wednesday.
North Korea is a county subject to intense international sanctions due to its nuclear weapons program and allegations of widespread human rights abuses. In an article citing an ex-pat and another source in North Korea, NK News reported Wednesday on instances of panic-buying in the capital Pyongyang but could not definitively link this to Kim's absence because fragile supply chains may be affected by new anti-epidemic measures instituted by the government.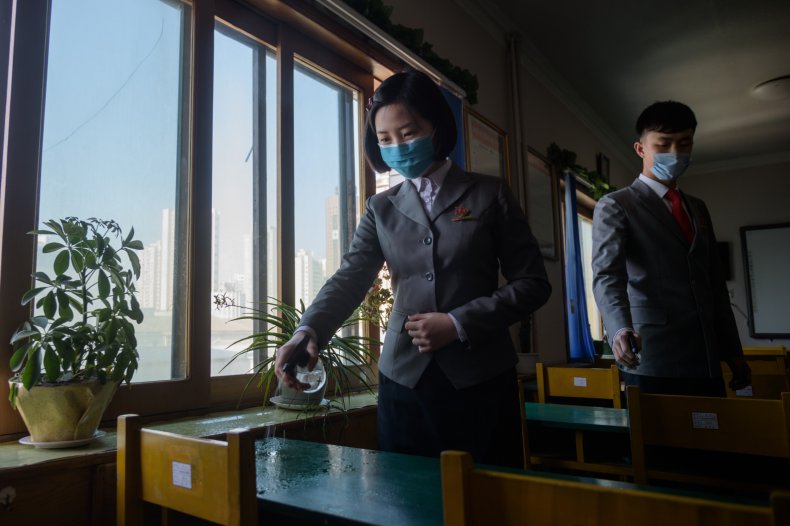 Already asked to work overtime to overcome economic challenges, North Koreans have mobilized in recent months to combat the spread of the novel coronavirus pandemic that the government claims has yet to enter the country. Although zero cases of COVID-19 have been officially reported in North Korea, the U.S. has set out to fast-track assistance to its longtime foe.
"In the face of the extraordinary threat to global health and welfare caused by the COVID pandemic, the United States has expeditiously facilitated the approval of assistance from U.S. and international aid and health organizations to counter and contain the spread of coronavirus in the DPRK," the State Department spokesperson told Newsweek on Monday using an acronym to refer to North Korea's official name: the Democratic People's Republic of Korea.
"Moreover, we've led the UN effort over the last year to expedite processing and approval of exemptions related to humanitarian aid addressing broader health concerns in the DPRK," the spokesperson added. "We have also actively supported and established in the UN sanctions regime related to the DPRK language that allows for humanitarian-related bank transactions."
North Korea's media remained skeptical of Western intentions, however. Minju Choson, the official newspaper of the North Korean cabinet, warned against that "dependence on foreign forces leads to subordination and national ruin" in reference to foreign assistance offers, according to the state-run Korean Central News Agency.
This article has been updated to include a Korean Central News Agency report about supreme leader Kim Jong Un's message to Syrian President Bashar al-Assad.