North Korea Could Be Using Fertilizer Plants to Make More Nuclear Material, Report Shows
North Korea could be using fertilizer factories it is building to produce more nuclear material by extracting uranium from phosphoric acids, according to a new study.
Researcher Margaret Croy said this technique can be used by North Korea as a way to conceal it was attaining uranium as part of the country's fervent drive to boost agricultural output.
If North Korea—officially known as the Democratic People's Republic of Korea—is building fertilizer plants for this purpose, it "has the potential to considerably alter open-source estimates of how much yellowcake uranium the DPRK is able to produce annually, which in turn affects estimates of how many nuclear warheads the DPRK can make," Croy told Newsweek.
Croy, a research associate of the Middlebury Institute of International Studies at Monterey's James Martin Center for Nonproliferation Studies, made her case in a paper published by the center called "Dual Use in the DPRK: Uranium Extraction from Phosphate Fertilizer Factories."
In it, she builds a circumstantial case to demonstrate that this method could be in use today. She did not prove definitively that the country is making uranium from fertilizer factories. The paper was reviewed by an internal panel of researchers before publication.
Croy told Newsweek that she stumbled upon this method of enrichment when conducting research on nuclear activities in Syria—where North Koreans reportedly lent assistance—and then looked into its application in Egypt and Iraq as well. After reading Robert Kelley and Vitaly Fedchenko's May 2017 EU Non-Proliferation Consortium paper on uranium extraction from phosphoric acid, she said, she realized she "had not yet seen anyone connect this method of yellowcake acquisition with the DPRK."
"A quick and cursory initial search of the phosphate fertilizer industry in North Korea revealed that this was an industry that DPRK leadership was spending a lot of time, money, and energy on," Croy told Newsweek. "While the DPRK absolutely needs better fertilizer to deal with numerous crop shortages, given the track record of success with this method in other countries, rising international pressure on the DPRK to 'roll back' their nuclear programs, and the Kim regime's prioritization of creating a national nuclear deterrent, I felt I had to dig further."
"10 months later...and this research grew into a much larger project than I initially would have suspected, but there was an absolute wealth of evidence to sort through," she added.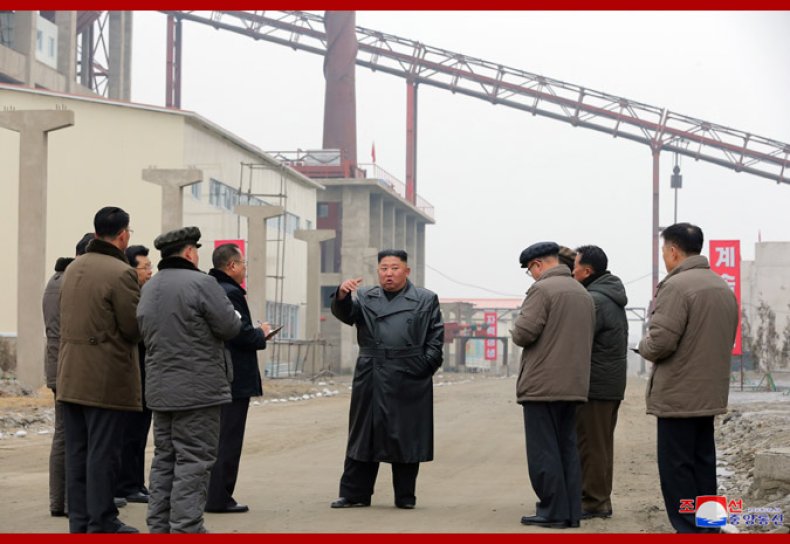 North Korea has operated similarly in the past when it constructed nuclear warheads and launched intercontinental ballistic missiles (ICBMs) potentially capable of carrying them across the world despite international sanctions that restrict its access to crucial parts and equipment. North Korea openly enriches uranium to weapons-grade levels, viewing its nuclear program as central to its national security in the face of what it views to be foreign aggression from the United States.
Such activities draw criticism from abroad, however. North Korea is not a recognized nuclear state according to the Nuclear Nonproliferation Treaty, which turned 50 last month, and Pyongyang withdrew from the pact in 2003. In 2006, North Korea tested its first nuclear device and has set off five more, most recently conducting its most powerful detonation in September 2017.
Supreme leader Kim Jong Un, the third and youngest of North Korea's dynasty to rule, has accelerated his country's nuclear efforts while also placing emphasis on economic and infrastructural development. In the weeks between North Korea's first two ICBM tests in July 2017, the country's state-run media announced the groundbreaking ceremony of the Sunchon Phosphatic Fertilizer Factory.
"The factory is of important significance in increasing the agricultural production by producing more fertilizer," the Korean Central News Agency reported at the time.
It's this factory that Croy focused on.
While she acknowledged that other, earlier phosphate fertilizer sites in the country may have served as part of "a pilot program" for uranium extraction, she said Sunchon, which is currently under construction, was potentially the country's "the first phosphate fertilizer plant that will conduct uranium extraction activities at full scale." The timing of this plant's groundbreaking may be significant, Croy said.
"I think the pressure that Kim Jong Un has faced to 'denuclearize' since he took power (but particularly since 2017) is very significant, and I would imagine that such pressure might cause DPRK leadership to more closely examine how they might be able to continue to generate nuclear material, quietly if need be, and I think this method hits that sweet spot quite well," she told Newsweek.
A lack of official data on North Korea's uranium and phosphate production makes it difficult to determine what kind of impact this process could have the country's uranium stockpiles, but the study's estimates, based on annual production figures published by the Nautilus Institute for Security and Sustainability for two sites, Nampo and Moon-Pyong, show even a low recovery percentage of 25 percent—compared with the United States' rate of 92 to 95 percent—could produce more than 3,800 kilograms of U3O8 yellowcake uranium each.
"If one considers any recovery at all from all the factories that do not have their annual production numbers published, the hypothetical number becomes quite large quite quickly," Croy told Newsweek. "I certainly don't mean to imply that such a level of production is currently transpiring, but rather, that it is a possibility to which we should be attuned."
U.S.-North Korea tensions eased significantly after 2017, with the first-ever meeting between both countries' sitting leaders the following year and two follow-up meetings in 2019, but lack of progress in attaining a denuclearization-for-peace agreement has steadily destabilized this budding detente. Kim has so far maintained a 2018 self-imposed moratorium on nuclear or ICBM tests but said this past New Year's Eve he no longer felt bound by it.
Days later, Kim visited the Sunchon Phosphatic Fertilizer Factory, followed by parliamentary presidium President Choe Ryong Hae in February. After repeated media updates about the site's progress, the Korean Central News Agency reported Tuesday that the factory has "been landscaped on the eve of the completion."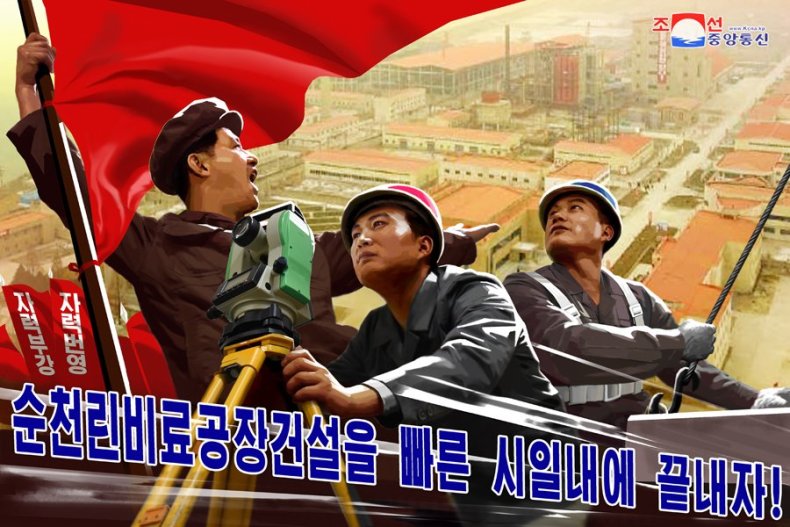 If Croy's argument reflects reality, this could mean North Korea is on the verge of a major uptick in nuclear production. While experts have seen other countries produce uranium in this fashion, the argument that North Korea was following suit has not yet gained traction.
"Previous clandestine nuclear weapons programs have used phosphate enrichment and it is surprising that DPRK's fissile materials program has not been analyzed through this lens before," Rose Tenyotkin, a research analyst at Arlington-based research and analysis organization CNA's China and Indo-Pacific Division. "This report is a valuable contribution to the field of nonproliferation."
Croy told Newsweek that the phosphate enrichment method has been largely dismissed in the U.S. and other Western countries as inefficient due to its costliness—a factor less important to North Korea as avoiding global scrutiny.
"I think it is an enduring and ever-present challenge for analysts and officials to see beyond their own innate biases, and consider how differently something might be perceived in the context of a different time or place," Croy said. "We naturally want to relate what we see/read about/consume/et cetera to that which is familiar to us, but sometimes, that blinds us to other possibilities. A U.S. analysis of cost-effectiveness will have some fundamental differences from a North Korean one for a whole host of reasons, the most obvious of which being our different economic systems."