Are North Korea and Syria Working Together Against U.S. Foreign Policy?
A United Nations panel has accused North Korea of helping Syria produce chemical weapons allegedly used in violent operations to defeat rebels and jihadis outside of Damascus and other parts of the country.
At the heart of the more than 200-page U.N. report—obtained by The New York Times—was an accusation that North Korea sent Syria supplies associated with the production of chemical weapons such as acid-resistant tiles, valves and thermometers as well as missile technology. North Korea also allegedly sent workers who allegedly assisted in the production of chemical weapons. In return, North Korea was able to invest the funds in its own nuclear weapons program, according to the report.
Related: Trump creating a new Cold War? North Korea, Russia, Syria and Cuba now working together against the U.S.
The U.S. has charged Syria, as well as the jihadis it's fighting, with the use of chemical weapons in multiple incidents that have reportedly resulted in civilian deaths. While Syria, along with Russia and Iran, has denied these accusations, the U.S. has led an international campaign to condemn Syria. On Monday, U.S. Ambassador to the United Nations Nikki Haley attacked Russia for defending its Syrian and Iranian allies.
Syria has benefited from its relationship with Russia and Iran, but the new U.N. report focused on its long history of ties with North Korea, a fellow opponent of U.S. foreign policy considered a state sponsor of terrorism by the State Department. Earlier this month, a group of independent U.N. monitors found more than 40 unreported North Korean exports between 2012 and 2017 to Syria's Scientific Studies and Research Center, a government body the report linked to Damascus's chemical weapons program.
President Donald Trump has threatened the government of both countries with military action, but as other longtime U.S. foes such as Russia and Iran grow more powerful on the world stage, North Korean supreme leader Kim Jong Un and Syrian President Bashar al-Assad have claimed major victories of their own in recent years.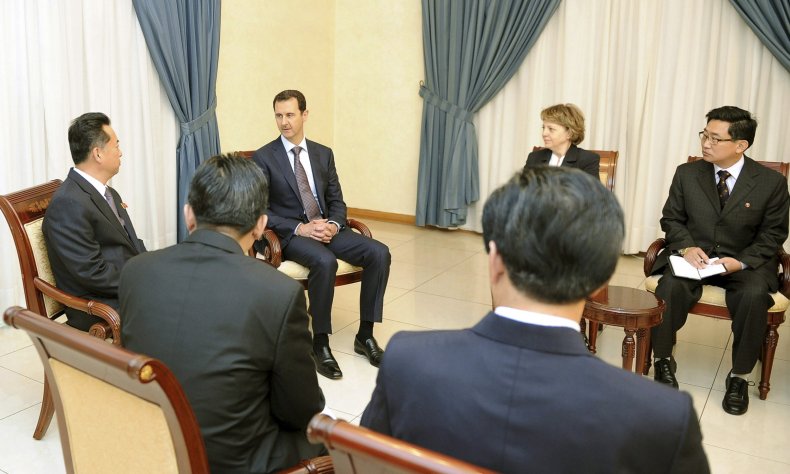 Since North Korean founder Kim Il Sung, supported by China and the Soviet Union, fought a bloody three-year war with U.S.-backed South Korea in the early 1950s, the ruling Kim dynasty has portrayed Washington as its greatest foe. This animosity extended toward Israel, which North Korea joined a number of Arab nations in portraying as a project of U.S. imperialism in the Middle East. North Korea sent pilots to fly with the air forces of Syria and Egypt in the 1967 Six-Day War and 1973 Yom Kippur War fought against Israel.
As Syrian President Hafez al-Assad rose to power in the early 1970s, he aligned himself firmly with the Soviet Union in the Cold War being waged between Moscow and Washington. Both North Korea and Syria provided assistance to Palestinian, left-wing militant groups opposed to the U.S. and Israel.
Kim Il Sung died in 1994 and was replaced by his son, Kim Jong Il. Six years later, Hafez al-Assad died and was also succeeded by his son, Bashar al-Assad. The two leaders strengthened their ties when they wound up the extended "axis of evil" devised by the administration of President George W. Bush. A year after North Korea tested its first nuclear weapon, it was accused by the U.N. of helping to build a nuclear facility in the eastern Syrian province of Deir Ezzor. Israel destroyed the site in 2007.
As young Kim Jong Un became the third generation of his family to take power after his father's death, in 2011, Syria fell into turmoil. Protests against Assad devolved into a civil war as rebels—backed by the U.S., Turkey and Gulf Arab states—took over large parts of the country, much of which would ultimately fall to the Islamic State militant group (ISIS). Since the outbreak of violence there, North Korea's support for Syria appeared to have taken on a different nature.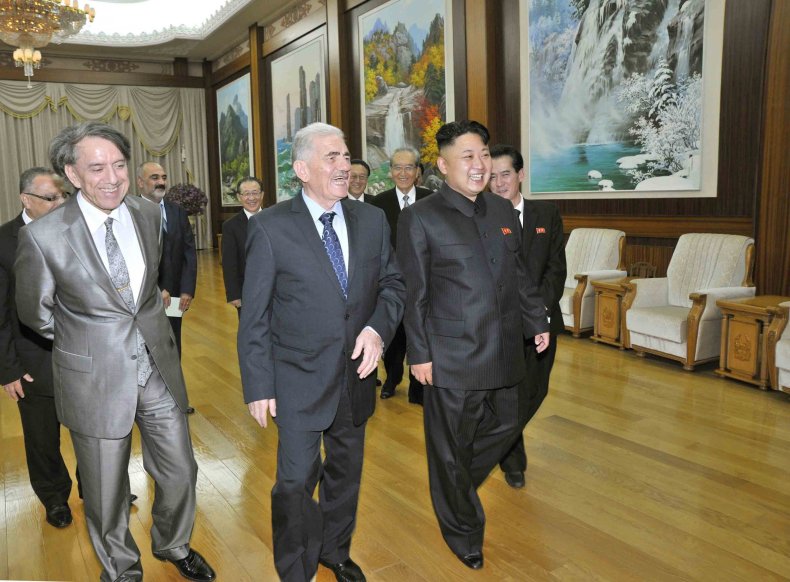 North Korea was an early supporter of the Syrian government and has praised Bashar al-Assad as the West denounced him. Like China, North Korea's support has officially been limited to diplomatic backing. The U.K-based, pro-opposition Syrian Observatory for Human Rights and Syria's exiled, Saudi-backed opposition have claimed that North Korean forces were deployed to fight alongside the Syrian military and various allied militias, some of which were supported by Iran—another nation to which North Korea has grown close. North Korea has also sent tanks and weapons, according to The Diplomat.
North Korea was a vocal opponent of Trump's cruise-missile barrage against a Syrian air base in April 2017. The attack came less than 72 hours after the U.S. accused the Syrian military of conducting a chemical weapons attack in the rebel-held province of Idlib. Just days after Trump's attack on Syria, the Republican leader threatened to send an "armada" of U.S. warships to the Korean Peninsula, sparking a war of words that saw both Trump and Kim Jong Un threaten nuclear war.
Despite intense U.S. pressure on the governments of North Korea and Syria, both have emerged as more powerful in 2017. Kim Jong Un managed to oversee his country's first intercontinental ballistic missile launches, putting most of the world within range of his weapons, and a hydrogen bomb test.
With help from Russia and Iran, Bashar al-Assad has regained control over most of his country and has even allied with U.S.-backed Kurds seeking to defeat an offensive launched by Turkey, one of the U.S.'s fellow NATO Western military alliance partners and leading partners in the Middle East. The complex, shifting dynamics of Syria's war have allowed Russia and Iran to emerge as leading influencers in the region and beyond, potentially emboldening the North Korea–Syria relationship, which both nations have already been touting.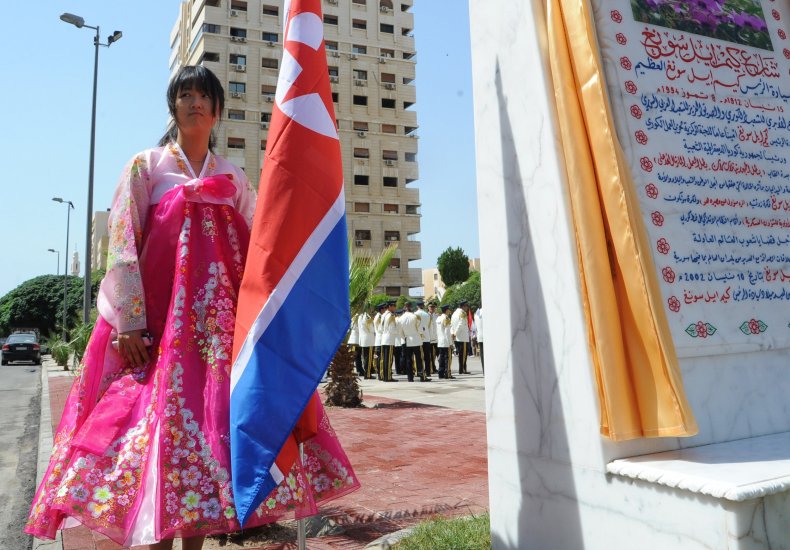 "The DPRK government will as ever extend invariable support and encouragement to the righteous struggle of the Syrian government and people to smash the aggression moves of the U.S. imperialists and Zionists and defend the sovereignty, stability and territorial integrity of the country," the official Korean Central News Agency wrote last week, referring to its country by its official title, the Democratic People's Republic of Korea, during a reception at the Syrian Embassy in Pyongyang.
"The DPRK and Syria are in one trench against a common enemy," Syrian parliamentary speaker Hammouda Sabbagh said during a meeting with the North Korean ambassador earlier this month, according to the official Syrian Arab News Agency.
"The more terrorists that fall under the blows of the Syrian Arab Army, the faster the Zionist enemy, the United States and their agents in the region rush desperately to strike Syria," he added. "So the response to these attempts were qualitative and will be harsher and more qualitative if the enemy once again considers an attack on Syrian sovereignty."