Trump and Kim Jong Un Are Going to Lead the World Into War If They Don't Stop Insulting Each Other, Experts Say

North Korea and South Korea have begun their first substantial dialogue in more than two years, following more than half a century of animosity and a particularly tense year for the nuclear crisis on their shared East Asian peninsula. For the fragile peace talks to succeed, however, experts said two very unpredictable world leaders must change course.
President Donald Trump and North Korean leader Kim Jong Un's 2017 war of words shocked the international community as the U.S. ramped up military exercises and North Korea achieved groundbreaking, explosive progress on its ballistic missile and nuclear weapons program.
As South Korea's main ally and a major power in the Pacific, however, the U.S. has a key role to play in the ongoing talks. And, if the U.S. and North Korea are to engage directly and effectively, verbal assaults would have to come to an end, said Joel Wit, North Korea monitoring project 38 North co-founder.
Related: Trump Is "the Last Person" Who Should Have Power to Start a Nuclear War, Says Former Missile Officer
"President Trump, aside from expressing a willingness to meet with Kim Jong Un, should stop his personal insults of Kim Jong Un, and we should demand the same of the North Koreans," Wit, a senior fellow at the U.S.-Korea Institute of Johns Hopkins University's School of Advanced International Studies and a former State Department official, said Thursday during a conference call hosted by 38 North.
"They should be told, in no uncertain terms, 'You shouldn't be hurling insults at President Trump, if he isn't insulting you,'" he added.

Trump offered a more diplomatic tone in an interview with The Wall Street Journal Thursday, stating that "I probably have a very good relationship with Kim Jong Un." However, the two leaders and their countries have rarely expressed anything but enmity toward each another. Since the two nations last openly fought during the 1950s Korean War, which never officially ended, Cold War foes the U.S. and North Korea have regularly traded angry rhetoric toward one another. Yet 2017 was different for at least a couple of reasons.
The stakes of a potential conflict have never been higher as North Korea launched its first intercontinental ballistic missiles (ICBMs), tested a massive hydrogen bomb and declared itself a nuclear state. Building on the militarized, authoritarian framework established by his father and grandfather before him, Kim achieved these goals despite increasingly tough economic sanctions and Trump's vows to never let the U.S. fall under North Korea's missile trajectory.
The dueling threats have also taken on a new tone under Trump, who quickly became the first U.S. president to carry out international and personal attacks on social media. Kim and his advisers were believed by some analysts to carefully follow Trump's daily barrage of tweets. As North Korea's state-run media showed, the country's leadership has taken these remarks literally, as well as others in which Trump suggested he would attack with "fire and fury" to "totally destroy" North Korea.
In the same New Year's address in which he reached out to his southern rival, Kim warned the U.S. that he had a nuclear button at his desk and was always at the ready. Just as South Korea began to make good on the peace offer, Trump responded by warning he had a "bigger and much more powerful" nuclear button and that his button actually "works." Surprisingly, North Korea did not respond, something which could be a positive sign for the upcoming negotiations.
"Under normal circumstances, you might have expected the North Koreans to reply to that angrily, as a threat, et cetera. Nothing! And, in fact, North-South [talks] moved ahead," Robert Carlin, a visiting fellow at Stanford University's Center for International Security and Cooperation and a former chief of the State Department's Northeast Asia Division in the Bureau of Intelligence and Research, said during the 38 North call.
"So, at least for the moment, I think the two sides—and certainly Pyongyang—have decided the best thing to do is not to get sidetracked but to move ahead," he added.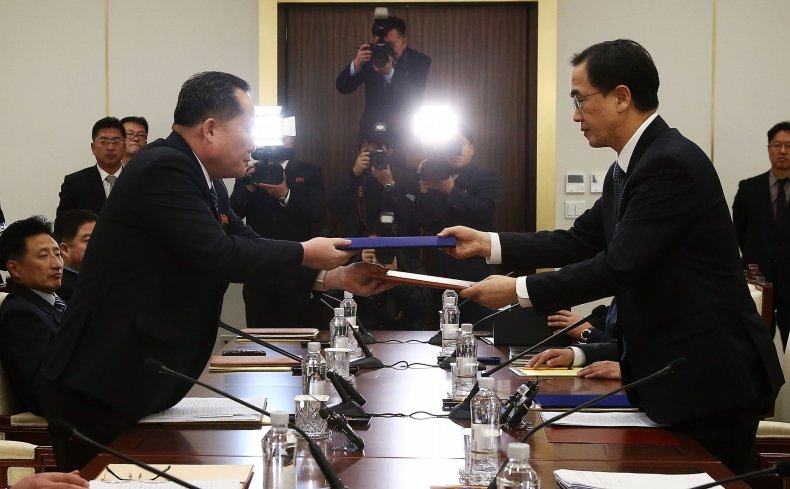 With the two rival Koreas committed to talks at the Panmunjom truce village located at the world's most heavily fortified border, however, the U.S. would likely have to do more than hold its tongue to get involved. North Korea has always defended its development and possession of nuclear weapons by claiming they were necessary to deter a potential U.S. attack, pointing to Washington's long history of interventions, invasions and other adventures abroad.
Trump has already reportedly agreed to suspend joint military drills with Pacific allies South Korea and Japan for the length of the upcoming Winter Olympics that served as the initial basis for inter-Korean talks. But Wit suggested the U.S. further delay the exercises, reduce their size and remove "what is seen as a nuclear component to them."
None of this, he emphasized, would hinder the U.S.'s ability to defend Seoul and it could give Washington ammunition to eventually ask for a halt to North Korea's missile and nuclear tests, which it so far has refused to put on the table, despite Trump's strategy of "maximum pressure."
"We have to recognize that this is a window of opportunity and we'll have to think about positive steps to take to reinforce that window," Wit said. "And unfortunately, I think the impulse is, as I said earlier, that pressure works, 'Let's dial it up.'"
"And if that's the case, we may be making a serious miscalculation. And the window may peter out and then we're just left with maximum pressure again."