Kim Jong Un: U.S. War With North Korea Is Impossible Because Nuclear Arsenal Is Now Complete, Button on My Desk
After North Korea leader Kim Jong Un warned on New Year's Eve that the button for his nuclear arsenal is on his desk and that the weapons can reach the U.S., President Donald Trump responded with a measured "we'll see."
Trump was asked about Kim's claim while ringing in the New Year at his Mar-a-Lago golf resort in Florida, in a tuxedo, flanked by his youngest son, Barron, and his wife, Melania.
Kim said in a broadcast New Year's address Sunday that the entire U.S. is now in range of North Korea's arsenal. "This is reality, not a threat," he insisted, though he suggested that the program has some work left to accomplish by stating his country will "mass produce nuclear warheads and ballistic missiles and speed up their deployment."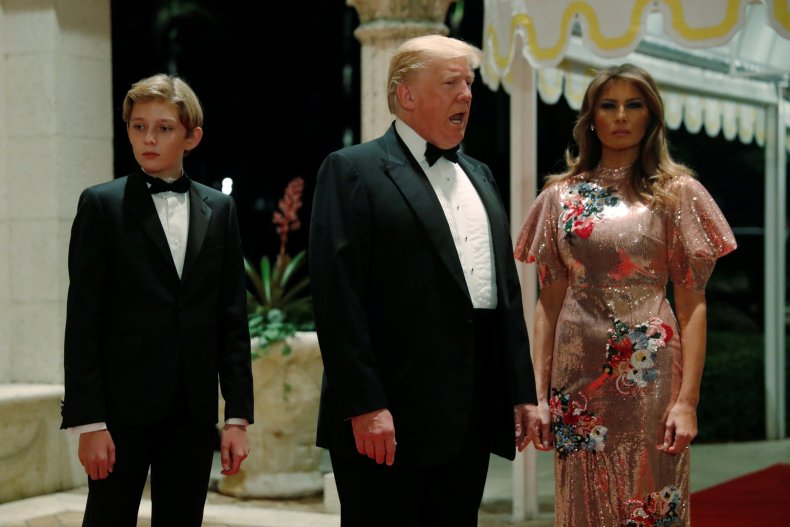 "We'll see, we'll see. Come on inside," Trump told reporters when asked about Kim's claim as he strolled into his facility.
Early Sunday, retired U.S. Navy admiral and former chairman of the Joint Chiefs of Staff Mike Mullen said America and North Korea are closer to conflict "than we've ever been."
"I don't see the opportunities to solve this diplomatically at this particular point," Mullen said during an appearance on ABC News' This Week. How things turn out, he said, rests on whether China puts more pressure North Korea.
China drew President Trump's ire last week after reports emerged that it is sending oil shipments to North Korea. The communist nation denies defying U.N. sanctions limiting the sale of oil to Kim's regime.
Read more: Nuclear war with U.S. closer than ever, retired admiral says
On Sunday, South Korean officials said they seized a second ship they suspected of transferring oil to North Korea.
The sanctions on North Korea were imposed last year after it carried out a series of tests of ballistics missiles that could be armed with a nuclear warhead and underground nuclear weapons tests.
Kim said during his address that his aim is to "lower the military tensions on the Korean Peninsula to create a peaceful environment." Yet he insisted that both North and South Korea "should make efforts."