Is Trump Going Soft on North Korea? President Says No Military Drills With South Korea During Winter Olympics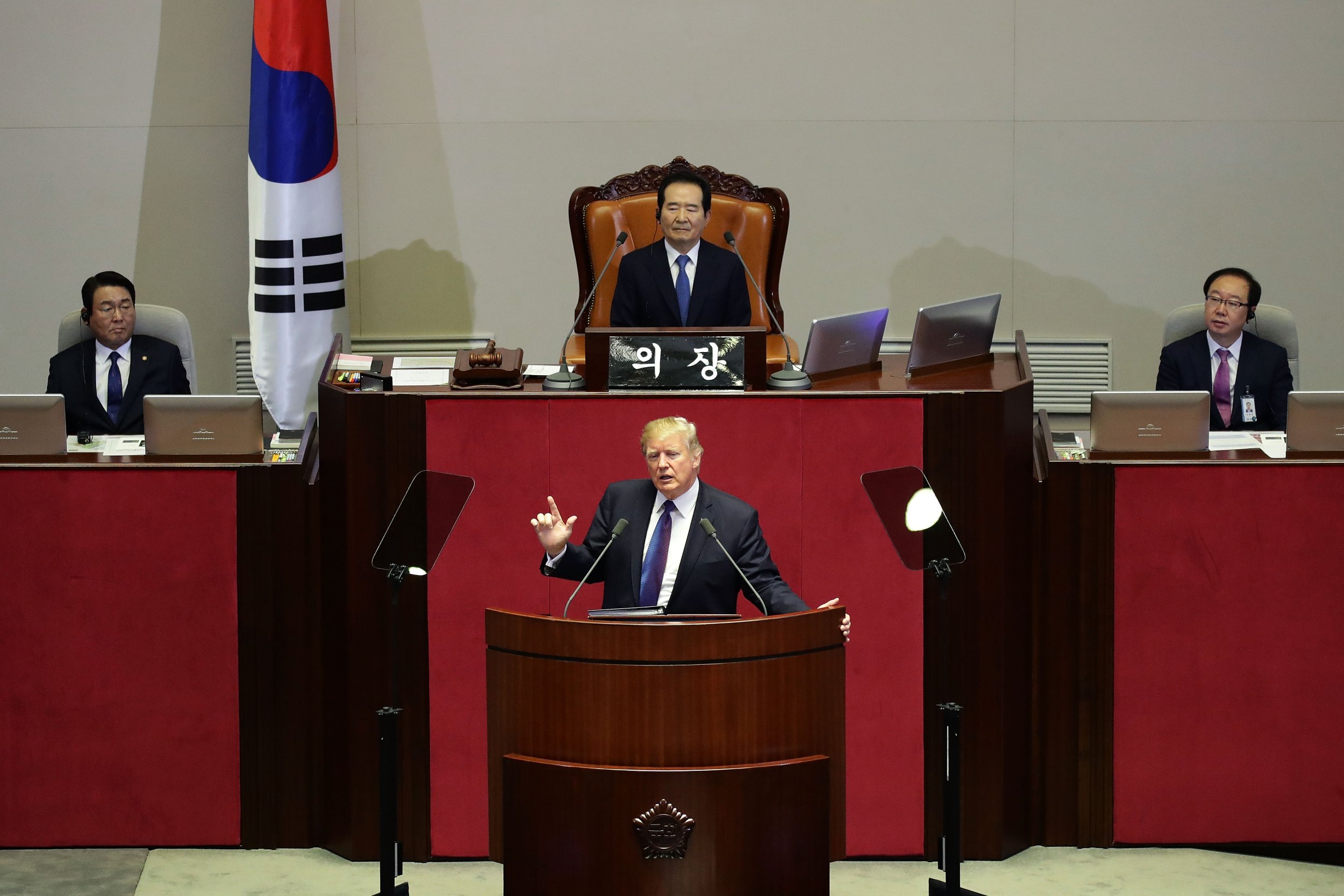 President Donald Trump has decided there will be no joint military drills with South Korea during next month's Winter Olympics in Pyeongchang, the Pentagon confirmed on Thursday, in an apparent effort to avoid provoking North Korea.
This announcement comes as North and South Korea have made attempts to reestablish dialogue, a development Trump praised during a phone call with South Korea's President Moon Jae-in, according to Reuters. Trump also told Moon he will be sending a high-level delegation, which could include members of his family, to the Winter Olympics.
North Korea has often complained about the large-scale joint military exercises performed by the U.S. and South Korea on and around the Korean Peninsula. As the U.S. and South Korea engaged in such drills in early December, Pyongyang said Trump was "begging for war." Putting the drills off until after the Winter Olympics could therefore have a positive impact on efforts to quell the hostilities over North Korea's nuclear program and make it more likely to enter negotiations.
Related: When will North Korea launch its next missile? South Korea says no "imminent" signs of new test
South Korea welcomed the North's participation in the games earlier this week after North Korean leader Kim Jong Un took a somewhat softer tone than usual in his New Year's Eve address and said his country hoped to find a "peaceful resolution with our southern border."
"North and South must work together to alleviate the tensions and work together as a people of the same heritage to find peace and stability," Kim said during the speech.
Kim also signified his country is open to potentially participating in the Winter Olympics. "North Korea's participation in the Winter Games will be a good opportunity to show unity of the people, and we wish the games will be a success," Kim said. Two North Korean figure skaters have qualified for the games.
Related: Trump lost to North Korea's Kim Jong Un in 2017's War of Words, Experts Say
South Korean Unification Minister Cho Myoung-gyon on Tuesday said high-level talks could be held with the North as early as January 9. "The government proposes the North to hold high-level, inter-Korean government talks at the Peace House of Panmunjom in consideration that the Winter Olympics is about a month away and to discuss related matters such as the participation of North Korea's delegation in the Pyeongchang Olympics," Cho said at the time.
Republican Senator Lindsey Graham, who recently said there's a 30 percent chance the president will launch a military strike against North Korea, said on New Year's Day if Kim's country participates in the Winter Olympics, the U.S. will boycott the games. But it's unclear how valid this assertion was.
Meanwhile, Trump seems to have taken credit for the cautiously renewed relations between the North and South, tweeting on Thursday, "With all of the failed 'experts' weighing in, does anybody really believe that talks and dialogue would be going on between North and South Korea right now if I wasn't firm, strong and willing to commit our total 'might' against the North. Fools, but talks are a good thing!"