Trump Lost to North Korea's Kim Jong Un in 2017's War of Words, Experts Say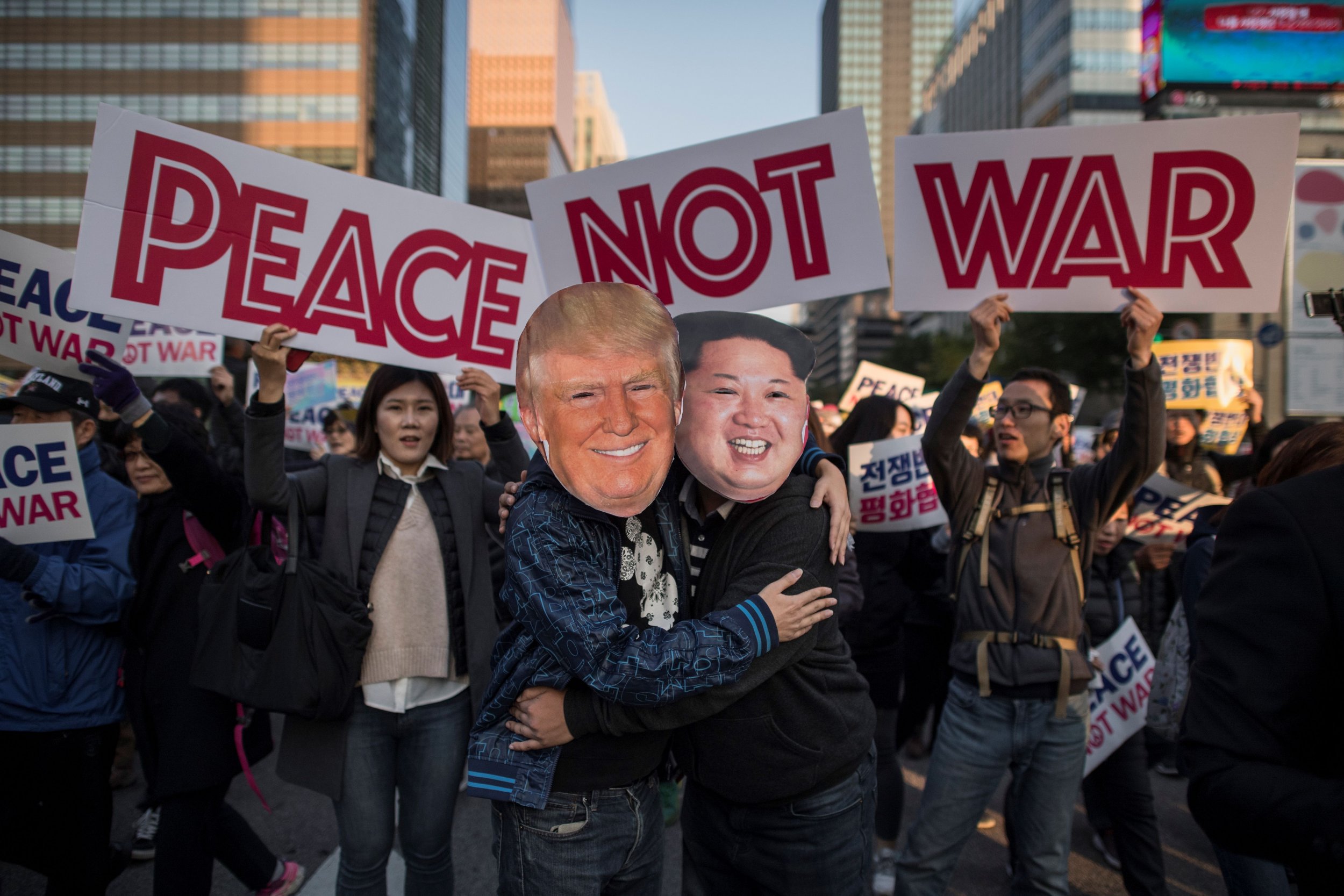 President Donald Trump's enthusiastic participation in a war of words with North Korean leader Kim Jong Un over the course of the year has served as an "embarrassment" to the U.S., decreased the likelihood of North Korea giving up its nuclear weapons and increased the possibility of war, according to multiple experts.
"Trump's bombast was not just an embarrassment and a blow to the U.S. reputation for skillful diplomacy. More disturbing, it reinforced Kim's determination to keep his nuclear weapons and may have increased the risk that the North could misinterpret U.S. military exercises as the prelude to a regime-threatening attack and decide that it has nothing to lose by striking first," Robert Einhorn, an expert in nuclear nonproliferation and arms control at Brookings Institution, told Newsweek.
North Korea conducted a series of missile tests in 2017, most recently in late November. It carried out its sixth and most powerful nuclear test yet in early September and has since threatened to conduct a seventh test over the Pacific Ocean. All the while, Pyongyang has obstinately refused to step away from its nuclear program despite international condemnation and harsh economic sanctions imposed by the United Nations.
Meanwhile, Trump and Kim have repeatedly traded threats and insults in what has often felt like a global rap battle. The reclusive country has made a habit of threatening the U.S. over the past half-century or so, but it was typically viewed as hot air, and most presidents rarely offered much in the way of a response––until Trump.
"The North Koreans are world-class champions at rhetoric; why enter a competition in which they can't be beat? Warnings and insults must be part of a greater strategy, not fired off on impulse," Mark Fitzpatrick, the executive director of the International Institute for Strategic Studies office in Washington, told Newsweek. "Every former president has known this, although George W. Bush momentarily forgot when he called Kim Jong Il a 'pygmy' and a 'spoiled child.' What was a mistake for Bush has become a motif for Trump. The danger, of course, is that such insults can easily be misread by an already paranoid North Korean regime."
Fitzpatrick said Trump's war of words in 2017 "may have pleased his base" but "made no sense" otherwise.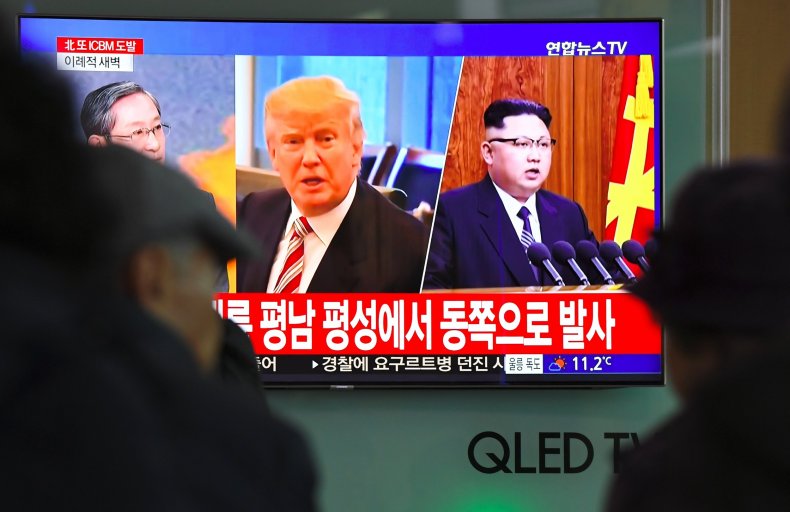 Within the foreign policy community it is widely agreed that Kim is a rational actor who seeks nuclear weapons as a deterrent, not as a means of going to war with the U.S. The U.S. is far stronger than North Korea militarily and would undoubtedly defeat it in a conventional conflict. The consensus among experts is that Kim understands this but also believes the U.S. is set on dismantling his regime. North Korea hopes to acquire a nuclear weapon capable of reaching the U.S. mainland in order to have leverage over its powerful adversary in any potential negotiations.
But Trump has not operated under this mindset and has taken an extremely belligerent stance toward Kim's regime. Over the summer, Trump told North Korea it "best not make any more threats to the United States" or it would be met with "with fire and fury like the world has never seen." The president's alarming words led many to accuse him of threatening to spark a nuclear war.
Following Trump's remarks, Republican Senator John McCain, widely respected for his record as a veteran and highly regarded for his military acumen, said during an interview, "I take exception to the president's comments, because you've got to be sure that you can do what you say you're going to do. The great leaders I've seen don't threaten unless they're ready to act, and I'm not sure President Trump is ready to act."
In late September, not long after North Korea's sixth nuclear test, Trump once again threatened Kim's regime as he delivered his first address to the United Nations. During the speech, he warned North Korea it would be "totally" destroyed if it forced the U.S. to defend itself or its allies. Trump also referred to Kim as "Rocket Man" during the address and has continued to refer to Kim as such. The North Korean leader responded by referring to Trump as a "dotard," or an old, senile person.
Trump often took to Twitter to express his feelings on North Korea and further his rhetorical war with its leader.
Experts believe Trump's tweets regarding North Korea are irresponsible and potentially dangerous. "Trump's tweets exacerbate the potential for misperceptions that could spark a war," Fitzpatrick said.
Einhorn echoed those sentiments, stating, "Kim and Trump battled rhetorically to a tie in 2017, but the United States was the real loser because Trump's belligerent and reckless tweets brought the American presidency down to the level of North Korea's leadership."
In September, after Trump tweeted that Kim wouldn't "be around much longer," North Korea's top diplomat said the president's tweet amounted to a "declaration of war," highlighting how Trump's social media use has often served to increase, rather than alleviate, tensions with Pyongyang.
Former members of the U.S. military also have expressed concern about Trump and his approach to North Korea.
Lieutenant Colonel Eric C. Anderson, who served as an intelligence officer in South Korea and was a senior analyst on North Korea while stationed in Hawaii and Japan, said Trump's rhetoric toward Kim and his regime has made North Korea seem more important than it really is. By paying "inordinate attention" to a nation with a relatively small population (25 million) with an economy that's essentially on its deathbed, Trump has granted North Korea "status equivalent to France, China or Britain," Anderson told Newsweek.
It's "sad" Trump can apparently be "manipulated from any foreign shore," said Anderson, adding that 2017 must feel like a major victory from Pyongyang's perspective––largely due to Trump's behavior.