What's Next for Kim Jong Un and Donald Trump? U.S., China and Russia React to North Korea's New Warning
North Korean supreme leader Kim Jong Un skipped his annual New Year's speech for the first time in his seven years of power and instead laid out a new strategy away from talks with the United States during a top meeting convened as his year-end deadline for a denuclearization deal passed.
What did Kim Jong Un say?
Kim's remarks came via a Korean Central News Agency report Tuesday detailing the results of the Fifth Plenary Meeting of the Seventh Central Committee of the ruling Korean Workers' Party in Pyongyang. The young ruler used the four-day session to condemn Washington's unwillingness to bend on granting sanctions relief in exchange for steps toward advancing a potential denuclearization-for-peace deal with the U.S.
Among the highlights of the report was Kim's declaration that "the world will witness a new strategic weapon to be possessed by the DPRK in the near future." (DPRK is an acronym for his country's official name.) He also announced that North Korea may no longer abide by the self-imposed moratorium on nuclear and longer-range missile tests he established in April 2018 as a good faith measure.
Because the U.S. continued to conduct joint drills with South Korea and impose new sanctions, Kim said that his country "has found no grounds to be unilaterally bound any longer by the commitment with no other party to honor, and this has put a damper on its efforts for disarmament and the non-proliferation of nuclear weapons across the world."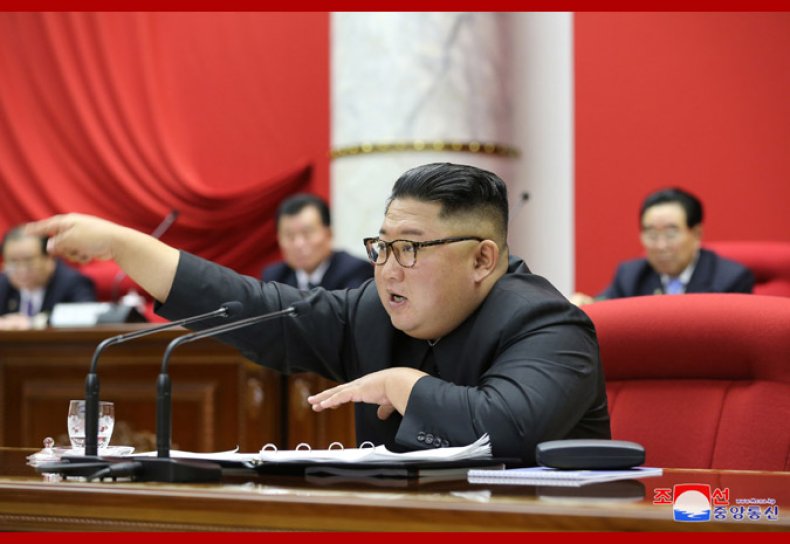 How did the United States react?
President Donald Trump appeared dismissive of Kim's warning, telling reporters Tuesday, "He likes me, I like him, we get along." He also claimed that Kim had signed a "contract" regarding denuclearization, though it was unclear which document he was referring to, and that he considered Kim "a man of his word."
Secretary of State Mike Pompeo told Fox News that same day that Trump administration officials "hope that Chairman Kim will take a different course" and that he "will make the right decision and he'll choose peace and prosperity over conflict and war." The top U.S. diplomat also told CBS News that Washington has "lived up to our commitments" by not holding "large-scale" drills with Seoul, hoping Pyongyang would do the same.
On Thursday, Defense Secretary Mark Esper told Fox News that he "would urge restraint by Kim Jong Un," along with a return to the negotiating table. At the same time, he emphasized that the Pentagon remains prepared to "fight tonight"—a longstanding motto of U.S. forces deployed to the Korean Peninsula.
How did China react?
China has long been a pillar of support for North Korea and joined the Soviet Union in assisting the nation against U.S.-backed South Korea during their 1950s war. But Beijing has opposed Pyongyang's possession and testing of nuclear weapons. Still, Chinese officials have sought to push the Trump administration to be more flexible in granting North Korea sanctions relief.
"It serves the common interests of all sides to sustain dialogue, promote de-escalation and advance the political settlement of the Peninsula issue," Chinese Foreign Ministry spokesperson Geng Shuang said at a press briefing Thursday. "Under the current circumstances, it is not advisable to take actions that lead to escalated tensions rather than dialogue."
"We hope relevant sides, the DPRK and the U.S. in particular will stick to dialogue and consultation, move towards each other, actively look for ways to break the deadlock and make concrete efforts to advance political settlement," he added.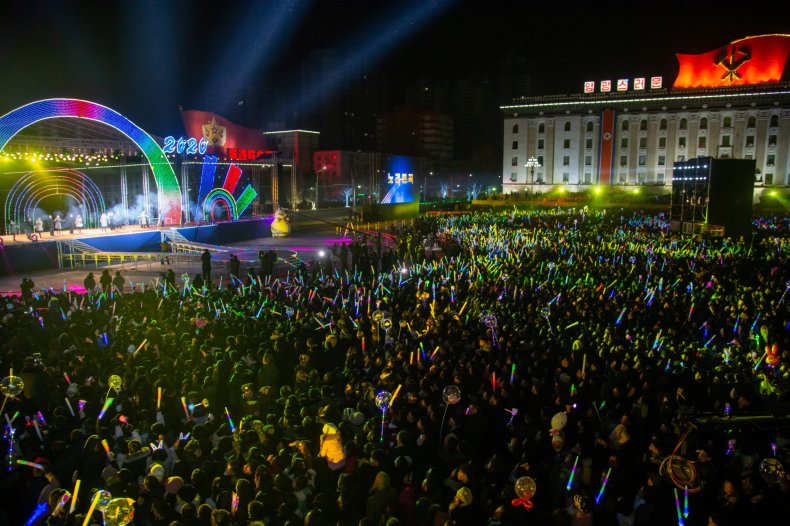 How did Russia react?
Moscow too has sought to convince Washington to ease its hard-line stance and, together with Beijing, introduced a U.N. Security Council draft resolution last month that would soften certain sanctions against North Korea in the interest of incentivizing further diplomacy from the militarized state. The U.S. has shown little interest in the move, however, and could use its permanent member status to veto, as China and Russia have done during past votes.
Mikhail Ulyanov, Russia's permanent representative to Vienna-based international organizations, tweeted Wednesday on "alarming developments around the issue of #denuclearization" in reference to Kim's speech. He said "there is urgent need to intensify diplomatic efforts" and called for a "more creative" approach to sanctions.
"Because they don't feel themselves safe in the light of U.S. rhetoric and military presence. Unfortunately US sometimes stimulates proliferation. US policy on IranDeal demonstrates to North Korea that deals with Washington are not reliable," he added, referring to Trump's decision in 2018 to unilaterally walk away from the nuclear agreement with Iran and other major powers. "It's like vicious circle."
What kinds of weapons does North Korea have?
North Korea has an array of missiles of different ranges and in 2017 demonstrated for the first time its ability to fire intercontinental ballistic missiles capable of hitting the U.S. mainland. That same year, North Korea also conducted a nuclear test with a yield more powerful than all previous five tests combined.
In line with his pledge, Kim conducted no nuclear or missile tests throughout 2018. But he resumed mostly short-range weapons tests last year, including never-before-seen systems, in protest of stalled talks and continued U.S.-South Korea exercises. In October, he also oversaw the country's first submarine-launched ballistic missile test since 2016.
These tests were all violations of existing U.N. Security Council resolutions restricting North Korea from such activities, but Pyongyang has dismissed this ban as illegitimate, saying its self-defense is a priority. The Trump administration has mostly brushed off last year's tests, but a return to ICBM or nuclear testing could present a total break in historic talks that for the first time ever brought together a sitting U.S. president and North Korean supreme leader. Such a break could mean new threats of conflict.
How do recent events in the Middle East factor in?
North Korea is not the only target of the Trump administration's so-called "maximum pressure" campaign. Iran, too, has been the target of U.S. sanctions and military threats. North Korea has friendly relations with Iran and has sympathized with its plight as the U.S. imposed sanctions on the country since 2018.
Just one day before the Pentagon conducted a drone strike that killed Iranian Revolutionary Guard Quds Force commander Major General Qassem Soleimani, Iranian President Hassan Rouhani sent a New Year's greeting to Kim, saying that he hoping "world leaders would oppose unilateralism."
Iran's feud with Washington heightened in 2018 after the White House walked away from a nuclear deal, leading to a cycle of tensions across the Middle East, especially in and around the Persian Gulf.
The situation escalated significantly Thursday after the airstrike killed Soleimani, Iraq's Popular Mobilization Forces militia deputy head Abu Mahdi al-Muhandis, and head of protocol Mohammed Redha al-Jabri near Baghdad International Airport. The triple assassination followed a week of bloodshed during which a U.S. defense contractor died and that left up to 27 Iraqi fighters dead in retaliatory strikes that stirred a violent demonstration at the gates of Washington's embassy in Baghdad. The U.S. blamed an Iran-backed Popular Mobilization Forces militia for the defense contractor's death.
North Korea's fixation on nuclear deterrence was partially born out of U.S. invasions of Iraq and Libya, two Middle Eastern powers overthrown with help from the Pentagon.
Further aggression against Iran may dissuade North Korea from conducting diplomacy with the Trump administration, especially given the president's history of backing out of international agreements.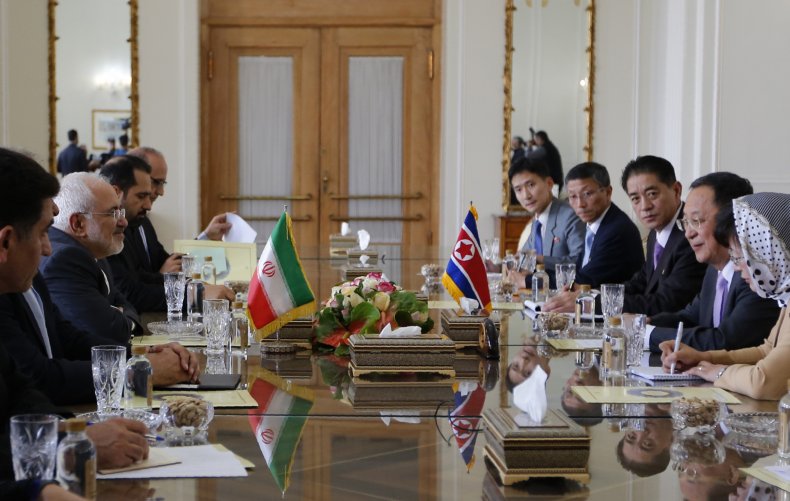 This article has been updated to include news of the U.S. drone strike that killed Iranian Quds Force commander Major-General Qassem Soleimani and two top Iraqi Popular Mobilization Forces militia leaders.