North Korean supreme leader Kim Jong Un announced he may soon unveil a new weapon of war, now that his year-end deadline for talks with the United States has expired.
During the four-day Fifth Plenary Meeting of the Seventh Central Committee of the ruling Korean Workers' Party, Kim "confirmed that the world will witness a new strategic weapon to be possessed by the DPRK in the near future," according to the official Korean Central News Agency.
"We can not give up the security of our future just for the visible economic results and happiness and comfort in reality now that hostile acts and nuclear threat against us are increasing," he added, "and nothing has changed between the days when we maintained the line of simultaneously pushing forward the economic construction and the building of nuclear force and now, when we struggle to direct our efforts to the economic construction owing to the U.S. gangster-like acts."
He also slammed the U.S. for refusing to lift sanctions in order to advance their historic, yet stalling, denuclearization-for-peace process, but appeared to leave the door open for future negotiations if Washington recalibrated their approach toward Pyongyang.
"If the U.S. persists in its hostile policy towards the DPRK, there will never be the denuclearization on the Korean peninsula and the DPRK will steadily develop necessary and prerequisite strategic weapons for the security of the state until the U.S. rolls back its hostile policy towards the DPRK and lasting and durable peace-keeping mechanism is built," Kim declared.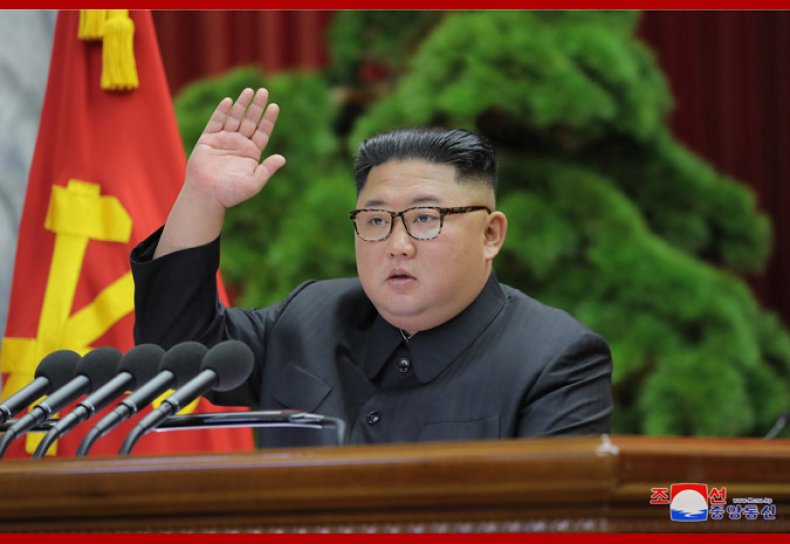 While this year the world witnessed two more meetings between Kim and President Donald Trump, it also brought a return to North Korea's mostly short-range weapons testing and increasingly impatient rhetoric as Pyongyang demanded in April that Washington put forth a deal by the end of the year. Instead, 2020 will begin with another deadlock in a dialogue between the decades-long foes.
In a bulletin released earlier Tuesday, the White House boasted Trump's "record breaking results" after three years in office, including his meetings with Kim and crossing over the inter-Korean border in June. At the same time, the report said the president "has maintained tough sanctions on North Korea while negotiations have taken place."
These economic restrictions have frustrated Pyongyang as it pledged to work toward the "denuclearization of the Korean Peninsula." Washington officials use different phrasing: the "complete, verifiable and irreversible denuclearization."
Though North Korean officials and state-run media have continued to reserve much of their more bombastic remarks for hard-line officials such as Secretary of State Mike Pompeo and, at least prior to his dismissal in September, former national security adviser John Bolton, First Vice Foreign Minister Choe Son Hui threatened to revive the infamous "dotard" insult earlier this month after Trump resurrected his use of the term "Rocket Man" in reference to Kim. The two men have largely avoided exchanging insults since sparring over their nuclear buttons around New Year's 2018.
Kim's speech that year also contained overtures to South Korean President Moon Jae-in, who has continued to push to build inter-Korean ties, severed by their 1950s war, in which Washington backed Seoul. China and Russia, who supported North Korea throughout the conflict, put forth a United Nations Security Council draft resolution earlier this month that would see partial sanctions relief for Pyongyang.
In addition to the yet unidentified "new strategic weapon" mentioned at the four-day party session, the plenary meeting also adopted a resolution calling for economic restructuring; greater focus on science, technology, education and healthcare; ecological and environmental reforms as well other more ideological goals designed to strengthen the country's socialist system.
Kim was expected to also deliver his 2020 New Year's speech, often a platform for important policy announcements.