North Korea Biological Weapons: What We Know About Kim Jong Un's Other Weapons of Mass Destruction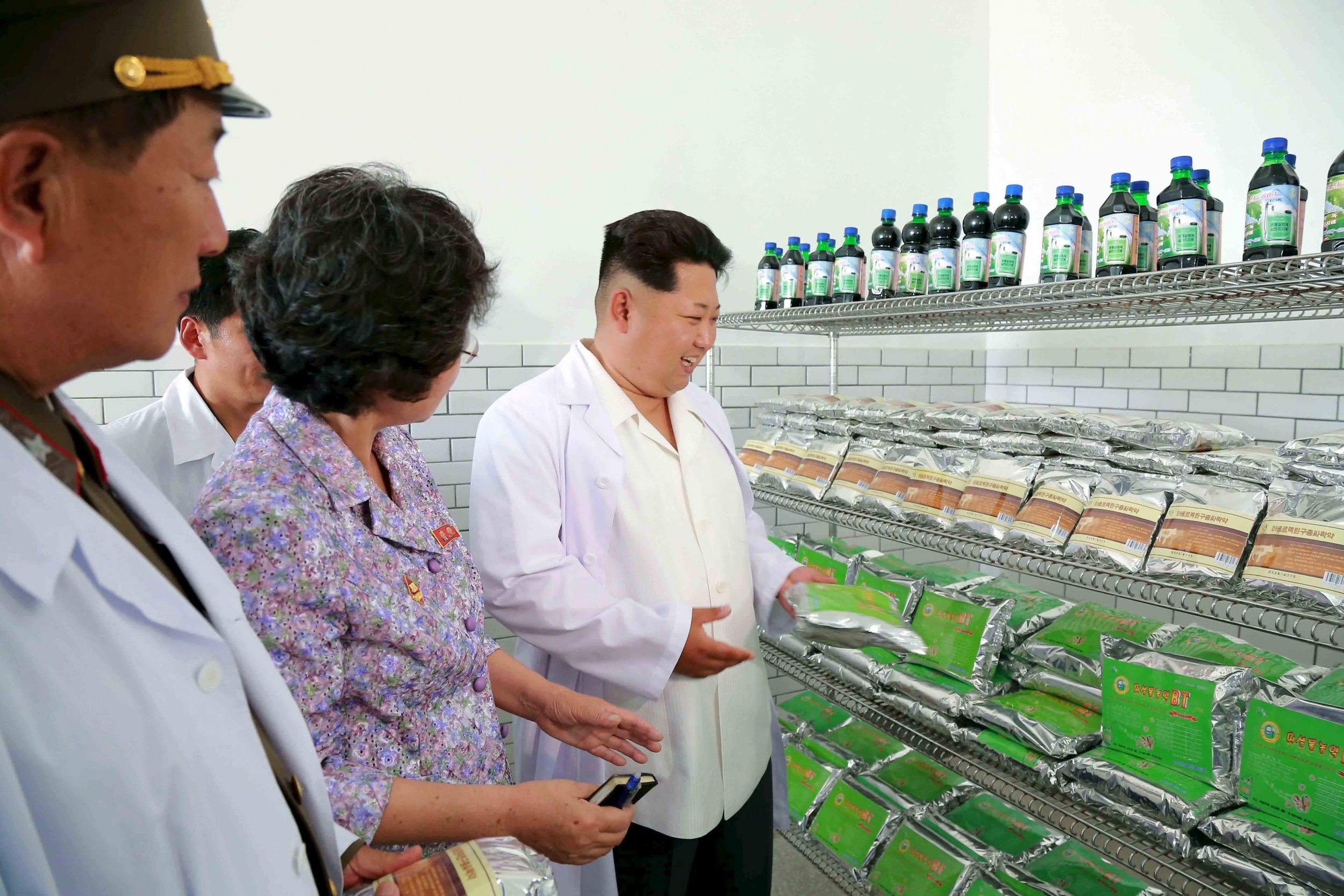 North Korea's nuclear threat may presently have the world's attention but ballistic missiles capable of reaching the U.S. mainland aren't the only weapons of mass destruction in Kim Jong Un's arsenal.
Pyongyang's nuclear capabilities are well understood and high on the agenda of President Donald Trump in his ongoing five-country trip to Asia, but a recent study from the Belfer Center for Science and International Affairs at Harvard Kennedy School reported on a less well known aspect of North Korea's armaments program: biological weapons.
Andrew C. Weber, former assistant secretary of Defense for Nuclear, Chemical and Biological Defense Programs, commissioned the report over concerns that the biological weapons threat received too little attention.
"This is an issue that is generally neglected by the national security community," he tells Newsweek. "Biological weapons are more complicated [than nuclear weapons]; they do not lend themselves to easy-to-understand pictures."
Unlike the testing of rocket technology, the weaponization and cultivation of viruses can be carried out behind closed doors. Experts are unable to attest to North Korea's development of threatening pathogens, but they do believe the regime has built facilities that could be used to produce biological weapons.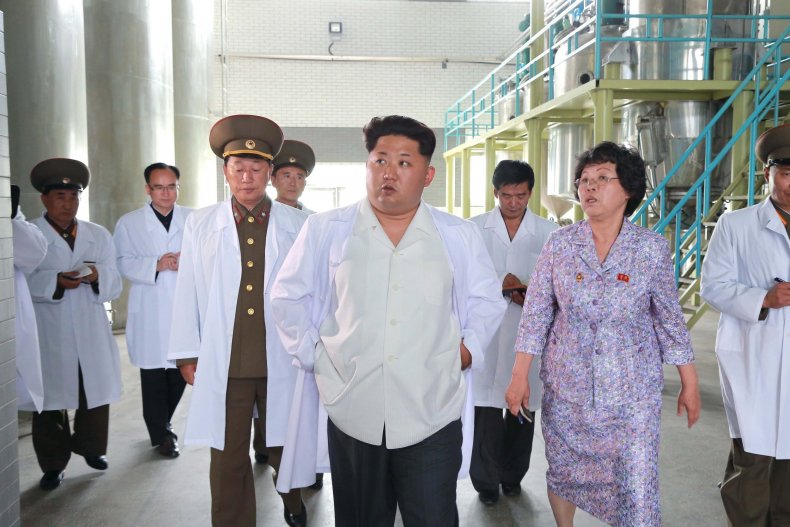 Exhibit A in the case of North Korea's biological weapons capabilities is a series of pictures of Kim touring Pyongyang's Biological Technology Research Institute in June 2015. The release of the pictures occurred shortly after it emerged that a military lab in Utah mistakenly sent live anthrax shipments to several destinations, both at home and abroad.
Experts studying the pictures, which looked heavily staged, doubted was the timing was purely coincidental.
"It was probably meant to send a message," says Melissa Hanham, a senior research associate at the James Martin Center for Nonproliferation Studies, who has studied the pictures in detail and was interviewed for the report.
Hanham believes the institute was not being used as a biological weapons facility at the time, but it could serve that purpose, as she documented in a report published on 38 North, a website dedicated to monitoring North Korea.
Her assessment defied the widespread belief within the scientific community that North Korea had not developed the technology necessary to produce biological weapons. Hanham said the pictures instead show North Korea is undergoing rapid advancement thanks to smart scientists and easier access to technical information. "We really shouldn't be shocked that in 2017 North Korea can do these things," she said.
While the beginning of the country's biochemical program remains disputed (sources date it to either the early 1960s or the 1980s) the Belfer Center's study also concludes, "with a healthy grain of skepticism," that is reasonable to think North Korea has the capability to cultivate and produce biological weapons.
What pathogens does North Korea possess?
According to documents from the South Korean Defense Ministry from 2015, North Korea is in possession of 13 pathogens, meaning bacteria and viruses that cause disease, and it can "cultivate and weaponize them within 10 days."
The pathogens include: anthrax, botulism, cholera, Korean hemorrhagic fever, plague, smallpox, typhoid fever, yellow fever, dysentery, brucellosis, staph, typhus fever, and alimentary toxic aleukia.
Of these, the South Korean authorities believe Pyongyang would focus on weaponizing anthrax, which is highly fatal, and smallpox, which is highly contagious, in the event of an emergency.
"It is certain from government statements, defector testimonies, and circumstantial evidence such as the smallpox vaccination of North Korean soldiers that at least in the past, North Korea has held an interest in developing biological weapons," the report reads.
The North Korean regime has never publicly acknowledged the development of biological weapons and, having ratified the Biological Weapons Convention (BWC) in 1987, would be in breach of this agreement if it did so, although the repercussions would likely be limited.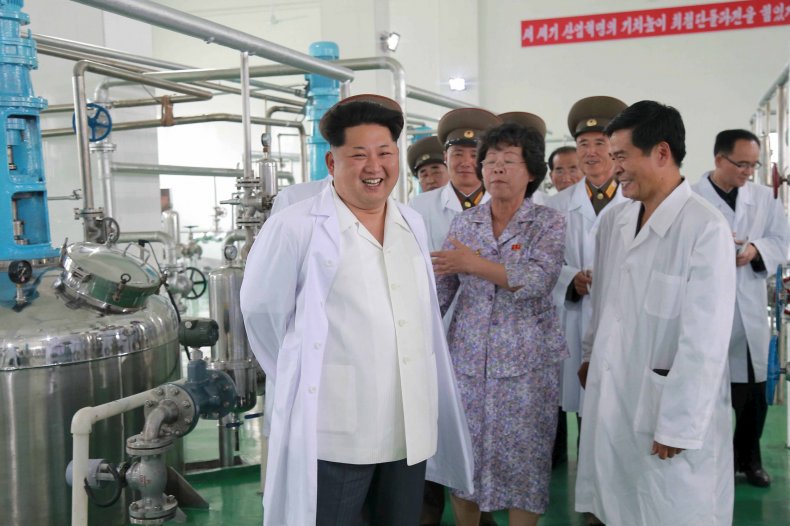 "The U.N. Security Council has already taken action to restrict countries from cooperating with North Korea in technology that could be applied to biological weapons and that is as far as we can go at the moment," Thomas Countryman, former assistant secretary of state for international security and nonproliferation and chair of the board of directors for the Arms Control Association, tells Newsweek.
What could North Korea do with it?
One of the biggest unknowns surrounding Pyongyang's biological weapons is whether the country has weaponized viruses and is able to deliver them using a missile.
"We haven't seen them produced in a way they'd be delivered in a rocket shell. That isn't to say they aren't or [that the North Koreans] haven't worked on it, but hopefully there is still time," Hanham says.
The assassination of Kim's half-brother Kim Jong Nam in Malaysia in February using a banned chemical showed that North Korean assassins are able to deliver toxic agents across borders. One use of the biological weapons could be targeting individuals perceived as dangerous to the regime.
"It's not terribly clear what the North Korea doctrine on the use of biological weapons is," Countryman says, adding that biological weapons could also be deployed as a "weapon of terror" or as part of a military retreat rather than as an offensive weapon on the battlefield.
"They are a weapon of terror. It is difficult to imagine them using them on a very large scale," Hanham agrees. "If you wanted to cause confusion as you prepare for a larger or different type of attack, [biological weapons] could be one way to do it," she says.
What can the U.S. and its allies do to prepare?
U.S. and South Korean forces have been training to respond to a biological attack for years during annual military exercises. While at the Department of Defense, Weber worked on introducing the Able Response drills, which took place for the first time in 2011 and were the first joint exercise solely focusing on bioterrorism threats.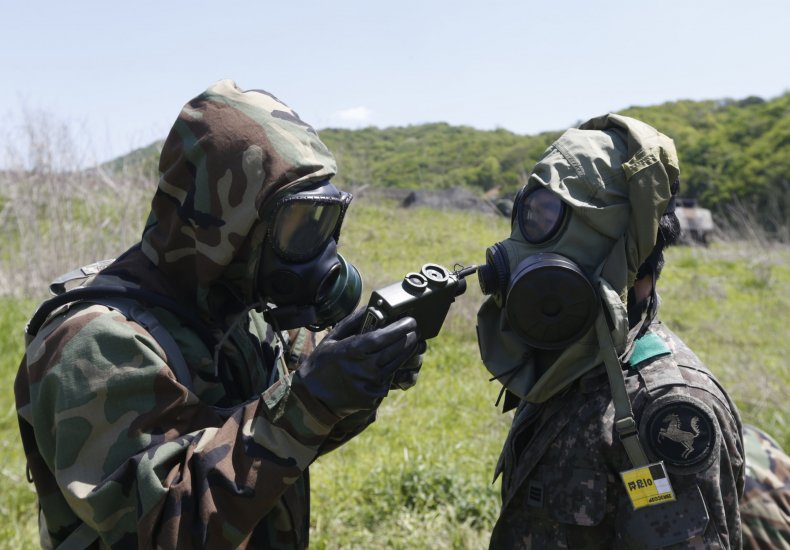 According to him, there is still more work to do to prepare the troops, for instance improving the medical response to an attack and stockpiling vaccines and drugs against rare diseases.
While U.S. forces are vaccinated against both anthrax and smallpox, South Korean soldiers do not receive any such vaccinations. "It's easier to buy expensive airplanes and missile defense systems than it is sometimes to invest in smaller but no less important national defense areas," Weber says.
He believes the threat from biological weapons should be discussed further in the U.S. and in South Korea. "The attention and resources this issue deserves have been somewhat neglected."
Since he left his position in 2014, his role at the Defense Department has remained vacant: "We really need somebody at the Pentagon to be a champion and work full-time on these issues," he says.
Countryman, whose position at the State Department has also been vacant since he left in January, is also concerned about the lack of appointments in key roles of the Trump administration that would focus on containing North Korea's development of weapons of mass destruction.
"There are genuine experts within the State Department," he says, "But they don't have the kind of authority that comes from presidential nomination and senate confirmation."
But what worries Countryman even more is the friction between the White House and the State Department. "The White House frequently defines [the State Department's] approach as maximum pressure and engagement," Countryman said. "I see the pressure but I see very little desire on the part of the White House to engage with the North Koreans or coordinating its approach with South Korea—that is what concerns me."