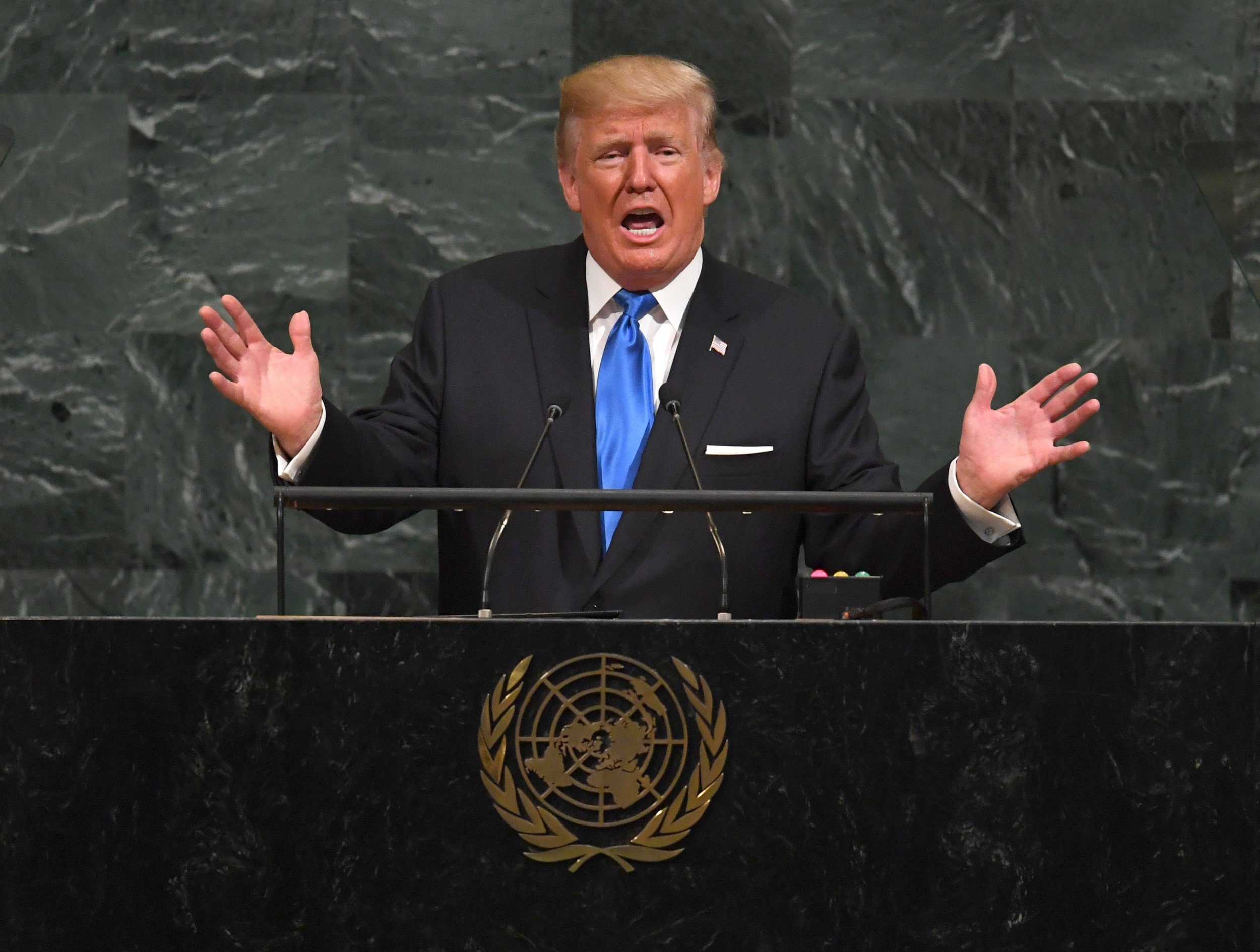 North Korea has ridiculed President Donald Trump's threats over its missile program, comparing his comments during his maiden speech to the United Nations to the sound of a "barking dog."
Speaking on Tuesday, Trump said the U.S. would "have no choice but to totally destroy" North Korea and earlier this week on Twitter referred to Kim Jong Un as "Rocket Man."
North Korea's delegation left the hall in New York ahead of Trump's speech, but the country's foreign minister, Ri Yong Ho, compared Trump's remarks to the sound of a dog barking in televized remarks to the press in New York.
"There is a saying that goes: 'Even when dogs bark, the parade goes on'," Ri said, quoted in Reuters. "If [Trump] was thinking about surprising us with dog-barking sounds then he is clearly dreaming."
When asked about the "Rocket Man" remarks, Ri quipped "I feel sorry for his aides," a perceptive comment given the now viral image on social media showing Trump's Chief of Staff John Kelly covering his eyes in apparent dismay at the president's speech.
Trump's speech also drew criticism in China where, on Wednesday, an editorial published in the state-owned People's Daily read: "Trump's political chest-thumping is unhelpful, and it will only push the DPRK to pursue even riskier policies, because the survival of the regime is at stake," referring to North Korea with its official name, the Democratic People's Republic of Korea.
Beijing is Pyongyang's most important military and economic partner, but it continues to support U.N. sanctions against North Korea. Chinese Foreign Minister Wang Yi repeated China's calls for calm and the de-escalation of tensions on Thursday. He said the situation on the Korean Peninsula was getting more serious by the day and warned that sanctions alone would not solve the situation, calling for talks to be resumed.
But not everyone was unhappy with Trump's anti-North Korea rhetoric: Japan's prime minister Shinzo Abe echoed the president's words that "talking is not the answer" in his own speech to the U.N. on Wednesday.
"Now is not the time for dialogue. Now is the time to apply pressure," said Abe, the leader of one of the U.S.' key allies in the Pacific, quoted in local media.
Trump is expected to hold a trilateral meeting with Abe and South Korean President Moon Jae-in on Thursday. Moon has been less keen than Trump and Abe to talk about military solution to the crisis, and his government recently announced it was sending a total $8 million aid package to North Korea through U.N. agencies' relief programmes providing food and medicines to children and pregnant women.