North Korea Is China's Weapon | Opinion
On April 30, the Biden administration revealed how it will handle North Korea. Americans should not be optimistic.
"Our policy will not focus on achieving a grand bargain, nor will it rely on strategic patience," White House Press Secretary Jen Psaki said to reporters on Air Force One, indicating that President Biden had rejected both Obama-style neglect and Trump-style engagement.
In words that could mean anything or nothing at all, Psaki referred to consultation with "allies and partners at every step along the way," "practical progress" and a "calibrated practical approach that is open to and will explore diplomacy."
Unfortunately, the White House completed its North Korea policy review before wrapping up its China one. Moreover, it has yet to name an ambassador to China and, perhaps more important for North Korea, has not filled a crucial sanctions-enforcement post at the Commerce Department's Bureau of Industry and Security.
It makes little sense to announce a North Korea policy without first figuring out what to do about China. China, after all, exercises great influence over the North's ruling Kim family and can, as a practical matter, require the North Koreans to do what it wants.
Yes, it is true that North Korean officials loathe the Chinese. Many analysts say this means the People's Republic of China can no longer order around the Democratic People's Republic of Korea (DPRK) as a pseudo-satrapy.
Chinese leaders, in order to absolve themselves, have promoted this argument. In recent years, they have maintained Korean animosity is so strong that they could not exercise great influence in Pyongyang. For instance, a White House official reported that Chinese ruler Xi Jinping told his Mar-a-Lago host, President Trump, that Beijing did not possess the sway with the North the U.S. believed it had. Trump later implied, in comments to The Wall Street Journal, that he accepted the views of his Chinese guest on this matter.
For millennia, Chinese and Koreans engaged in countless skirmishes, battles and wars. As a result of conquest, the border between the two peoples shifted in both directions. Even though this unhappy history is seared into the consciousness of Koreans, and even though they bitterly resent China's treatment of them as vassals, personal pique has little to do with Beijing's leverage.
How do we know this? Kim Jong Un, the current North Korean supremo, traveled to China for the first time as ruler at the end of March 2018, when he went to Beijing. He then went to China in the beginning of May, to Dalian, and again in June, to Beijing, after his historic Singapore summit with President Trump.
Moreover, Kim rode his armored train to Beijing in January 2019 to, among other things, spend his birthday there. In short, Kim traveled to China four straight times without a return visit by the Chinese leader. Xi stepped on North Korean soil for the first—and thus far, only—time in June 2019, for a short stay.
The travel pattern reveals much. Kim had evidently planned to make his first trip abroad as leader at the end of April 2018, to see South Korean President Moon Jae-in in the Demilitarized Zone. Xi made sure Kim went to China first. So we know that when China really wants something, it summons North Korean rulers—and, when summoned, those rulers accept Chinese "invitations."
Kim Jong Un occasionally defies China, and some believe that proves Beijing does not exert significant influence. But this ignores the fact that Chinese officials do not expect obedience all the time. Beijing supports the North Koreans, whether or not they are compliant at any particular moment, because the Chinese believe that in the longer run, leaders in Pyongyang know their place. The Chinese are confident they have influence but prefer not to exercise it all the time, Chung Jae Ho, a Beijing watcher at Seoul National University, once told me.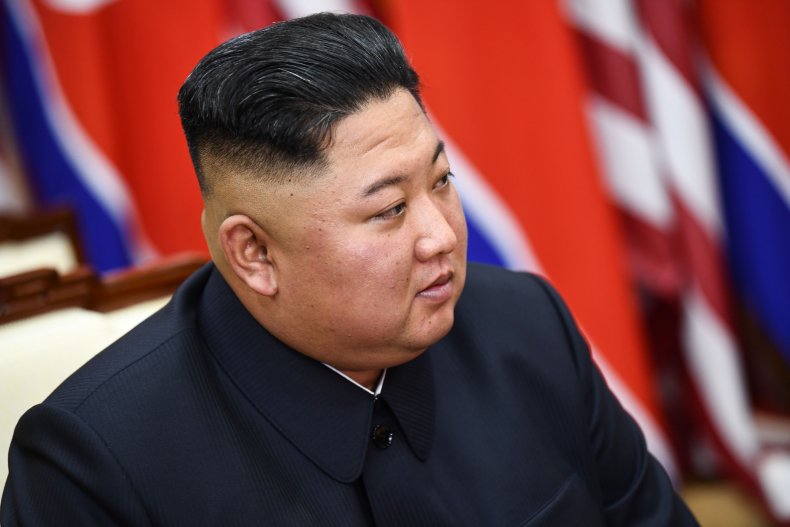 When China really wants something, it lowers the boom on the North Koreans, who know that Beijing, by cutting off money flows and diplomatic support, could bring about the end of the Kim dynasty. Kim rulers act accordingly.
In China's hands, North Korea is a weapon. American presidents and secretaries of state know the way to the Chinese capital to seek help in restraining the Kims, and the Chinese demand concessions in return. President Biden looks like he is going to repeat the pattern, established by George W. Bush, of looking to China. On March 18, Secretary of State Antony Blinken publicly said the Chinese should work to rein in Pyongyang.
And that brings us back to the new administration. "The likelihood of North Korea giving up nuclear weapons is close to zero," a "senior administration official" told The Washington Post's David Ignatius.
That is certainly true if Biden looks to the Chinese for a solution. "Successive U.S. administrations have not fully enforced U.S. laws against North Korean violators or the Chinese banks and businesses that assist Pyongyang's prohibited nuclear and missile programs," said The Heritage Foundation's Bruce Klingner to Newsweek. "Washington has not imposed the same penalties on Chinese banks as it did against European banks for money laundering for Iran."
On June 29, 2017, the U.S. Treasury Department designated Bank of Dandong, a Chinese bank, a "primary money laundering concern" pursuant to Section 311 of the PATRIOT Act. The designation, as a practical matter, sawed off that bank from the global financial system because it could no longer conduct interbank transactions in U.S. dollars, the world's dominant currency.
Bank of Dandong, however, is just a small fry. The June 2017 designation was intended as a mere warning. Beijing did not take the hint, and Trump did not pursue the pressuring of China.
If he had, Trump would have surely gotten somewhere. Other Chinese culprits then included the Bank of China, one of China's Big Four banks. This financial institution was named in a 2016 U.N. report for participation in a conspiracy to hide money transfers for North Korea in Singapore, and the bank had almost certainly been involved in this dirty business in other locations, as well.
And as big as Bank of China is—it is the world's fourth-largest bank, as measured by assets—it is surely not the largest Chinese bank cleaning up cash for Kim. That honor may belong to China's—and the world's—largest bank, the Industrial and Commercial Bank of China. Moreover, the remaining two of the Big Four, the world's second- and third-largest banks, have also been implicated in handling dirty money for the Kims.
In short, American policymakers know how to get China to begin acting responsibly. "A wise Korea hand once said to me that just about everything that could be tried with North Korea has been tried and all we can do is keep repackaging previous actions in new ways to try to achieve some kind of progress," David Maxwell of the Foundation for Defense of Democracies told this publication.
Maxwell's friend is right. If Biden's Treasury Department were to enforce U.S. law and declare one of China's big banks a money-launderer under Section 311, it would essentially be a death sentence on the institution and give Beijing a big incentive to stop supporting the DPRK.
Sanctioning a large Chinese bank would take political will that no American president has demonstrated. And it would take a recognition that China is not the solution to North Korea. It is the problem.
Gordon G. Chang is the author of Losing South Korea. Follow him on Twitter: @GordonGChang.
The views expressed in this article are the writer's own.