North Korea Confirms Military Parade, Thinks It's 'Weird' South Is Watching
North Korea has confirmed plans to hold a military parade to mark the end of the 8th Party Congress of the ruling Korean Workers' Party, with one of the country's most senior officials scrutinizing South Korea's coverage in the lead-up to the event.
Kim Yo Jong, who serves now as vice department director of the Central Committee of the Korean Workers' Party and is the sister of Supreme Leader Kim Jong Un, issued a statement Tuesday touting the success of the major party gathering in Pyongyang and announced there would be several events held "soon to celebrate the successful congress," according to a report by the official Korean Central News Agency.
But referring to South Korean military comments made amid speculation that a military parade would be held as was the case during the 7th Party Congress in 2016, she took exception at the manner in which Seoul was examining its neighbor's activities.
"What is weird is that the joint chiefs of staff of south Korea made a senseless statement that they captured the north opening a military parade at midnight on Jan. 10 and they are in the middle of making precision tracking," Kim Yo Jong said.
She complained specifically about certain phrases such as "capturing of event" and "precision tracking," calling them "a clear expression of the south Korean authorities' hostile approach toward the fellow countrymen in the north."
"We are only holding a military parade in the capital city, not military exercises targeting anybody nor launch of anything. Why do they take trouble craning their neck to follow what's happening in the north," Kim Yo Jong said. "The southerners are a truly weird group hard to understand."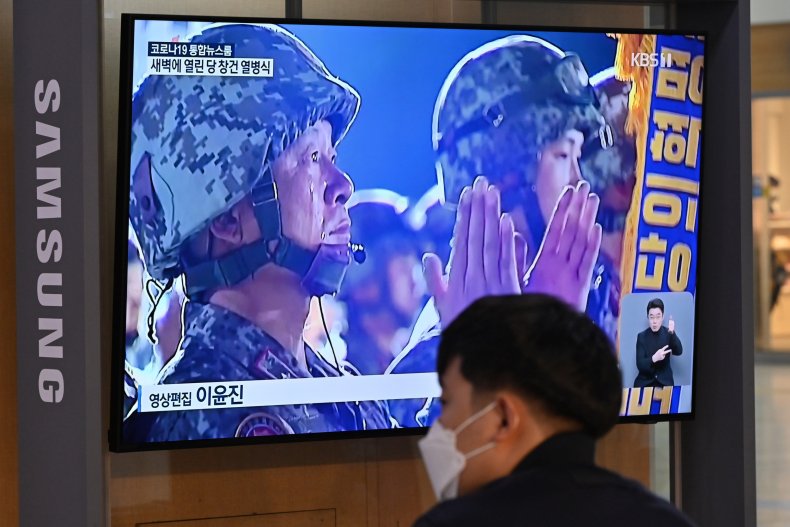 North Korea often holds military parades to major events. The government uses the opportunity to showcase new military technology including long-range, nuclear-capable missiles.
South Korean intelligence routinely monitors such activities and others deemed important to national security across the Demilitarized Zones separating the two Koreas since their 1950s conflict. The two former Cold War-era satellite states remain technically at war, and fears of a return to high tensions across the divided Korean Peninsula have raised gradually with the deterioration of a process begun by the leaders of both countries three years ago.
Kim Jong Un met with South Korean President Moon Jae-in a record three times throughout 2018 as part of a peace process propelled by unprecedented direct diplomacy between Pyongyang and Seoul's ally, Washington. Stalled progress and a breakdown of two years have left the future of inter-Korean reconciliation uncertain. Kim Yo Jong has served as the spokesperson for worsening frictions over the past year.
South Korea's spy agency assessed that Kim Jong Un's youngest sibling has been delegated important authorities related to state affairs and her country's frozen negotiations with the U.S. and South Korea. While the dropping of "first" in front of her title as "vice director" suggested a potential demotion, Kim Yo Jong led another rhetorical salvo against her neighbors as part of Tuesday's statement.
"They are the idiot and top the world's list in misbehavior as they are only keen on things provoking world laughter," Kim Yo Jong said. "Do they really have nothing else to do but let their military body make 'precision tracking' of the celebrations in the north?"
She then reiterated earlier words of caution not to provoke North-South relations at this crucial time.
"As I warned before," she added, "all these things must surely be reckoned up in the future."
Burgeoning inter-Korea ties were cut by Pyongyang last year in response to South Korea activist groups releasing leaflets critical of the Kim dynasty and other contraband across the DMZ. South Korean authorities have cracked down on the practice, but cross-border tensions remain high.
Kim Jong Un addressed the situation during the fourth session of the 8th Party Congress held Friday—Saturday Pyongyang time—at the April 25 House of Culture. He said that relations had practically reverted back to their pre-2018 state, blaming Seoul for not sufficiently promoting inter-Korean relations and prioritizing its alliance with Washington, which the ruler called his country's "greatest enemy."
His harsh words came just over a week before President-elect Joe Biden was set to succeed President Donald Trump, the only sitting U.S. president to ever meet a North Korean head of state.
On Tuesday, Kim Yo Jong was seen on state-run television following her brother as top officials traversed the snow to arrive at Kamsusan Palace. Once there, Kim Jong Un and crew paid respects to his late father, Kim Jong Il, and late grandfather, Kim Il Sung.
In a surprise move over the weekend, Kim Jong Un received a promotion, elevating his political title to seneral secretary of the Korean Workers' Party, the same position his father held. An accompanying portrait showed the ruler in military attire, a rare sight for the supreme leader.