North Korea Moves to Defend Against Coronavirus After Disease Spreads Among U.S., South Korean Troops
North Korea is shoring up its defenses against the potentially deadly coronavirus that has infected tens of thousands across one of its borders and more than a thousand more across the other, where both the South Korean and U.S. militaries have reported cases among their ranks.
State-run North Korean media outlets have been providing daily updates on the global proliferation of the COVID-19 disease as well as efforts by the tightly-controlled state to halt its spread. As one of the first countries to begin enforcing travel restrictions when the outbreak worsened last month in China and beyond, North Korea has not yet reported any confirmed cases of its own, but authorities appeared to be taking the illness very seriously.
Pyongyang, for example, ordered the State Commission of Quality Management to conduct strict inspection and quarantine of imported goods "as part of the work for preventing COVID-19," the official Korean Central News Agency reported Wednesday. New protocols require handlers to leave such imports "intact at the tightly closed places for the set period and then hand over the goods to relevant units after thoroughly disinfecting them as required by directions."
The Ministry of Machine-Building Industry urged officials Tuesday to sterilize their offices three times a day, monitor their temperatures at least twice daily and wear sanitary masks that have become a symbol for efforts to battle the new coronavirus. Mask-wearing reminders and other hygienic information are also reportedly being relayed via messages on public transportation and vans equipped with loudspeakers.
Nearly every individual—official, soldier and civilian alike—recently appearing in published photos has been seen wearing such masks. While supreme leader Kim Jong Un himself has yet to appear in one, his premier Kim Jae Ryong and other elites have been pictured donning protective gear, as has an army of anti-epidemic workers across the country.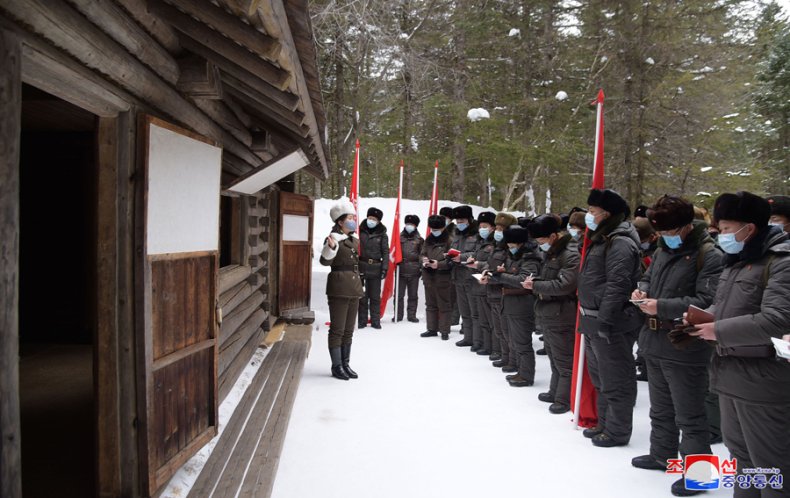 One article that appeared last week in North Korea's government-owned Uriminzokkiri website claimed the answer to staying disease-free was eating kimchi—a traditional, seasoned side dish of salted and fermented vegetables that some Korean researchers argued helped combat Asia's last major coronavirus outbreak in 2003. Last month, South Korea's Health Ministry disputed the kimchi cure for coronavirus.
As the new coronavirus' spread and death toll surpassed that of the severe acute respiratory syndrome (SARS) crisis, the World Health Organization has yet to identify a true vaccine. The disease has affected a total of 81,322 people and killed 2,770, according to the latest figures compiled Wednesday by Johns Hopkins University's real-time tracker.
The vast majority of confirmed cases and deaths have occurred in China, but South Korea, Italy and Iran have begun to emerge as new centers for potential epidemics.
Health officials in Seoul have reported 1,261 confirmed cases and a dozen deaths. Many of these infections are reportedly linked to the Shincheonji religious movement, whose members were said to have caught the contagion during a mass service earlier this month in the southeastern city of Daegu.
The illness has spread to other parts of South Korean society, however, including the country's armed forces. South Korea's Yonhap News Agency reported that 20 of the country's troops had tested positive for the virus as of Wednesday. The previous day, U.S. Forces Korea reported the first confirmed case among its own service members, a 23-year-old stationed at Camp Carroll.
The U.S. command, tasked with defending its decades-long ally against North Korea, raised its risk level to "HIGH" on Wednesday out of what it referred to as a "a strong abundance of caution."
Defense Secretary Mark Esper hosted his South Korea counterpart Monday at the Pentagon, where the two sides agreed to consider scaling back joint exercises until the coronavirus crisis passed. Such drills have already been somewhat diminished as part of a good-faith measure in attempting to rekindle talks with their mutual longtime in the north, which considers the combined maneuvers provocative.
Pyongyang's talks with Washington and Seoul have stalled as representatives of Kim Jong Un and President Donald Trump failed to reach an understanding after three high-level meetings and a series of working-level talks over the past year and a half. The U.S. has called on North Korea to abandon nuclear weapons it considers necessary for its self-defense in exchange for sanctions relief, peace and security, but a satisfactory arrangement has yet to emerge.
Alex Wong, the U.S.' deputy special envoy for North Korea, told an audience at the Hudson Institute that the Trump administration was still committed to its dialogue with Kim's government.
"When they're ready to set in motion the necessary talks, when they're ready to seize the opportunities that we have before us, our team will be ready as well," Wong said.
North Korean officials have remained relatively quiet on talks since their young ruler's New Year's Day deadline for a deal with the U.S. passed uneventfully early last month. Kim hinted at the time that his personnel were working on a "new strategic weapon" to be debuted in "the near future."