North Korea's 'Erotic' Propaganda Video Leaves Viewers Confused
A video of North Korean soldiers performing exercises and drills in the snow has gone viral on social media with some confused viewers deeming it "erotic."
The nearly minute-long clip, which was posted on February 10 by the Global Military Info Twitter page, has so far been viewed more than 434,000 times.
It shows soldiers, all shirtless, performing combat moves in snowy and icy conditions as well as other endurance and strength exercises. The video includes plenty of close-ups of the soldiers' muscles as they train in slow motion.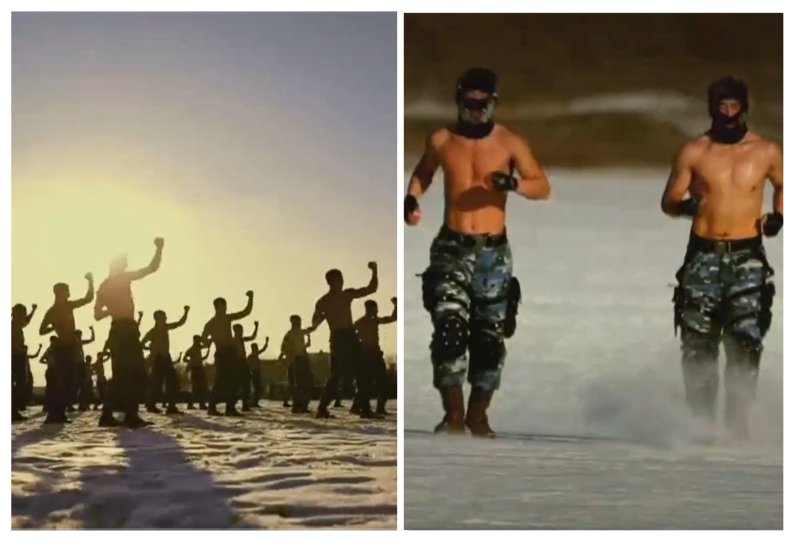 During one questionable part of the propaganda video, the soldiers are seen breaking out of chains simply by flexing their muscles and break sheets of ice with punches and hand chops while they're doused with water and snow.
Some social media users questioned how these exercises would help prepare North Korea for modern conflict, where soldiers are rarely within arm-striking distance.
A parody Twitter account commented on the video and said:" This seems slightly erotic."
Astrophysics Ph.D. and scientific software engineer Peter Hague also mocked the video on Twitter, writing: "I hear that if you punch a load of trees and crawl shirtless through the snow long enough that you become immune to artillery and missiles."
Social media user Michael Martin joked: "Did I just get tricked into watching a trailer for a gay Korean porno?"
North Korea recently fired two short-range ballistic missiles off of its east coast on Monday, further heightening tensions in the region
The missiles were reportedly launched around 7 a.m. local time and are suspected to have fallen in the Sea of Japan on the east side of the Korean Peninsula.
According to Japan's Ministry of Defence, the first missile flew as far as 400 kilometers and the second flew some 350 kilometers.
The test on Monday was conducted to bolster North Korea's nuclear attack capacity as well as ensure weapon reliability, according to North Korean state media.
Kim Yo Jong, the sister of the North Korean Leader Kim Jong Un, recently warned of further military exercises or test strikes between South Korea and the United States in the region.
"The frequency of using the Pacific as our firing range depends upon the U.S. forces' action character," she said. "We are well aware of the movement of U.S. forces' strategic strike means recently getting brisk around the Korean Peninsula."