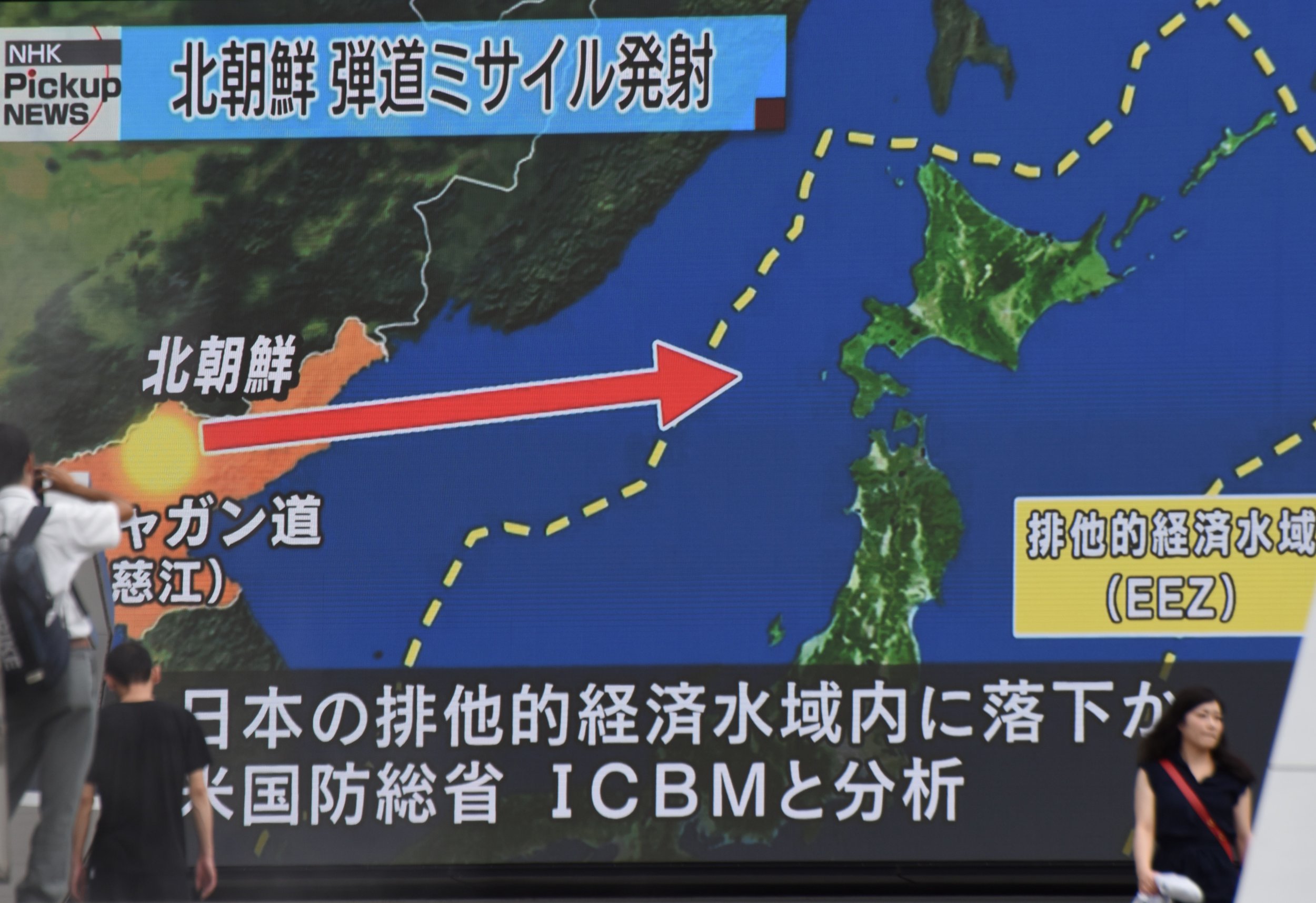 Japan warned citizens to seek refuge in shelters or solid buildings after reports emerged Monday that a missile fired by North Korea was headed toward the Tohuku region in the northern part of the country.
Japan did not attempt to shoot down the missile, CNBC reported, citing Japan's official NHK media outlet, indicating the missile was a test that likely flew straight over the country and landed in the Pacific Ocean. North Korea tested its first intercontinental ballistic missile in July and a second later that month, angering the U.S., Japan and other allies opposed to the reclusive, communist state's possession of nuclear and ballistic weapons. Japanese Prime Minister Shinzo Abe reportedly vowed to defend Japan before rushing into an emergency meeting in his office.
Related: North Korea fires missile near Japan; Tokyo, Seoul officials hold emergency meetings
"We will make utmost efforts to firmly protect the lives of the people," Abe told journalists, according to Reuters.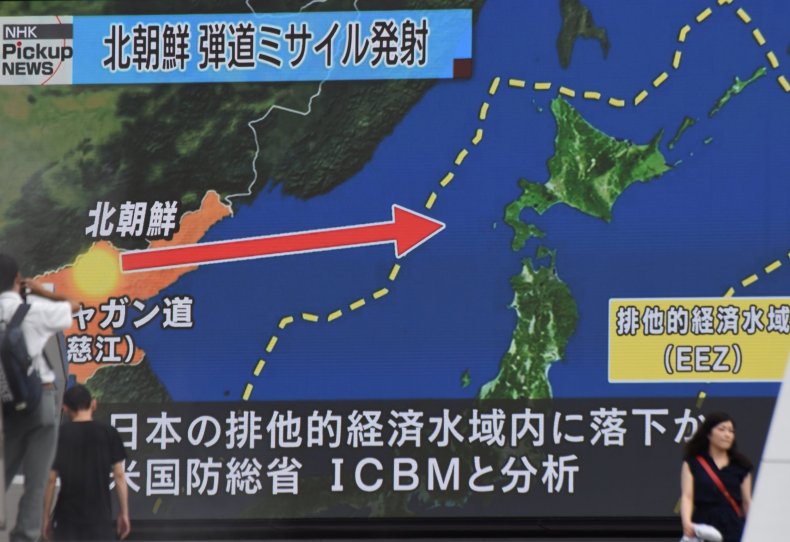 South Korea's military confirmed the incident, saying the missile was fired from the Sunan area near Pyongyang and flew east. Seoul, which has technically remained at war with its northern rival since the 1950s, is currently engaged in war games with the U.S., something to which North Korea has been deeply opposed.
"It passed through the sky over Japan," South Korea's joint chief of staff said, according to the official Yonhap News Agency.
Masamune Wada, a Japanese politician serving in the House of Councilors, urged citizens not to panic via Twitter and shared a map allegedly showing the path of the missile. According to the map, the missile which landed in the Pacific Ocean about 733 miles east of Japan's Cape Erimo. Yoshihide Suga, Japan's chief Cabinet secretary, told NHK that "nothing appeared to have dropped on Japanese soil" and said Tokyo would be working with Seoul and other countries "to secure the population of Japan," according to ABC News.
President Donald Trump has attempted to undermine his North Korean rival, Kim Jong Un, using economic sanctions and international pressure, but the Republican leader has maintained that military action was on the table. Trump threatened earlier this month unleash "fire and fury like the world has never seen" against North Korea and shortly after North Korea's military revealed a plan to strike the U.S. territory of Guam. Kim threatened to go through with the plan if the U.S. attempted to undermine North Korea's sovereignty.
North Korea tested three short-range ballistic missiles over the weekend, and the state-run Korean Central News Agency likened the U.S.'s moves to "sitting on thorns" in a commentary published Monday.
"Citizens are not having a comfortable sleep but heavyweights of the Trump administration are inviting misfortune, being utterly un-thoughtful of what is uttered by them," the article read.
"The U.S. had better be mindful of its own destiny, not resorting to the useless anti-DPRK racket for confrontation and pressure while calling for "protection of allies" in different parts of the world," it added.
This is a developing story. More information will be added when it becomes available.