North Korea Fires Missile Near Japan; Tokyo, Seoul Officials Hold Emergency Meetings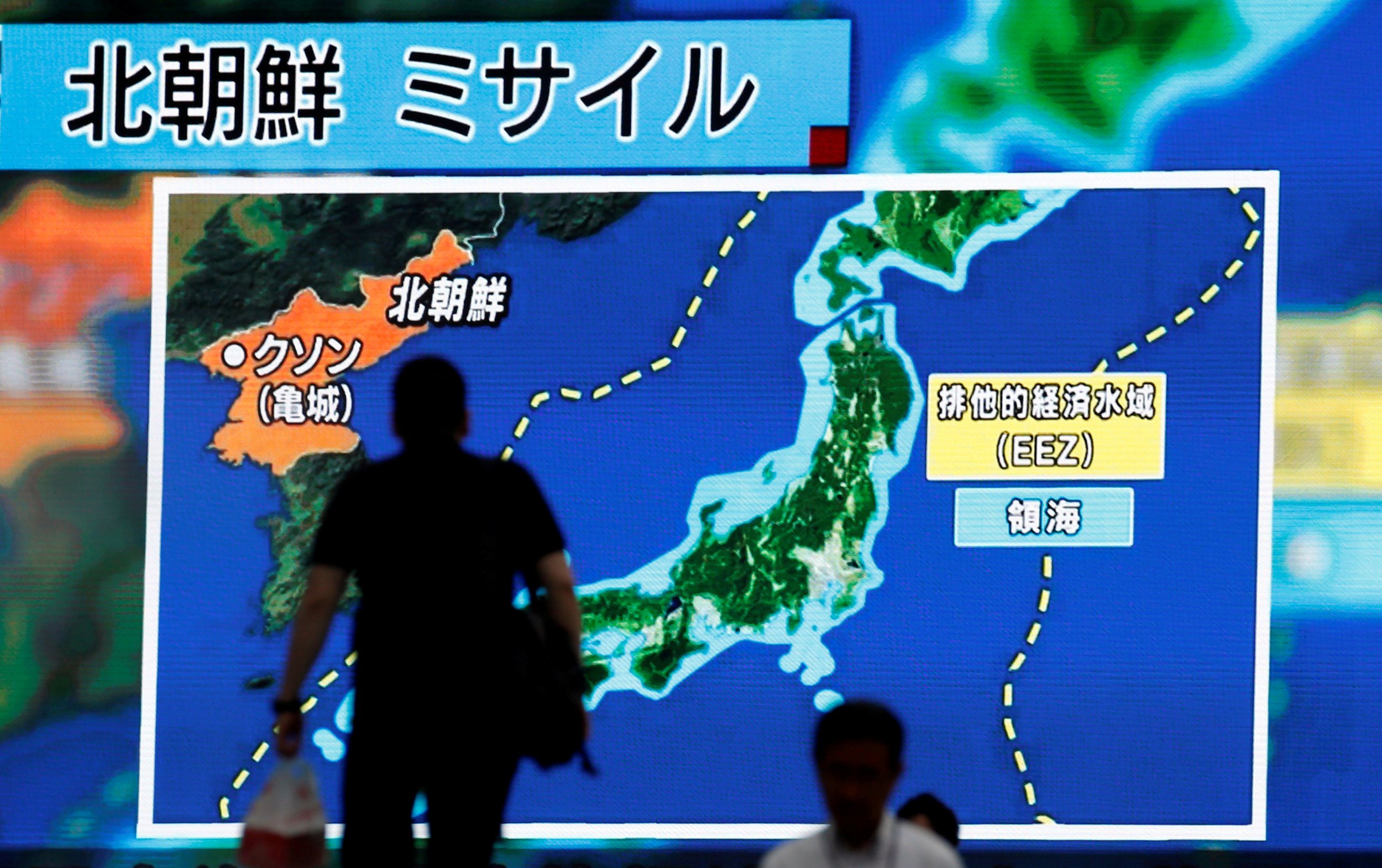 Updated | North Korea has reportedly launched an intercontinental ballistic missile (ICBM) that has landed off the coast of Japan at a time of already heightened tensions in the region.
On Friday, North Korea launched what U.S. officials said was an ICBM that may have landed in Japan's Exclusive Economic Zone, a stretch of international waters where Tokyo enjoys special rights for fishing, drilling and other commercial maritime activities, according to Reuters. The news of what was initially believed to be a shorter range missile launch was quickly carried by Japan's official broadcaster NHK, which reported that the launch had been confirmed by Japan's defense ministry and that Chief Cabinet Secretary Yoshihide Suga scheduled an emergency press conference to address the missile launch. He said the missile flew for about 45 minutes.
Related: North Korea missiles strike fear in U.K. and Australia, two U.S. allies
"I have received the first report that North Korea again launched a missile and it possibly landed inside the Exclusive Economic Zone," Japanese Prime Minister Shinzo Abe said in a quote carried by NHK and translated by CNN.
The Pentagon later confirmed to Newsweek that the missile was indeed an ICBM and that it had been "launched from Mupyong-ni and traveled about 1000 kilometers (621.37 miles) before splashing down in the Sea of Japan," according to statement emailed by spokesperson Marines Lieutenant Colonel Christopher Logan.
"We are working with our interagency partners on a more detailed assessment," he said, adding that North American Aerospace Defense Command (NORAD) determined the ICBM did not pose a threat to North America.
"Our commitment to the defense of our allies, including the Republic of Korea and Japan, in the face of these threats, remains ironclad. We remain prepared to defend ourselves and our allies from any attack or provocation," the statement concluded.
Japan has expressed increasing concern over North Korea's ballistic and nuclear weapons development. Pyongyang's militant rhetoric and expanding arsenal have prompted Tokyo lawmakers to explore the option of loosening strict codes that prevent Japan from maintaining from conducting pre-emptive strikes.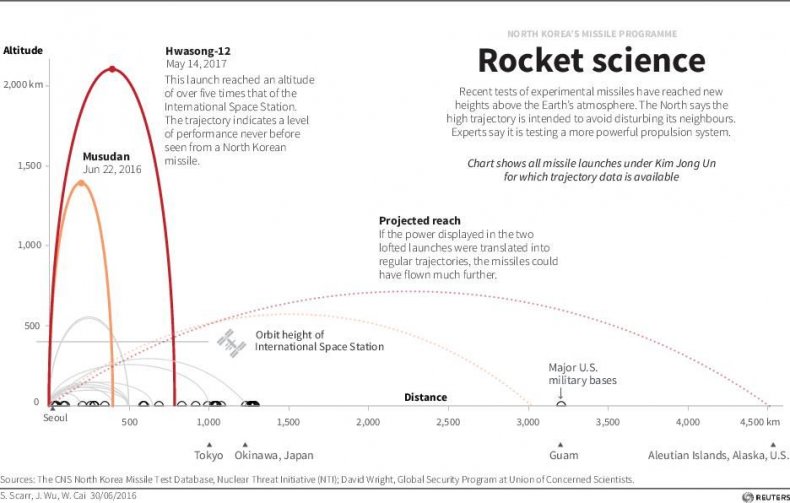 South Korea, which North Korea has technically remained at war with since the early 1950s, reportedly conducted a National Security Council crisis meeting Friday. The country's Joint Chief of Staffs has also confirmed that North Korea launched a ballistic missile Friday morning EST, according to South Korea's official Yonhap News Agency.
Both Japan and South Korea have looked to the U.S. for support in dealing with North Korea, which successfully launched its first ICBM earlier this month. While North Korea already claims a formidable weapons stockpile capable of striking nearby nations, its new Hwasong-14 is said to be able to reach parts of the U.S. North Korea says its development of nuclear warheads and ICBMs is necessary for its survival in the face of hostile foreign powers, such as the U.S.
This article was updated to reflect new information provided to Newsweek by the Pentagon, including a confirmation that North Korea launched an intercontinental ballistic missile (ICBM).