North Korea's New Missile Can Probably Nuke the U.S., Making Kim Jong Un Stronger Than Ever
North Korea's successful launch of an intercontinental ballistic missile likely capable of striking the U.S with a nuclear warhead has forever changed Washington's options in facing the government of Kim Jon Un.
North Korea hailed Tuesday its first ICBM test as a "gift to the American bastards" on Independence Day, asserting the heavily militarized nation's deterrent against U.S. military action by surprising even close observers with the success of its nuclear-capable feat. North Korea's Hwasong-14 can already probably hit Alaska, Hawaii and parts of northwestern Washington state and, with relatively minor modifications, will likely soon claim large parts of the West Coast as a target, according to experts affiliated with North Korea monitoring group 38 North. Faced with a new, credible nuclear defense, President Donald Trump's leverage in attempting to disarm Kim's government may have shifted dramatically in the third-generation leader's favor.
Related: North Korea threatens 'whole U.S. mainland' with 'annihilating strike' after latest missile test
"It does give them a direct deterrent against U.S. attack," aerospace engineer John Schilling said Thursday during a telephone conference call concerning the ICBM test. "Just the possibility that it works could change the U.S. political calculus."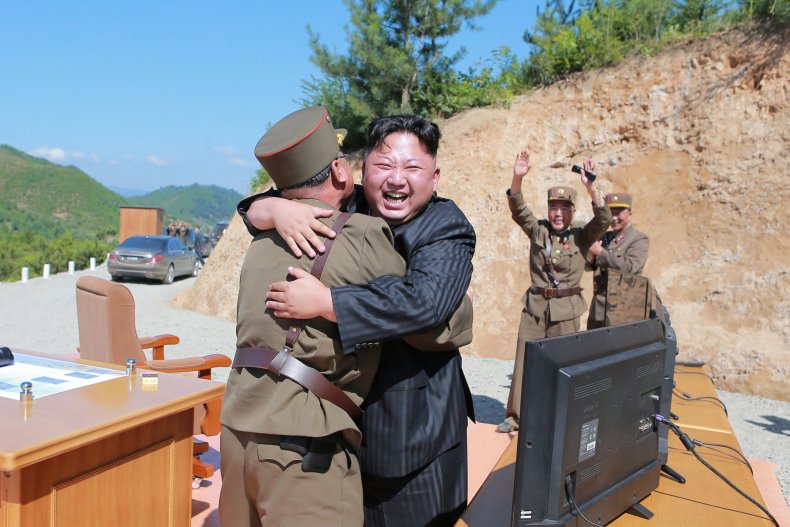 The Hwasong-14 is a two-stage ICBM with a projected minimum range of 7,000 to 8,000 km, however, Schilling said that Tuesday's test "did not demonstrate the ultimate performance of the projectile," which could be reworked in weeks or months to reach up to 9,500 km away, or "most of the West Coast" and be fitted with a nuclear warhead "almost immediately." His analysis was echoed in another report by Jeffrey Lewis of the Middlebury Institute of International Studies published Thursday in The Daily Beast.
The U.S. military reacted with near immediate joint military drills with its ally, South Korea, with which its northern neighbor has technically remained at war since the early 1950s. Trump responded Tuesday by ridiculing Kim and, during a conference in Poland Thursday, warned of consequences for North Korea's "very very bad behavior." Trump's envoy to the U.N. Nikki Haley asserted Wednesday that the U.S.'s "considerable military forces" could be used to deal with Washington's foe in the Asia-Pacific.
The Trump administration has repeatedly stated that military action against Kim's government and armed forces remains on the table and now the stakes of such a move may be higher than ever. While the Pentagon has offered assurances that the U.S.'s missile defense system was well-equipped to shoot down a North Korean ICBM, spokesperson Jeff Davis admitted Wednesday that such tests have had "mixed results."
Schilling laid out an even bleaker picture. "U.S. missile defenses under ideal circumstances work about 50 percent of the time," Schilling said, noting that the sudden outbreak of a potential conflict would bring significant variables that could seriously hinder this success rate.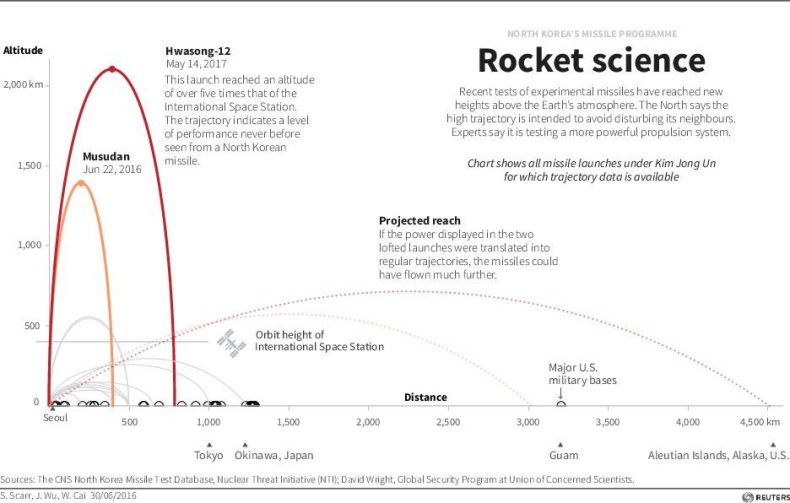 With an undesirable military option, sanctions failing to take significant effect and Russia and China going their own route, 38 North co-founder Joel Wit said Thursday that diplomacy was likely the best route to take. Kim, who became the world's youngest head of state after his father's death in 2011, has faced the same accusations of widespread, egregious human rights abuses as his father and grandfather before him.
The Kim dynasty watched closely as U.S. military operations targeted other leaders around the world and has long argued that nuclear weapons were key to the government's survival. After North Korea's first nuclear weapons test in 2006, the ICBM test was arguably North Korea's greatest military achievement, Wit told Newsweek Wednesday.
He urged U.S. leaders this week to change course and reinvigorate serious attempts for talks.
"We're heading in the wrong direction. We need to stop, take a deep breath and prevent the situation from decaying any further," Wit said during Thursday's call, adding that current policy led to a "dead-end" of either accepting North Korea's growing ballistic and nuclear arsenal or "taking military action, which will be ineffective and catastrophic."