North Korea Is 'Hell', Trump Tells Kim Jong Un, Warning Dictator to Give Up Nuclear Weapons
President Donald Trump personally addressed North Korea's ruler Kim Jong Un in a speech to the South Korean parliament Wednesday that had a marked change from the billionaire's usual aggressive rhetoric.
"The weapons you are acquiring are not making you safer, they are putting your regime in great danger. Every step you take down this dark path increases the peril you face," Trump said toward the end of a speech focused on highlighting South Korea's success as a free nation compared to North Korea's human rights abuses.
"North Korea is not the paradise your grandfather envisioned. It is a hell no person deserves. Yet despite every crime you have committed against god and man we are ready to offer a path to a much better future," the president added, demanding Kim gave up his ballistic missiles, stopped his aggressive behaviour and pursued "complete, verifiable and total denuclearization."
Though Trump did not repeat his threat to "totally destroy" the North Korean regime, he warned Kim not to underestimate American resolve. "The regime has interpreted America's past restraint as weakness. This would be a fatal miscalculation. This is a different administration than the United States has had in the past," he said. "Do not underestimate us and do not try us."
The president proclaimed he wanted to achieve "peace through strength" in the Korean peninsula. "The time for excuses is over. Now is the time for strength. If you want peace you must stand strong at all times."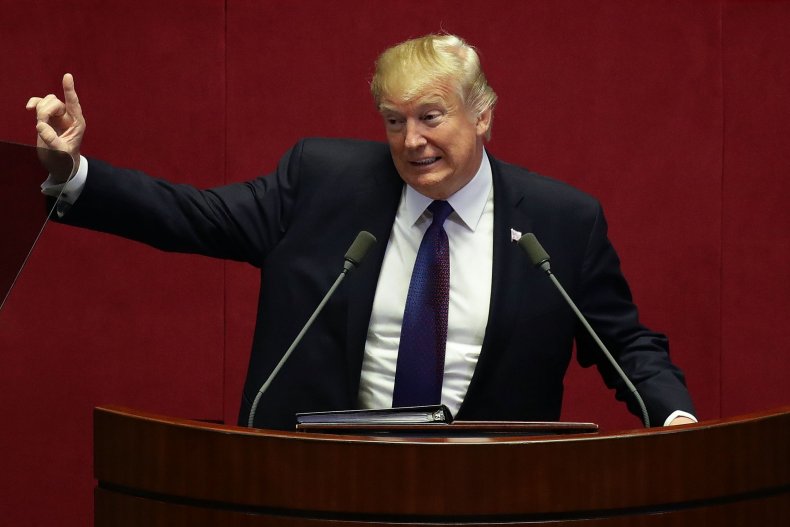 The speech also served as an opportunity for Trump to emphasise the differences between the two halves of Korea, complimenting South Koreans on their accomplishments as an economy and as a young democracy.
The president seemed most impressed with the nation's golfing prowess. "South Korean golfers are some of the best on Earth," he said, gesturing enthusiastically as he reminded the lawmakers that he had personally presented U.S. Women's Open winner, South Korean teenager Sung Hyun Park, with her trophy when the tournament was held at the Trump National Golf Club in New Jersey in July.
Trump's address came after he failed to visit the demilitarized zone dividing the Korean peninsula earlier in the day, reportedly because the helicopter Marine One could not land due to adverse weather conditions. He left South Korean President Moon Jae-In waiting for him inside the joint security area, according to reports in South Korean media, missing out on an opportunity to show unity in the face of the North Korean threat.
The state-controlled North Korea media has yet to specifically address any of Trump's remarks in South Korea, but continued to portray the president as a warmongering lunatic.
A commentary published on the ruling party-run newspaper Rodong Sinmun on Wednesday merely repeated the line that Trump is trying to provoke military confrontation. "Trump has flown to South Korea as he seeks to strengthen military threats against us and has an intention to light the fuse for a nuclear war," the commentary said, quoted in South Korean news agency Yonhap.