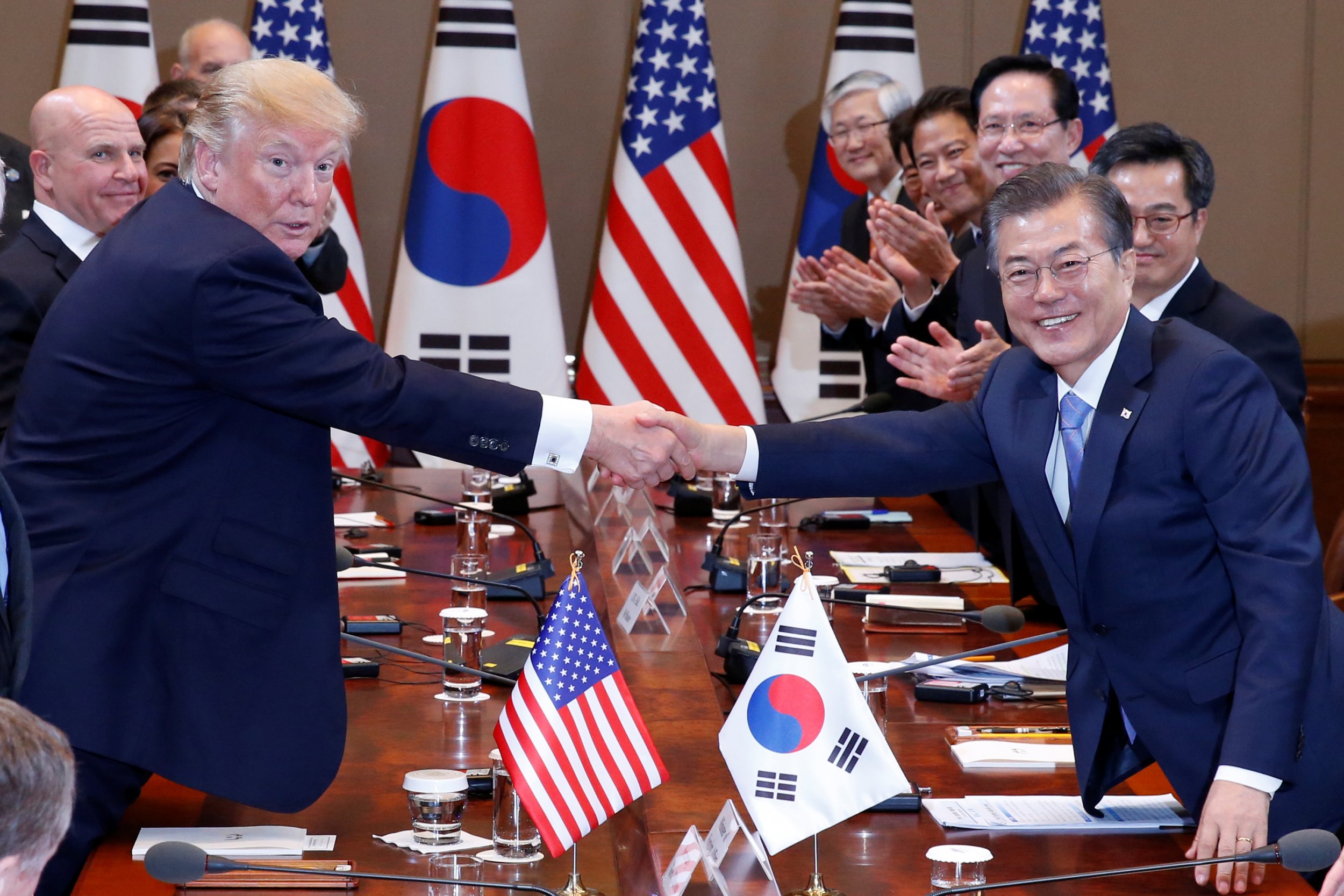 President Donald Trump and South Korean President Moon Jae-in tried to visit the demilitarized zone between North Korea and South Korea Wednesday despite potential security threats, but opted not to go at the last minute because of poor weather. The president and a small group of reporters were traveling from Seoul to the zone in helicopters, but after about 25 minutes the trip was called off because of low visibility.
Instead, Marine One flew back to the U.S. Army's Yongsan Garrison, where the president prepared for a speech he was slated to give Tuesday night during his 11-day trip to Asia. White House Press Secretary Sarah Huckabee Sanders said Trump was bummed he couldn't make the trip.
"I think he's pretty frustrated," Sanders said of Trump, who is slated to arrive in China on Wednesday. "The fact they were planning to go still shows the strength of the alliance."
Trump, who has threatened war against North Korean leader Kim Jong Un, will be the first U.S. president in decades who didn't make it to the DMZ, as the area is known. Every president since Ronald Reagan has gone, except for George H.W. Bush, who instead went when he was vice president. A White House official said before Trump's Asia visit began Friday that the president would not travel to the DMZ become such tours were "a little bit of a cliché."
Sanders didn't tell reporters where they were traveling with the president before the trip to the border. Instead, she showed them a notepad where his destination had been written out: "DMZ." Sanders said she could not say the word aloud per her instructions.
Trump has urged Kim to temper North Korea's nuclear ambitions, and the two world leaders have increasingly exchanged heated rhetoric. North Korea has said it could hit the mainland U.S. with its weapons.
"I really believe that it makes sense for North Korea to come to the table and to make a deal that's good for the people of North Korea and the people of the world," Trump said at a joint news conference with Moon on Tuesday. "I do see certain movement, yes, but let's see what happens.