Did North Korea Try to Hide Kim Jong Un In Latest Missile Launch Images?
North Korea once again surprised the world by demonstrating its ability to test a submarine-launched ballistic missile (SLBM) while seeking to push forward peace talks with the United States, but supreme leader Kim Jong Un was a no-show at the momentous occasion⁠—or was he?
One day after the State Department and North Korean Foreign Ministry confirmed they would resume working-level negotiations over the weekend, reports emerged Tuesday of a new missile launch off the east coast near Wonsan Bay. Exceeding previous launches in recent months, it flew an estimated 280 miles, reaching a maximum altitude of 565 miles, before falling in Japan's exclusive economic zone.
South Korean and Japanese authorities quickly suspected it was an SLBM, the test first of its kind since August 2016 and the latest to fly further than short-range weaponry since November 2017. Picture confirmation soon came of what was officially called Pukguksong-3.
While the images showed an impressive display of firepower, Kim was notably absent. The official Korean Central News Agency reported Wednesday the leader "sent warm congratulations" on behalf of his ruling Korean Workers' Party Central Committee to those involved in the test, further suggesting he was not present as in previous launches, but a discrepancy in two images shared by two separate state-run outlets showed what may be an effort conceal Kim's presence.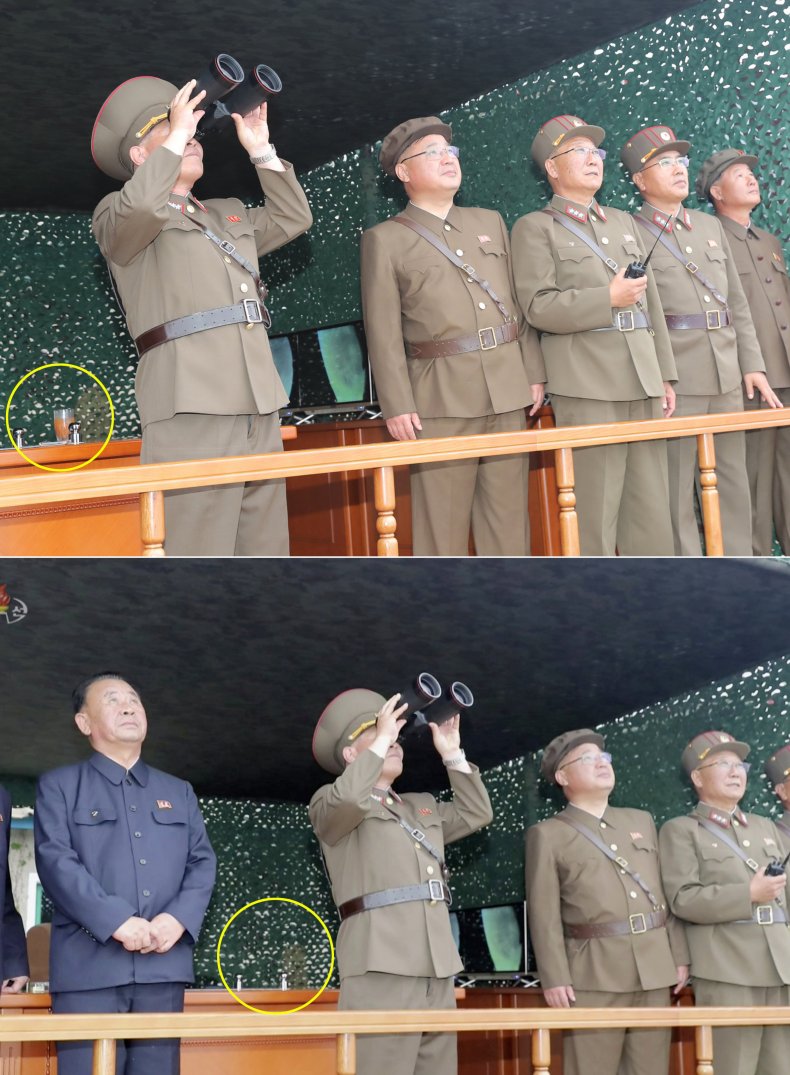 The tale is in two separate images released by North Korean state-run media. First, official Korean Workers' Party Central Committee organ Rodong Sinmun published officials watching observing the launch from a tent where Kim normally attends the event. In the background, where the young ruler usually sits, a glass with a light-colored liquid can be seen alongside what appears to be a mobile phone and silver paperweights that in the past were used to hold down a map.
Later that same day, Korean Central Television broadcast a similar image from a slightly different perspective, but with the men from the previous picture in near-identical positions, suggesting they were taken moments apart. In this image, however, the beverage and the phone have disappeared, though the paperweights remained.
An analysis conducted by South Korea-based monitor NKNews took a deeper dive into the anomaly and determined that the latter image was doctored to have the two objects removed. Judging from the camouflage netting in the background, researchers found that the pattern had been replicated to cover the spot where the two items were placed.
What was visible, albeit barely, in this second image was what may have been a cream-colored packet of cigarettes resembling that of the brand Konsol—Kim's signature since switching last year from another local brand, 7.27s—as well as a white wire stand previously used to prop up some sort of pointer or rod sometimes seen at such displays.
North Korea has been known to curate its media carefully, often reflect the official views of the Korean Workers' Party and, at times, to send subtle messages to those watching from abroad. In this case, experts such as NKPro's Rachel Minyoung Lee felt the intent was to obscure the supreme leader's attendance as to soften the blow felt by the very same U.S. officials his men were to sit with in a matter of days.
She said it "lends credence to the widespread speculation yesterday that North Korea wanted to temper the overall tone of the missile test ahead of the DPRK-U.S. talks by placing distance between Kim Jong Un and the event," using an acronym to refer to North Korea's official name the Democratic People's Republic of Korea.
"Including the congratulations but omitting Kim's presence would, theoretically, have "killed two birds with one stone," she added. "It showed that Kim Jong Un remained in charge, while not directly attributing this provocative event to the leader."
The Korean Central News Agency hailed the test as having "scientifically and technically confirmed the key tactical and technical indexes of the newly-designed ballistic missile" but at the same time noted that it "had no adverse impact on the security of neighboring countries." Rodong Sinmun described the weapon as "a time bomb hanging behind their back and the most fearful dagger that will destruct all enemies."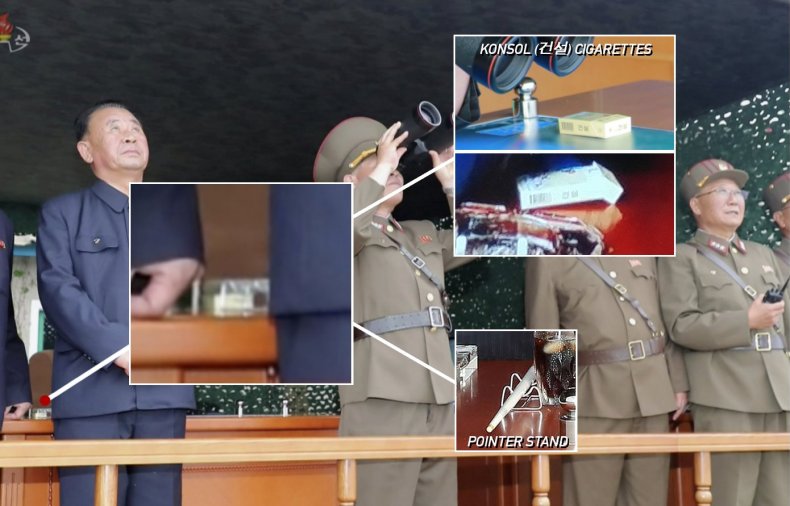 While it's believed that the latest test was conducted from an underwater barge rather than a full-scale vessel, North Korea is known to have a massive, yet aging fleet of submarines. Newsweek previously reported on South Korean intelligence claims that the country may be building its biggest indigenously-produced submarine yet, complete with launchers capable of firing SLBMs.
In the leadup to his debut meetings with South Korean President Moon Jae-in and President Donald Trump, Kim announced a self-imposed moratorium on nuclear tests and longer-range missile launches, though he resumed short-range tests with a series in May and up to eight since July. While the Pukguksong-3's range did not match the intercontinental ballistic missiles (ICBMs) tested in 2017, it had a significantly further range than the weapons used during this year's previous tests, and was the only one since then capable of being fitted with a nuclear warhead.
Trump, who is striving to make a historic denuclearization-for-peace deal following three meetings with Kim, has had a muted reaction to the series of short-range launches the elusive, militarized state has conducted in reaction to joint U.S.-South Korea exercises. Responding to the launch, Trump told reporters Thursday that North Korean officials "want to talk, and we'll be talking to them soon."
Questioned about the next round of U.S.-North Korea talks set to begin Saturday in the Swedish capital of Stockholm, he simply replied: "we're dealing with North Korea. They want to meet, and we'll be meeting with them. It's probably being set up as we speak, but we'll let you know. But North Korea would like to do something."