North Korea Is Not Just Firing New Missiles, It's Building What May Be Its Largest Submarine Yet
As North Korea tests new weapons on land, it's also building what may be its largest homemade submarine yet, potentially capable of carrying multiple missiles.
North Korea's official Korean Central News Agency first released images last week of supreme leader Kim Jong Un inspecting "a newly built submarine" that "will perform its duty in the operational waters of the East Sea of Korea," reporting that "its operational deployment is near at hand" in a body of water also known as the Sea of Japan. As speculation mounted as to what kind of vessel was being constructed, the South Korean Defense Ministry held a closed-door meeting briefing top lawmakers.
Citing the ministry, Lee Hye-hoon, chief of the parliamentary intelligence committee, told reporters Wednesday that while North Korea claimed to be building a 3,000-ton class submarine, this appeared to be slightly smaller, yet still possibly the largest ever constructed by the nuclear-armed state and potentially capable of being fitted with up to three submarine-launched ballistic missiles (SLBMs).
"There is a possibility that the new sub is slightly larger than a (2,500-ton) Gorae-class submarine," the ministry said, according to South Korea's official Yonhap News Agency, adding that North Korea may have modernized one of its (1,800-ton) Soviet-era Romeo-class submarines that formed its massive, yet aging underwater fleet.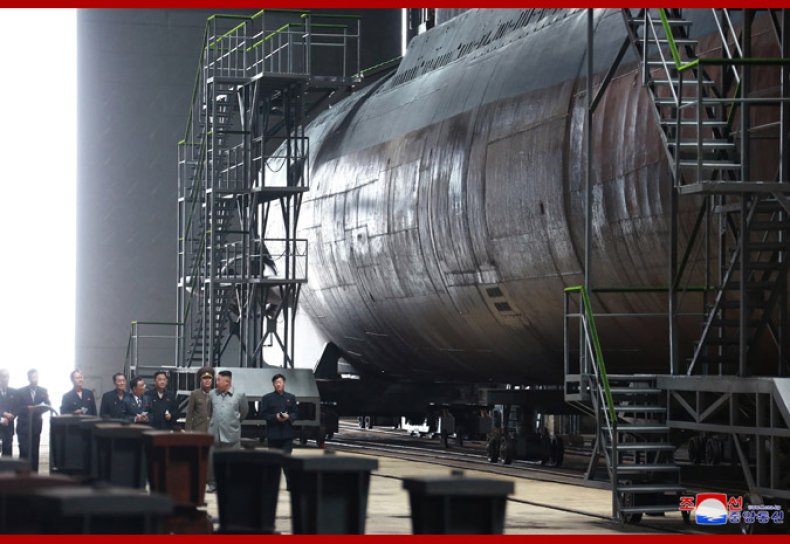 North Korea is estimated to have more than 70 submarines—potentially more than the U.S.—but doubts have been raised about the seaworthiness of many of these models that date back to its Cold War alliances with the Soviet Union and China. The communist countries backed Pyongyang in its mid-century war with Seoul and a Washington-led coalition and continued to back the secretive, militarized nation in the decades after that conflict ended in a stalemate.
Around the time of the Soviet Union's collapse, North Korea reportedly purchased spare equipment, including up to ten Golf II-class submarines with a displacement of over 2,800 tons, yet it was uncertain whether these have ever been fielded. In 2017, satellite imagery suggested that North Korea was building a large submarine, its biggest-ever indigenous vessel, at the Sinpo shipyard in South Hamgyong province and Kim Hack-yong, a representative from South Korea's opposition Liberty Korea Party, cited defense ministry sources last year saying North Korea was developing a new submarine capable of carrying up to three SLBMs.
Since 2015, North Korea has fired at least five SLBMs, believed to be the Pukkuksong-1, also known as the KN-11. While these tests have had mixed results, the latest one in August 2016 traveled roughly 311 miles and through Japan's Air Defense Identification Zone after being fired from what was believed to be a Gorae-class submarine, also called Sinpo-class or Pongdae-class.
The Center for Strategic and International Studies' Missile Defense Project estimates the missile's true range to be up to 746 miles. The weapon is listed as being "in development" alongside a land-based, medium-range variant known as the Pukkuksong-2, or KN-15, which was part of an array of North Korean missiles that were once again grabbing headlines after a lengthy hiatus.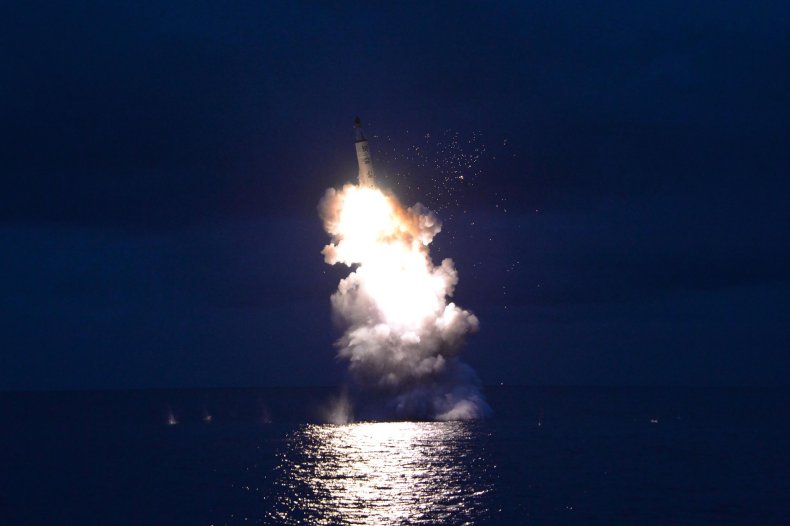 North Korea tested two short-range ballistic missiles Wednesday that flew up to 155 miles and reached a maximum altitude of about 19 miles from the country's northeast coast, according to South Korea's Joint Chiefs of Staff. The test would be the second of its kind in less than a week after the country's armed forces fired two short-range missiles about 370 miles away at a maximum altitude of 30 miles Thursday.
The Korean Central News Agency later described the weapon as a "newly-developed large-caliber multiple launch guided rocket system." Kim was cited as saying that "it is very great and it would be an inescapable distress to the forces becoming a fat target of the weapon."
The South Korean military said the weapons used in the previous test shared similarities to Russia's Iskander mobile short-range ballistic missile system. The platform is capable of sending fast, low-flying projectiles that could prove a major challenge for the U.S.-installed Terminal High Altitude Area Defense (THAAD) system.
North Korea also fired two short-range launches in May, the first confirmed missile tests since Kim oversaw the launch of his furthest and highest-flying intercontinental ballistic missile in November 2017. As ties between the young ruler and President Donald Trump began to improve early the following year, Kim announced he would "stop nuclear tests and launches of intercontinental ballistic missiles."
While Kim has yet to break that unofficial moratorium, the resumption of shorter-range launches came as the U.S. and North Korea continued to struggle to find common ground in denuclearization talks. Still, both sides have expressed an eagerness to work through their differences and continue a peace process aimed at unraveling decades of mistrust and mutual hostility.
Update (5:55 p.m. 7/31/2019) This article has been updated to include a new report on North Korea's recent weapons test by the Korean Central News Agency.