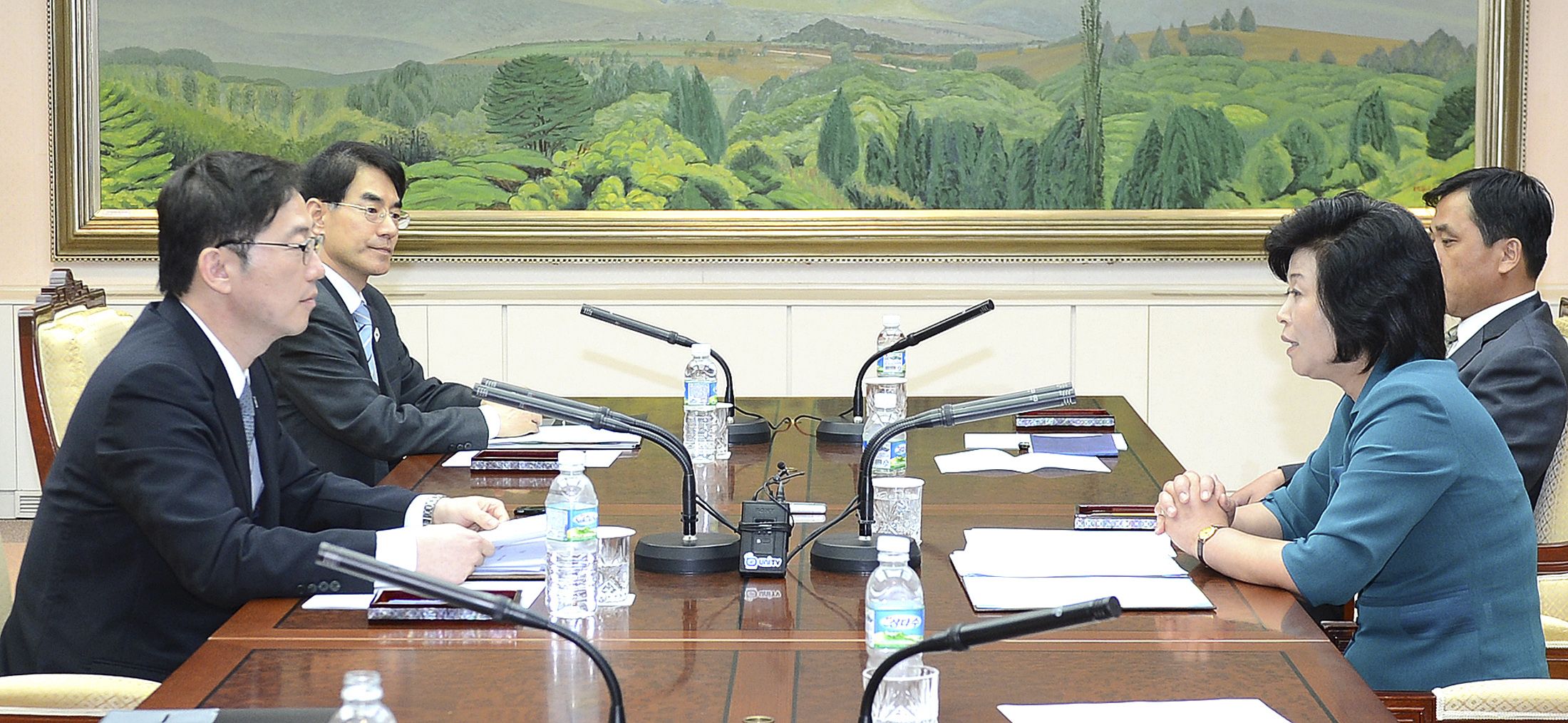 North and South Korean officials met on Thursday for the first official interaction between the countries since they threatened war against each other in August, Al Jazeera reported.
The meeting took place on the North's side of the village of Panmunjom in the demilitarized zone between the two countries. The meeting was in preparation for further, higher-level talks between the two governments, according to South Korean news agency Yonhap.
The show of diplomacy follows an escalation of tension in August, when North Korean leader Kim Jong-un ordered his troops to prepare for war. The declaration came after a series of events that began with landmine explosions, blamed on Pyongyang, maiming two South Korean soldiers and South Korea responding by blaring propaganda messages on loudspeakers across the border.
Yonhap reported that the two sides came to Thurday's meeting with differing demands. Pyongyang is likely to ask for Seoul to resume an inter-Korean tourist program to Mount Kumgang, a mountain resort in North Korea. AFP reported that South Korea suspended tours to the site in 2008 after a North Korean guard shot and killed a tourist. Pyongyang is keen for them to resume as the tours provide a key source of income.
Seoul will raise the issues of families separated by the Korean War of the early 1950s. The two countries hold periodic reunions for families divided by the border, with the last reunion in October bringing almost 400 South Koreans to Mount Kumgang to meet with long-lost parents, siblings and children. Seoul wants these reunions to be held on a more regular basis, as many of the separated persons are nearing the ends of their lives.
Relations between the two countries remain fragile despite the recent moves toward diplomacy. The South Korean military conducted live-fire drills on Monday around islands in the Yellow Sea—a disputed area between the two countries—despite threats of "merciless retaliation" from the North.
North Korea canceled previous high-level talks between the two countries in June 2013 after only one day. The country said at the time that it was dissatisfied with the seniority of the South Korean negotiator, the BBC reports.