North Korea Shows Off First Images of 'Very Great' Weapon That Will Make a 'Fat Target' Out of Enemies
North Korea has released the first images of the missile system it recently tested, displaying the launch itself but censoring the platform so as to keep outside analysts guessing.
The stills were aired Thursday by the official Korean Central Television and have yet to appear on the fellow state-run news outlet Korean Central News Agency, where reports of the test appeared early that same day Pyongyang time. The weapon was described as a "newly-developed large-caliber multiple launch guided rocket system" and North Korean supreme leader Kim Jong Un himself attended the event, as he has on previous occasions.
"After learning about the result of the test-fire, he said that it is very great and it would be an inescapable distress to the forces becoming a fat target of the weapon," the Korean Central News Agency reported, noting the young ruler also "repeatedly expressed satisfaction over the result of the test-fire and highly appreciated the feats of the working class in the fields of national defense science and munitions industry."
The launch was the second of its kind in less than a week amid another slowdown in denuclearization-for-peace talks between the United States and North Korea. Whereas previous tests have been accompanied by slideshows detailing the weapon involved, the latest release blurred out the launcher, signaling what appeared to be a new trend in North Korea's closely-curated information strategy.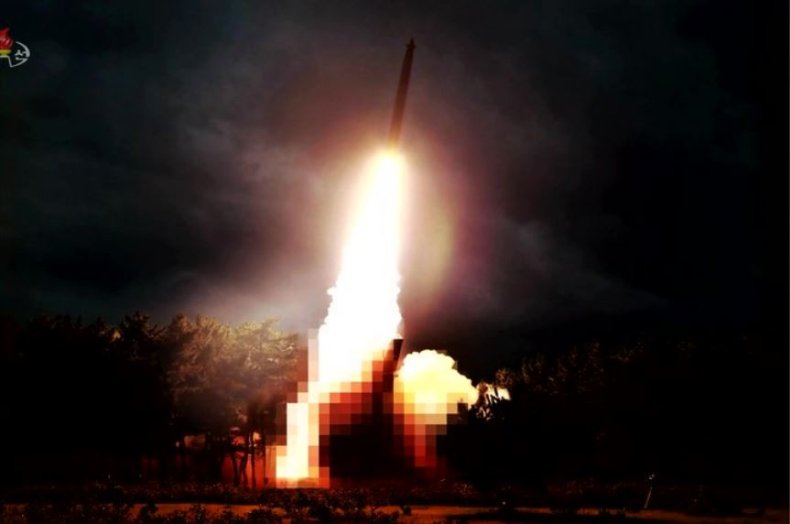 Prior to the official announcements, the South Korean Joint Chiefs of Staff announced Wednesday that North Korea had fired two projectiles that flew 155 miles and reached a maximum altitude of about 19 miles. Based on these capabilities and what could be gathered from the images, the weapon appeared to be some model of multiple launch rocket system (MLRS).
Other media released Thursday included shots of Kim among military officials in a control room, where one screen appeared to confirm South Korean military reports that the launch took place off North Korea's northeast coast, potentially near the resort city of Wonsan. Also displayed prominently was a green tablet with its screen content blurred, as well as Kim's cigarettes and what appeared to be his cellphone.
The South Korean Defense Ministry warned that the launch "does not help tensions on the Korean Peninsula" and urged Kim to "stop" such acts. The statement was similar to one released last week when North Korea's armed forces fired two missiles that reached 370 miles that flew 30 miles high from a platform their South Korean counterparts described as bearing similarities to Russia's Iskander mobile short-range ballistic missile system.
Secretary of State Mike Pompeo, who referred to the last week's test as a "negotiating tactic," simply said Thursday in response to the latest launch that "we stand ready to continue our diplomatic conversation with the North Koreans." Hopes for a new breakthrough following a summit that ended without an agreement came late last month during an unprecedented meeting between Kim, President Donald Trump and his South Korean counterpart Moon Jae-in at the heavily-fortified inter-Korean border, but no progress has been announced.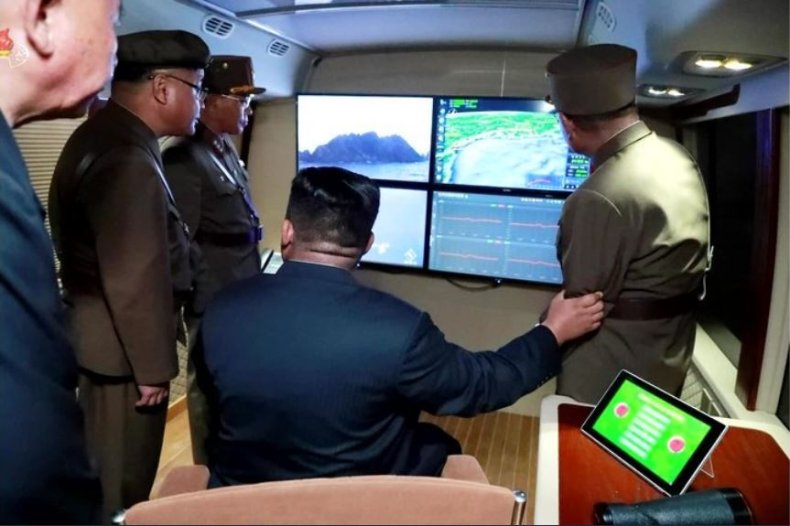 Meanwhile, North Korea has continued revamping its military, even as Kim stuck to his word on no longer testing nuclear weapons or intercontinental ballistic missiles (ICBMs). He has not conducted a nuclear detonation since September 2017 nor an ICBM since that November, though he a lengthy hiatus on any missile tests was broken in May with a series of two launches of shorter-range projectiles.
Just days before last week's missile test, North Korea revealed the latest work on another aspect of his country's defense—a massive submarine. Citing a closed-door briefing with South Korean Defense Ministry officials, South Korean parliamentary intelligence committee chief Lee Hye-hoon said the vessel may be the largest homemade addition to the country's extensive, yet aging underwater fleet and could be capable of carrying up to three submarine-launched ballistic missiles (SLBMs).
Images of Kim inspecting the unknown submarine were released by the Korean Central News Agency, while further footage aired by Korean Central Television gave revealed even more of the vessel, which was partially blurred in a spot that Lee said South Korean defense officials identified as potential SLBM launch tubes.