Trump's Warning to North Korea Has Nuclear Weapons Experts Chugging Wine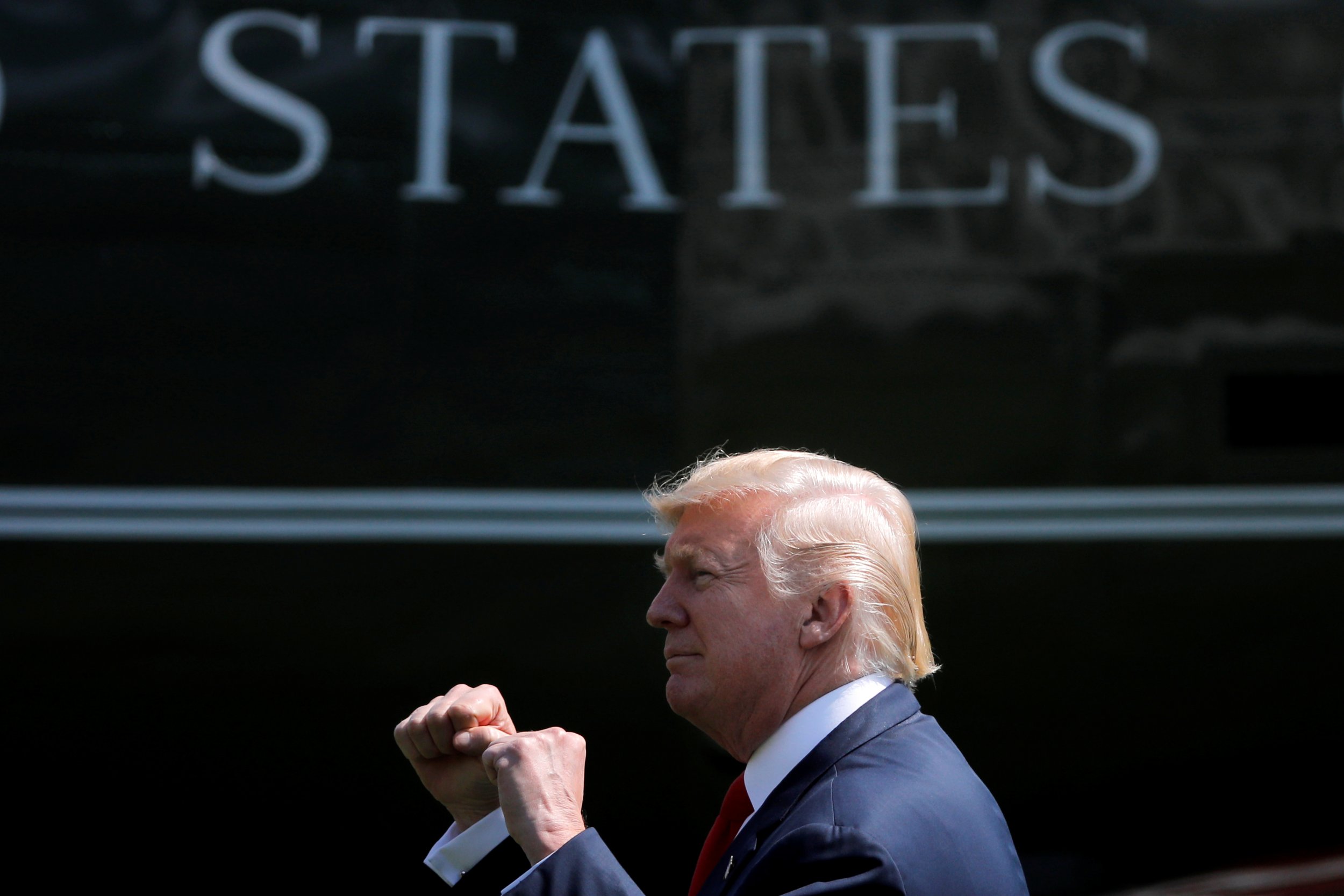 President Donald Trump's intimidating warning to North Korea Tuesday that threats from the Kim Jong-un regime "will be met with fire and fury like the world has never seen" has outraged Republicans, Democrats, and nuclear weapons experts alike.
Some are even guzzling wine because the president's stance seems too extreme.
Speaking to reporters at his golf club in Bedminster, New Jersey, Trump told reporters that North Korea's rhetoric and a series of recent ballistic missile tests goes "beyond a normal state" and if it continues will be met with "power the likes of which this world has never seen before."
But Trump's big talk isn't helping to defuse growing nuclear tensions between the two nations say American politicians and experts. "That kind of rhetoric, I'm not sure how it helps," said Republican Senator John McCain during an interview with Arizona radio station KTAR Tuesday.
Key Democrats agreed, saying Trump's threats will only make things worse. "The situation on the Korean peninsula is already volatile enough. President Trump is not helping the situation with his bombastic comments," said California Senator Dianne Feinstein in a statement. "Isolating the North Koreans has not halted their pursuit of nuclear weapons. Diplomacy is the only path forward."
In response to Trump's threats a North Korean Army spokesperson said Wednesday that the regime is considering striking the American island of Guam in the Pacific Ocean.
Early this week U.S. spy satellites detected North Korea moving anti-ship cruise missiles onto a patrol boat off the country's east coast. In recent months the communist dictatorship has conducted a series of tests of missiles that could be fitted with a nuclear weapon. Experts say the tests show these missiles are now capable of reaching Los Angeles.
American intelligence has found that North Korea has miniaturized a nuclear weapon to fit on a missile.
Read more: Trump's North Korea threat is eerily similar to Harry Truman's Hiroshima bombing announcement in 1945
Early this week Secretary of State Rex Tillerson acknowledged that diplomatic talks are the best way forward. "The best signal that North Korea could give us that they're prepared to talk would be to stop these missile launches," Tillerson said Monday during a summit in the Philippines.
Increasing the hot rhetoric isn't helping get them to the table, say experts. Trump's behaviour has turned some nuclear experts to drink.
"To hell with both of you, Kim Jong Un and @realDonaldTrump," wrote Jeffrey Lewis, a nuclear weapons nonproliferation expert, on Twitter as he downed a large glass of wine following Trump's warning to North Korea Tuesday.
The best thing that Trump can do to begin dealing with the nuclear threat is to chose his words carefully in order to get North Korea to the negotiating table.
"Nuclear deterrence is only effective if threats are deemed credible, bluster hurts our national security posture," wrote former Secretary of Defence and nuclear weapons expert William J. Perry on Twitter Tuesday. "We must deal with North Korea as it is, not as we wish it to be," said Perry, who served under President Bill Clinton.
After Trump's warning Tuesday a senior administration official told The Wall Street Journal that America should not assume a nuclear-armed North Korea can be contained through traditional nuclear deterrence.
"Surely the President does not really mean that we will attack North Korea in response to rhetorical threats? Surely," wrote former U.S. ambassador to Russia Michael McFaul on Twitter.
Yet Trump seems very serious about his threats. "This is not the Obama White House and there is a very different man today as commander-in-chief. And [North Korea] should not test President Donald J. Trump," said Trump's deputy assistant on national security, Sebastian Gorka, in an interview with Fox News pundit Sean Hannity Tuesday night.
"They can rattle their rusty sabers," Gorka said. "They have backed themselves into a corner and they need to back down," he said, putting the onus on North Korea to deescalate the situation.
Hannity asked whether North Korea leader Kim Jong Un is crazy enough to launch a nuke. "The former Soviet Union understood mutually assured destruction. But is that enough to stop this madman?"