North Korea's Kim Jong Un Taps Sister, 'Gang of Four' to Navigate Crises
With plans to lay out the agenda for his ruling party's first national gathering in what will be five years, and facing persistent outside rumors regarding his health, North Korean supreme leader Kim Jong Un has reportedly delegated some of his authority to five top officials who may be set to play bigger, more independent roles in a hardline nuclear-armed nation that faces a multitude of international and domestic hardships.
Claims that Kim Jong Un was "comatose" were spread Friday by Chang Song-min, a former aide to late South Korean President Kim Dae-jung. But those claims were contradicted by a recent National Intelligence Service briefing. Lawmakers familiar with the document said it reported nothing abnormal the young leader's health. Kim's health remains a regular topic of international speculation.
Both Chang and South Korea's spy agency did, however, agree on at least one thing: Kim Yo Jong, the sister of the supreme leader, has risen in profile and power, and is increasingly seen as second-in-command to the unquestioned authority of the number-one ruler himself.
The South Korean intelligence report additionally named four men who have been granted new powers. Kim Jong Un has been formulating a new five-year plan to overcome losses inflicted by sanctions from abroad, floods and famines at home and the ongoing effects of the Covid-19 pandemic. But experts say these changes showed no indication the young ruler was going anywhere anytime soon.
Michael Madden, a leading analyst heading the Stimson Center-affiliated North Korea Leadership Watch blog, dismissed current reports of Kim Jong Un having fallen in a coma as "too hyper-specific to be credible," and noted that Kim Jong Un's "father and grandfather both did this, regardless of their health or physical conditions."
"The Suryo'ng (supreme leader) does that from time to time as do many other executives in government and business throughout the world," Madden told Newsweek. "It's outsourcing and delegating certain tasks and issues. Kim Jong Un has not relinquished his power or decision-making authority, he has given his close aides additional responsibilities and they likely enjoy a degree of autonomy in doing their work."
Harry Kazianis, senior director of Korean Studies at the Center for the National Interest, while also dismissing the rumors that Kim had slipped into a coma, said that with pressure mounting, he wasn't surprised Kim Jong Un would look to his most loyal experts for support.
"I am not shocked he would delegate some authority at all, as it clearly allows him to blame others if they were to fail," Kazianis told Newsweek. "But, let us assume his intentions are true, if he has able-minded middle managers who can help him run the country in a more efficient manner, that is a good thing."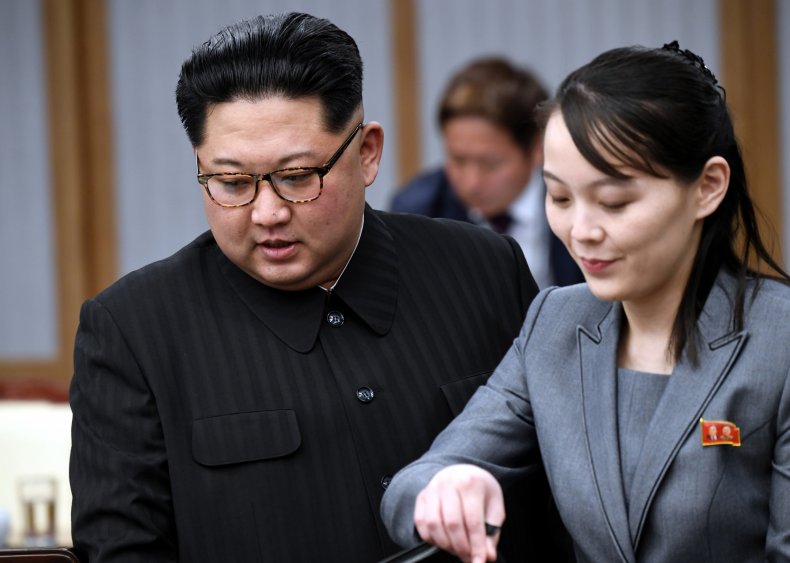 State Affairs: Kim Yo Jong
The South Korean intelligence report assessed that Kim Yo Jong has been tasked with handling "overall state affairs," including policies dealing with the United States and South Korea, with which North Korea has reversed course on a historic denuclearization-for-peace process amid incessant breakdowns and delays. In recent months, Kim Yo Jong has offered public statements directly to South Korean President Moon Jae-in and U.S. President Donald Trump on her brother's behalf.
The youngest Kim sibling worked under her father, Kim Jong Il, and has been steadily promoted since her brother succeeded the second-generation leader after his 2011 death. Today, she serves as the first vice department director of the ruling Korean Workers' Party Central Committee, and some see her as a potential successor given her lineage, a potentially radical shift for the traditionally male-dominated, militarized nation.
On Tuesday, South Korean Defense Minister Jeong Kyeong-doo said Kim Yo Jong appeared to have significant control over the party's influential Organization and Guidance Department.
The Economy: Pak Pong Ju and Kim Tok Hun
State Affairs Commission Vice Chairman Pak Pong Ju and newly-appointed Cabinet Premier Kim Tok Hun were reportedly given more say over the closed-off economy.
Two-time former premier Pak Pong Ju is considered Kim Jong Un's number three, behind Supreme People's Assembly Presidium President Choe Ryong Hae. Pak Pong Ju has a long history in industry and labor, though he was rumored to have once been disciplined over financial misconduct and close ties to Kim Jong Un's slain uncle, Jang Song Thaek.
Pak Pong Ju now has a visible role in conducting on-site visits to workplaces of national importance, and even joined Kim Tok Hun on Tuesday for a rare "joint field guidance" trip to a construction site related to the C1 chemical industry, a coal gasification project.
Kim Tok Hun—once tasked with overseeing the parliamentary budget—largely manages economic affairs as head of cabinet, and recently visited the under-construction Pyongyang General Hospital, a major undertaking for Kim Jong Un. A recent promotion places Kim Tok Hun alongside Pak Pong Ju as well as Choe Ryong Hae, Kim Jong Un himself and Korean Workers' Party Central Military Commission Vice Chairman Ri Pyong Chol on the Presidium of the Korean Workers' Party Politburo.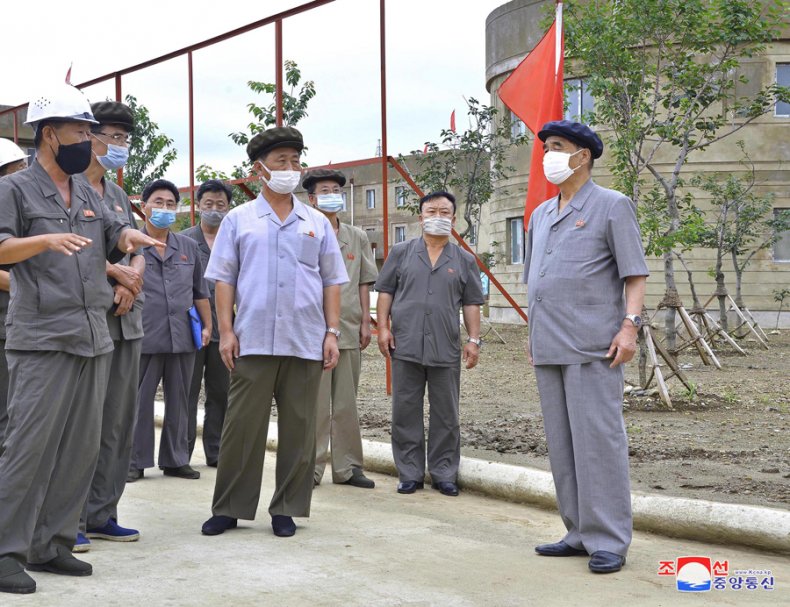 The Military: Ri Pyong Chol and Choe Pu Il
Ri Pyong Chol and Korean Workers' Party Military Affairs Director Choe Pu Il were named in the recent South Korean intelligence briefing as having been given wider military roles.
Ri Pyong Chol's rise through Kim Jong Un's ranks in recent years has been closely linked to successful weapons tests, where he's been seen embracing the supreme leader at milestone launches. The former air force commander grew increasingly absent as Kim Jong Un pursued diplomatic engagement with Seoul and Washington beginning in 2018, but appears to be back and more decorated than ever as tensions return to the Korean Peninsula.
Ri Pyong Chol appears to have another in—he's widely believed to be related as either father, grandfather or uncle of Kim Jong Un's wife, Ri Sol Ju. As for Choe, the former Social Security Ministry head is reported to be Kim Jong Un's former basketball coach.
Kim Jong Un: No Known Successor, Different Than His Predecessors
South Korean lawmakers who took part in the bipartisan, closed-door intelligence briefing emphasized to the media all indications were that Kim Jong Un remains firmly in absolute power with no known designated successor. While the 36-year old leader has made the rare admission that he was facing "unexpected and inevitable challenges" and "shortcomings" from his last five-year economic plan, his candor bore no sign of the waning of his powerful cult of personality, not even in favor of such a core cadre.
Attempts to replace such domineering positions with close confidants or even immediate family have a mixed record at best throughout history. When a "Gang of Four" that included Chinese leader Mao Zedong's own wife tried to succeed the late leader in 1976, all four were arrested within a month of the revolutionary leader's death and were ultimately blamed for the chaos and bloodshed that erupted from the Cultural Revolution in a formative moment for the People's Republic.
But in looking at North Korea's own history, Madden saw another "fundamental problem" in how Kim Jong Un's actions were being perceived.
"There are numerous Pyongyang watchers who haven't realized over the course of ten years that North Korea has a different leader than Kim Jong Il or Kim Il Sung," Madden told Newsweek. "who does things differently than his predecessors,"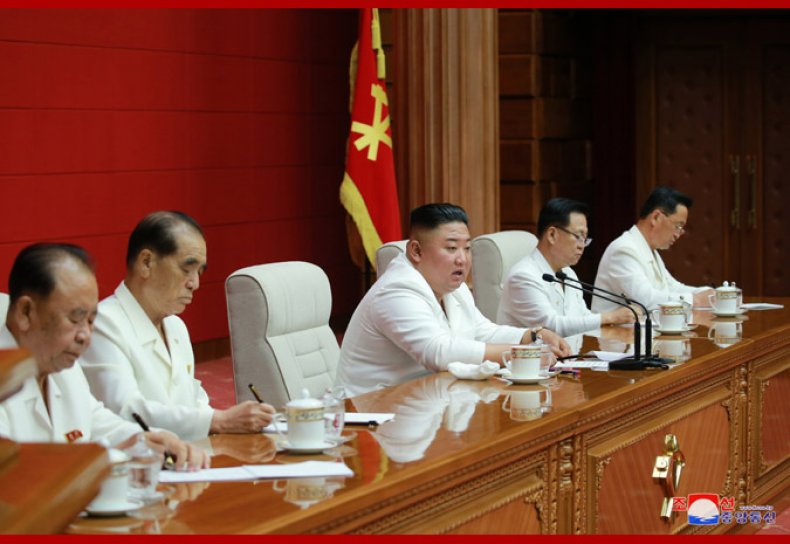 The Party Must Go On
Still, the shifting roles of North Korea's senior-most officers are likely to be in the spotlight as Kim Jong Un prepares to hold the Eighth Party Congress. The gathering is scheduled for January 2021, and will be the first of its kind since May 2016. The most recently held Korean Workers' Party congress prior to that was in 1980.
Even for a country accustomed to hardship, the upcoming event comes at an especially tough time, given economic woes, public health concerns and weather-related disasters. As a result, North Korea has emphasized its importance in line with the self-reliant Juche national ideology.
In an article published Monday, the official Korean Workers' Party newspaper Rodong Sinmun proclaimed the Eighth Party Congress "will be an important milestone in overcoming the severe challenges and hurdles facing our progress and raising our revolution to a new higher level."