North Korea Is a 'Mafia State' That Should 'Fear' What the U.S. Will Do Next, Ted Cruz Says
Republican Senator Ted Cruz said it's "time" for North Korea to "fear" the next move from the United States, urging for harsher economic sanctions against the "mafia state" in an op-ed for The Washington Post published Tuesday.
Cruz called for President Donald Trump to put North Korean leader Kim Jong Un "on his heels" in order to "set conditions on American terms."
"What the American people expect, and our allies need, is courageous leadership that forces Kim to respond on our terms and our timing. America should employ all elements of our national power to reverse this dynamic, but none more so than robust economic sanctions," Cruz wrote.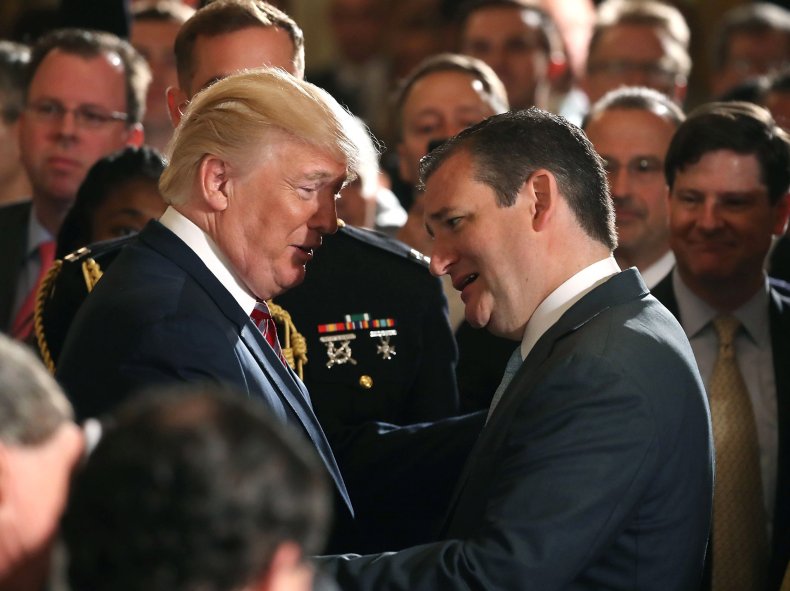 The Texas senator strongly urged against lifting any sanctions leveled against North Korea as it participates in the Winter Olympics in Pyeongchang next month: "While the United States and the world welcome North Korean athletes to participate in the global games, this does not merit a reward for the regime."
Pointing to evidence China has violated U.N. sanctions against North Korea, Cruz called for the U.S. Treasury Department to issue new sanctions against institutions extending a lifeline to Pyongyang––"especially Chinese banks."
"We've spent nearly three decades wondering what North Korea would do next. It's time for North Korea to fear what America will do next," Cruz added.
Cruz's comments come amid renewed relations between North and South Korea, which have raised hopes for peace on the Korean Peninsula. On Wednesday, the countries announced they'd march under a unified flag during the opening ceremony for the games, which could be viewed as a major sign of reconciliation.
But the Trump administration and fellow Republicans, including Senator Lindsey Graham in addition to Cruz, have approached the situation cautiously. Graham on Wednesday went as far to accuse South Korea of "undercutting" Trump's efforts to pressure North Korea to halt its pursuit of nuclear weapons.
At the same time, Trump has somewhat walked back his previous suggestion that he'd speak with Kim in a diplomatic capacity. Without rejecting the idea entirely, the president has expressed doubts about the potential benefits of dialogue. During an interview with Reuters at the White House on Wednesday, Trump stated: "I'd sit down, but I'm not sure that sitting down will solve the problem. I'm not sure that talks will lead to anything meaningful. They've talked for 25 years and they've taken advantage of our presidents, of our previous presidents."