North Korea Missile Flies Over Japan, Prompting Take Shelter Warnings
A missile fired by North Korea over Japan prompted Japanese officials to advise citizens to take shelter before the projectile landed in the Pacific Ocean, according to Japanese authorities.
A message issued by Japan's civil protection authorities and shared by Prime Minister Kishida Fumio's office warned Monday, Tuesday local time, of a missile that was "believed to have been launched from North Korea" with instructions to "please evacuate to the inside of a building or go to the basement." The target area was described as the northern Aomori prefecture.
A follow-up message then said that "the aforementioned missile is believed to have passed through the Pacific Ocean."
"If you find anything suspicious," the message added, "do not approach it and immediately contact the police or fire department."
Once the danger had ostensibly passed, the Japanese premier's office condemned the act. Kishida was said to have issued a three-point plan "based on the fact that a ballistic missile launch that passes over Japan is an act that could have a serious impact on the lives and property of the people of Japan."
The first point was to "focus on the area where the missile passed through, and promptly confirm whether there is any damage due to falling objects, etc.," the second was to "continue to collect and analyze information thoroughly, including future trends in North Korea" and the third involved a necessity "to cooperate with relevant countries such as the United States and South Korea and continue to take necessary actions in a timely and appropriate manner."
In remarks to the press, Japanese Chief Cabinet Secretary Matsuno Hirokazu strongly condemned the launch, as did Kishida himself.
The missile was said to have flown for more than 20 minutes, traveling some 4,000 kilometers, or about 2,500 miles, and around 3,000 kilometers, or roughly 1,860, east of Japanese territory. The missile reportedly achieved a high altitude of approximately 1,000 kilometers, or about 620 miles.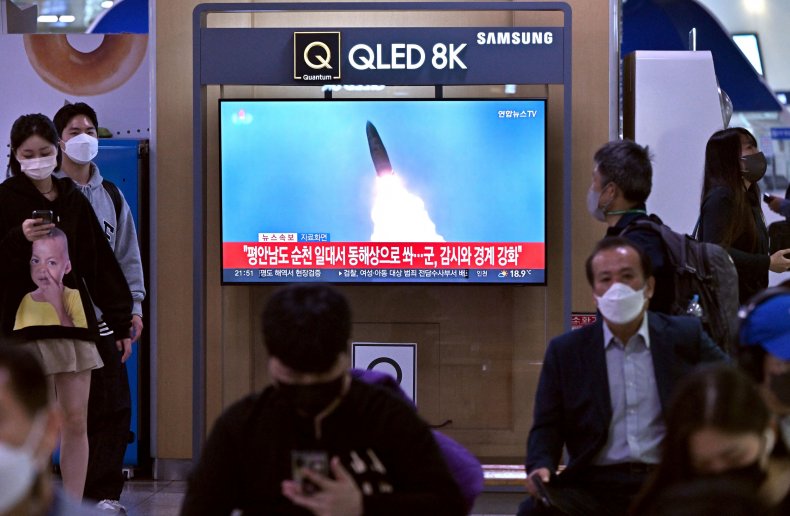 The initial warning prompted the U.S. Embassy in Tokyo to issue a word of caution to its own citizens in Japan.
"The Japanese government is warning that North Korea appears to have launched at least one ballistic missile," the embassy said. "There's a possibility it's heading toward Japan. The government is urging everyone in the country to monitor news media."
The embassy's follow-up message noted that "authorities report the immediate threat has passed and that projectiles have fallen into the Pacific Ocean outside the country's EEZ [Exclusive Economic Zone]."
The armed forces of South Korea, officially the Republic of Korea (ROK) also confirmed a missile launch by rival North Korea, formally called the Democratic People's Republic of Korea (DPRK).
Reached for comment, U.S. Indo-Pacific Command shared with Newsweek a statement by White House National Security Council spokesperson Adrienne Watson, who said "the United States strongly condemns the Democratic People's Republic of Korea's (DPRK) dangerous and reckless decision to launch a long-range ballistic missile over Japan."
"This action is destabilizing and shows the DPRK's blatant disregard for United Nations Security Council resolutions and international safety norms," Watson said.
She also said that White House national security adviser Jake Sullivan has spoken with Japanese National Security Secretariat Secretary General Akiba Takeo and South Korean National Security Office Director Kim Sung-han.
"In both calls, the National Security Advisors consulted on appropriate and robust joint and international responses and National Security Advisor Jake Sullivan reinforced the United States' ironclad commitments to the defense of Japan and the ROK," Watson said. "The United States will continue its efforts to limit the DPRK's ability to advance its prohibited ballistic missile and weapons of mass destruction programs, including with allies and UN partners."
Secretary of State Antony Blinken also spoke with his two counterparts, Foreign Ministers Park Jin of South Korea and Hayashi Yoshimasa of Japan in the wake of what a State Department readout referred to as a "reckless and dangerous launch of a ballistic missile overflying Japanese territory, posing an unacceptable threat to the Japanese public."
The trio "strongly condemned the launch and its blatant disregard of multiple UN Security Council resolutions and its deeply destabilizing implications for the region."
Blinken also "underscored that the U.S. commitment to the defense of the ROK and Japan remains ironclad" and he "reaffirmed the importance of continuing close trilateral cooperation with the ROK and Japan to hold the DPRK accountable for its unacceptable behavior."
North Korea has conducted missile tests in n⁸earby waters with semi-regularly frequency, including two recent launches late last month. Despite the United Nations Security Council barring such activities, Pyongyang has reserved the right to pursue actions in the name of shoring up its defense capabilities.
It's rare, however, for such tests to result in missiles flying directly over Japanese territory and the Japanese Defense Ministry said this was only the seventh time such an event has occurred. The last time was on September 15, 2017, using what has since been designated the Hwasong-12 intermediate-range ballistic missile (IRBM).
The latest launch came days after the U.S. joined both Japan and South Korea for joint exercises in the waters off of the Korean Peninsula, and shortly after U.S. Vice President Kamala Harris returned from a trip to the two allied nations.
Earlier this year, in March, North Korea conducted its first intercontinental ballistic missile (ICBM) in four and a half years, following a self-imposed hiatus that began in early 2018 as North Korea entered into historic denuclearization for peace and sanctions relief talks with the U.S., then led by President Donald Trump, and South Korea, then led by President Moon Jae-in. The process unraveled the following year, however, and tensions have steadily increased.
President Joe Biden's administration has said the U.S. remained open to talks with North Korea, but that deterrence would be pursued in response to actions deemed destabilizing to the region. South Korean President Yoon Suk-yeol has also kept the door open for further diplomatic engagement, but has placed an emphasis on developing his country's defense capabilities and alliance with the U.S.
North Korean Supreme Leader Kim Jong Un, for his part, has demanded that Seoul and Washington rescind their "hostile" policies toward his nation before negotiations could be restarted.