North Korea Fires Back at Missile Launch Critics: We Never Agreed to Any U.N. Resolutions
North Korea has fired back at international critics of its recent missile launches, arguing that it never signed on to the United Nations resolutions it's been accused of violating.
Following two of what would ultimately be up to three short-range weapons tests that caught the world's attention in the two weeks, the United Kingdom's mission to the U.N. said that the country, along with its French and German counterparts, were "concerned by the launches of ballistic missiles by North Korea in the past few days," reiterating their "condemnation of such launches, which are violations of U.N. Security Council Resolutions." Hours later, North Korea launched a third such test and ultimately released a statement.
In comments carried by the official Korean Central News Agency, a North Korean Foreign Ministry spokesperson said Friday that his country, officially known as the Democratic People's Republic of Korea, "has never recognized UNSC's 'resolutions' against the DPRK illegally fabricated by the UN according to its taste, nor will it recognize them in the future, too."
"It is an insult, disregard and grave provocation against the DPRK to cook up such 'resolutions' that the relevant party does not recognize and to say this or that over a matter related with the sovereignty of a sovereign state," the spokesperson added.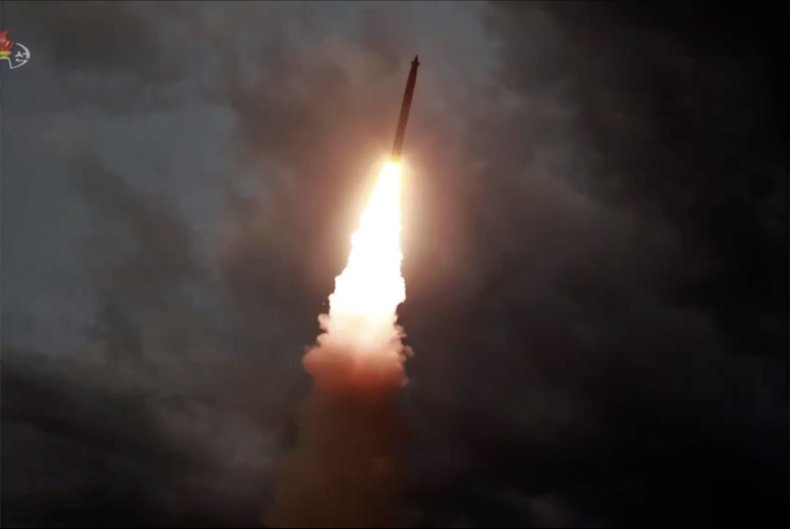 The first two launches this past month involved last week's mobile short-range ballistic missile system test that flew 370 miles at a top altitude of 30 miles and, less than a week later, Wednesday's multiple rocket launcher systems test that reached about 155 miles and 19 miles high, according to the South Korean Defense Ministry.
Little information has surfaced about the latest reported test, which South Korea's Joint Chiefs of Staff said consisted again of "two short-range projectiles" that traveled about 137 miles and reached a maximum height of 16 miles at a hypersonic speed of nearly Mach 7, or seven times the speed of sound, according to the Yonhap News Agency.
As of writing, images have yet to surface of the most recent test, while the platform used in Wednesday's test was partially-censored in footage released by the state-run Korean Central Television Outlet. Last week's test was featured in a slideshow by the Korean Central News Agency, as were previous mobile short-range ballistic missile system tests in May that marked the first such tests since an intercontinental ballistic missile test in November 2017, a period of heightened tensions between North Korea and the U.S.
North Korean supreme leader Kim Jong Un and President Donald Trump would go on to seek historic talks last year, however, and in the leadup to their warming in ties, Kim announced a moratorium on nuclear and intercontinental ballistic missile tests. This has yet to be broken, but the renewal of even shorter-range launches has raised concerns that the peace process had again stalled without a concrete scheme to disarm North Korea's nuclear weapons, lift sanctions and ensure a lasting peace to end the decades-long frozen conflict on the Korean Peninsula.
"The DPRK has not concluded with any country an agreement on limitation of the range of missile and other projectiles and has not been bound to international law related with it," Friday's North Korean Foreign Ministry statement read. "The DPRK's decision to suspend nuclear test and test-fire of ICBM is goodwill and consideration for dialogue partner. It is by no means part of acts to recognize and abide by the UNSC's absurd 'resolutions' against the DPRK."
"Considerate of the universal expectations of the international community for peace and stability of the Korean peninsula, the DPRK has already suspended nuclear test and the test-fire of ICBM with the maximum patience for more than twenty months," it continued. "But the UNSC is getting on the nerves of the DPRK by groundlessly slandering the DPRK's measures for conventional weaponry development while turning blind eyes to the war exercises in south Korea and shipment of cutting-edge attack weapons into it."
The spokesperson warned: "This makes our patience with the UN disappear and turn into anger."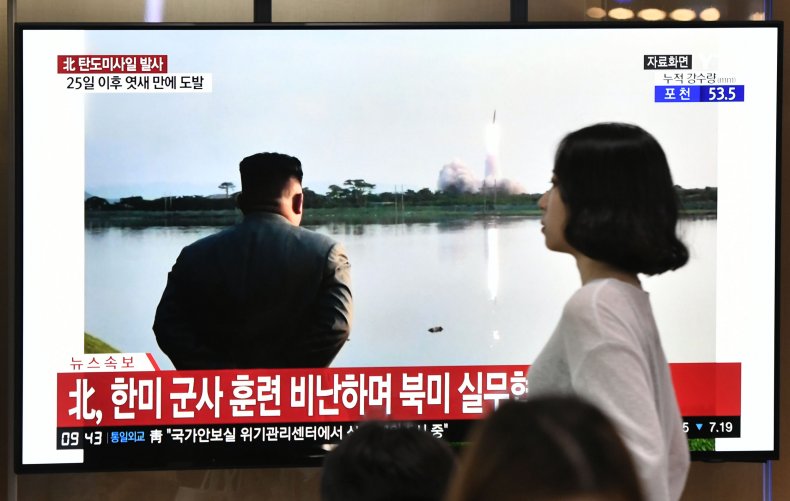 Trump himself appeared to dismiss the idea of the launches as a serious provocation in a series of tweets Friday in which he said the three tests "are not a violation of our signed Singapore agreement, nor was there discussion of short range missiles when we shook hands." He acknowledged they "may be a United Nations violation, but ... Chairman Kim does not want to disappoint me with a violation of trust, there is far too much for North Korea to gain - the potential as a Country, under Kim Jong Un's leadership, is unlimited."
Trump argued that Kim has "a great and beautiful vision for his country, and only the United States, with me as President, can make that vision come true" and expressed confidence that he "will do the right thing because he is far too smart not to, and he does not want to disappoint his friend, President Trump!"
Secretary of State Mike Pompeo, who is in Thailand for an Association of Southeast Asian Nations (ASEAN) summit, told Bloomberg TV earlier Thursday that conversations with Pyongyang were ongoing, and "diplomatic path is often fraught with bumps, tos and fros, forward and backward," but that the Trump administration was "still fully committed to achieving the outcome that we have laid out – the fully verified denuclearization of North Korea."
At a background briefing in Bangkok, one senior State Department official echoes these points, but noted that "these missile launches, any kind of provocations, are not helpful to advancing the cause of diplomacy, but we are prepared to engage with the North Koreans to achieve the strategic goal that we and virtually every other country that's present this week here at the ASEAN events is sharing."