The acting ambassador to South Korea accused North Korea of using talks with the U.S. and South Korea as a stalling tactic to continue building its burgeoning weapons programs.
"We have seen enough times the North used dialogue with us and South Korea and others to continue to buy time to pursue nuclear and missile developments," said Marc Knapper, chargé d'affaires ad interim at the U.S. Embassy in Seoul, who spoke to reporters in Seoul on Wednesday.
During the closing ceremonies of the Winter Olympics in Pyeongchang, South Korea, senior North Korean official Kim Yong Chol told South Korean President Moon Jae-in that the North would be open to talks with the U.S.
"We are not going to make the same mistakes as previous administrations. We are willing to engage North Korea to emphasize our position that the complete and verifiable denuclearization of the Korean Peninsula is non-negotiable," a State Department spokesperson told Newsweek via email Thursday.
Heather Nauert, the State Department's main spokesperson, said in a press conference Tuesday that the U.S. would only meet with North Korea if denuclearization was on the table.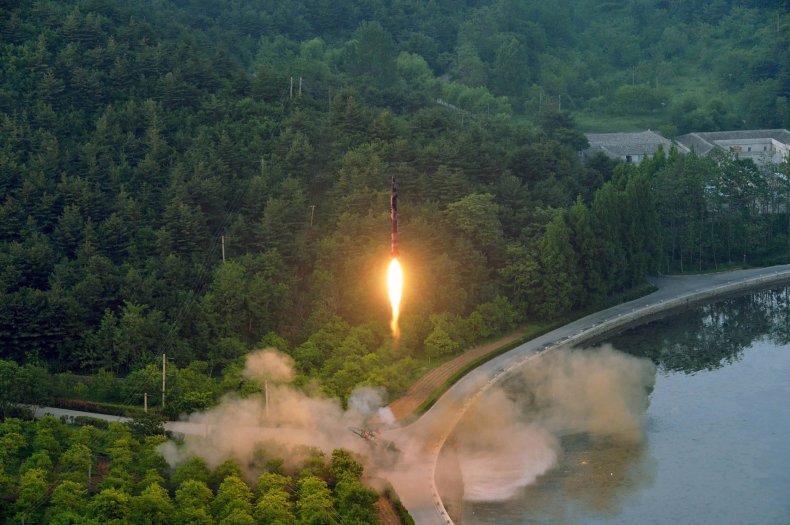 "Our condition is denuclearization. Our policy has not changed. We have talked about this policy since day one of this administration; and that's maximum pressure, but it's also the denuclearization of the Korean Peninsula," said Nauert.
Knapper echoed those sentiments Wednesday, saying that the U.S. needed "to see willingness [to de-arm] on the part of North Korea," in order for talks to happen.
Last year, North Korea tested their sixth and most powerful nuclear weapon. They also tested an intercontinental ballistic missile (ICBM) with the theoretical range of anywhere in the U.S. ICBMs launch their payload into space, where it arcs down before re-entering the atmosphere to hit its target.
Air Force General Paul Selva, vice chairman of the Joint Chiefs of Staff, in a roundtable with reporters in January said that it didn't appear that North Korea had successfully proven the ability to land a nuclear warhead in the U.S. Specifically the general said the North has not shown a re-entry vehicle able to withstand punching a nuclear warhead back through the atmosphere or an advanced guidance system.
Selva said the country may have developed that technology, but it has not shown it in tests so far.
"It is possible, although I think unlikely, that [Kim Jong Un] has found a way to do the test without us knowing," said Selva at the time. "But I can't envision what that test would look like, where he would be convinced that he has those components at a reliable-enough level of performance to declare that he's ready."
The U.S., along with the United Nations, has employed restrictive economic sanctions against North Korea in an attempt to get North Korea to cooperate with denuclearization.
Knapper also said Wednesday that the U.S. would not postpone joint military exercises with South Korea any longer. It had paused them, in deference to the Olympics in South Korea and plans to take exercises up again in April, after the Paralympics.
"We made the decision to de-conflict the exercise, a gesture out of respect to the spirit of the Olympics and out of respect to ensure the success of the Games here," said Knapper.
The U.S. doesn't currently have an ambassador to South Korea. One North Korea expert, Victor Cha, was thought to be a leading a candidate but was dropped after an op-ed he wrote in The Washington Post calling a preemptive "bloody nose" military strike against North Korea "a huge risk to Americans." The tactic is believed to be favored by some in the White House including national security adviser H.R. McMaster, according to CNN.
The State Department also loses a North Korea expert this week, Joseph Yun, who has been the top U.S. diplomat on Korean affairs but who has announced he will be stepping down.