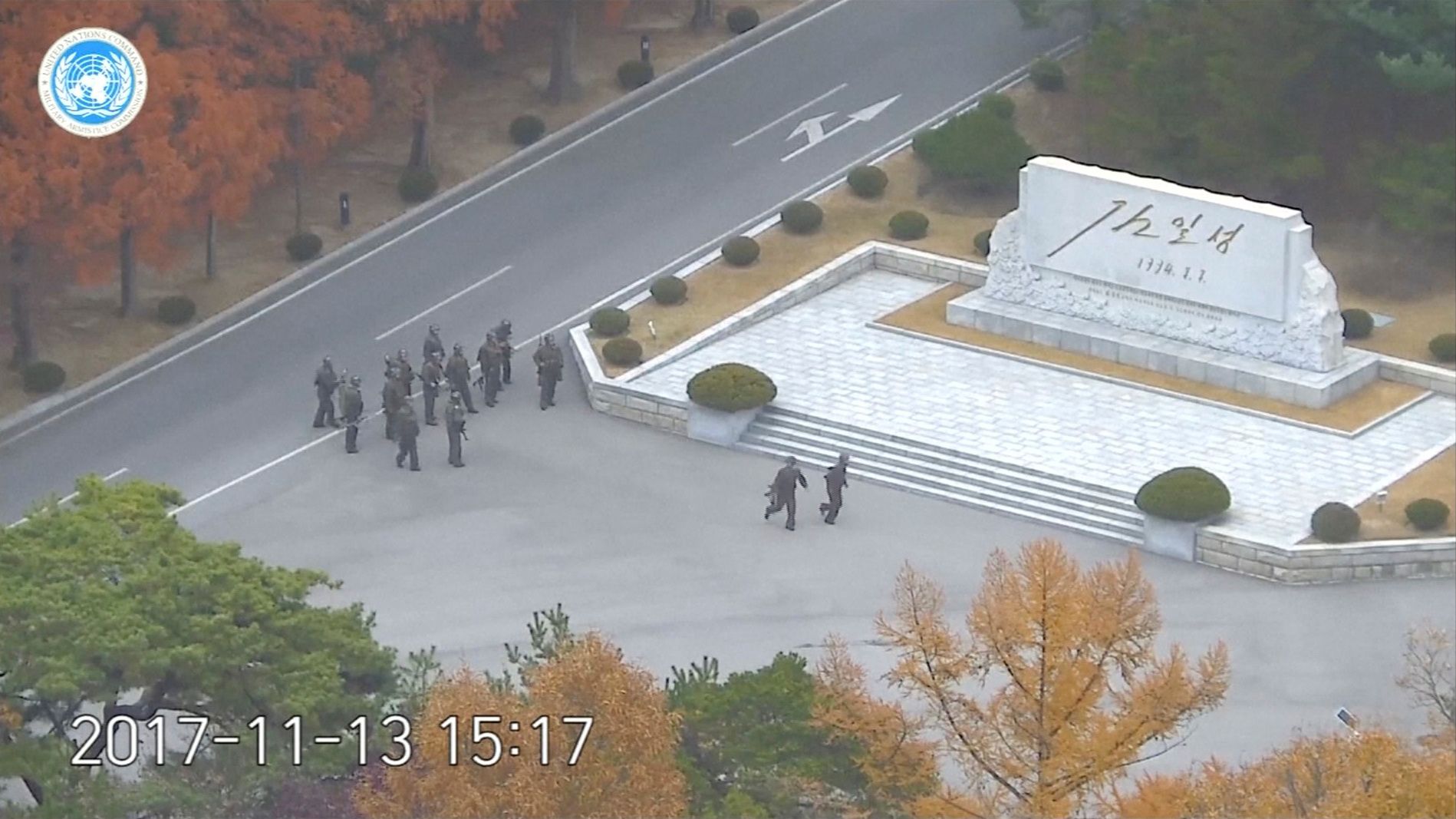 Updated |North Korea reportedly replaced all border security guards after a North Korean soldier dashed across the demarcation line at the heavily guarded Joint Security Area in the demilitarized zone (DMZ). It was a rare and dramatic defection, an intelligence source told South Korean news agency Yonhap.
According to the source, the border guards may have been punished for their failure in stopping the defection.
"Signs were detected that North Korea has replaced all border security officials following the defection. Given this situation, commanders of the responsible military unit and senior officers might have undergone punishment," the source was quoted as saying in an article published Thursday.
Read more: Hungry North Korean soldiers risk their lives fleeing Kim Jong Un's rule
It would not be unprecedented for the North Korean regime, led by Kim Jong Un, to punish border guards for failing to prevent defections. According to the human rights organization Amnesty International, a commander and a vice commander of a border post near China were arrested and sentenced to death in 2007 following an official investigation into North Korean defectors, many of whom flee the country over the Chinese border.
Read more: North Korea digs trench, plants trees at border area where soldier defected
Earlier this week, the South Korean intelligence agency told lawmakers about rare punitive actions taken against top North Korean officials following an inspection of the military's hugely influential General Political Bureau, an organ devoted to ensuring adherence to the ruling party line among the Korean People's Army ranks, reportedly due to their "impure attitude."
The punishment was initially seen as a possible sign of infighting among Kim's key aides, but it could also be related to the border guards (carefully handpicked for their ideological commitment to the regime) and their inability to prevent the defection.
An edited video of the area's CCTV footage the United Nations Command released on Wednesday showed a group of border guards wearing bulletproof vests and armed with pistols and AK-47s chasing after the soldier.
They fired at least 40 rounds at the soldier, who had exited the jeep he drove past a checkpoint after it appeared to get stuck in a ditch. He then ran across the border line. One of the North Korean guards appears to cross South Korea's border, violating the terms of the 1953 Korean War armistice.
The 24-year-old soldier, identified by his surname, Oh, in a Wednesday press conference, suffered gunshot wounds to his abdomen and chest area and collapsed on a pile of dead leaves, just after crossing into South Korea.
The three South Korean soldiers—1st class sergeants Noh Yeong Soo and Song Seoung Hyeon, and deputy commander lieutenant colonel Kwon Young Hwan—crawled to his rescue. They were among six servicemen who contributed to saving the defector's life. The other three were American soldiers: sergeant Robert Hartfield, major Jeffery Schmidt and lieutenant colonel Matthew Farmer. All six were awarded a medal on Thursday.
"In recognition for their efforts in rescuing a North Korean defector, Nov.13, General Vincent K. Brooks, United Nations Command, Combined Forces Command and U.S. Forces Korea commander, awarded Joint Security Area soldiers the Army Commendation medal," a post shared on the U.S. Forces Korea Facebook page read.
This story was updated to clarify the date when two North Korean officers near a Chinese border post were arrested and sentenced to death. It was 2007, not 2017.