North Korea Says Japan 'Has to Pay' for 'Destroying Peace' with Military Drills and Cyber Army
North Korea has warned that Japan would face consequences for regional moves viewed as adversarial to China at a time of rare inter-Korean diplomacy.
The official Korean Central News Agency published a commentary Tuesday criticizing Japan's reported decision to boost regional cyber capabilities in its western district, the one often tasked with defending the country against longtime rival China, and joint military drills with the U.S. in the contested South China Sea. Pyongyang and Beijing have been allies since they fought alongside one another in the 1950s Korean War against the U.S. and South Korea. Despite recent chills in their relationship, the East Asian giant and the hermit kingdom remain united in their opposition to Western influence in the Asia-Pacific.
"What is serious is that Japan's acts towards China are not confined to the issue of the bilateral ties but adversely affect the situation in the region," the outlet wrote, saying that, as almost all "Asian countries are located near the regions and waters characterized by the China-Japan friction caused by Japan's military moves, those moves directly influence the whole of the region as well as the relevant nations."
The North Korean agency further warned that the China-Japan feud "will be creating a factor of sustained instability in the region and bring about serious consequences in the peaceful development of the regional states." It concluded: "Japan has to pay for its acts of destroying peace."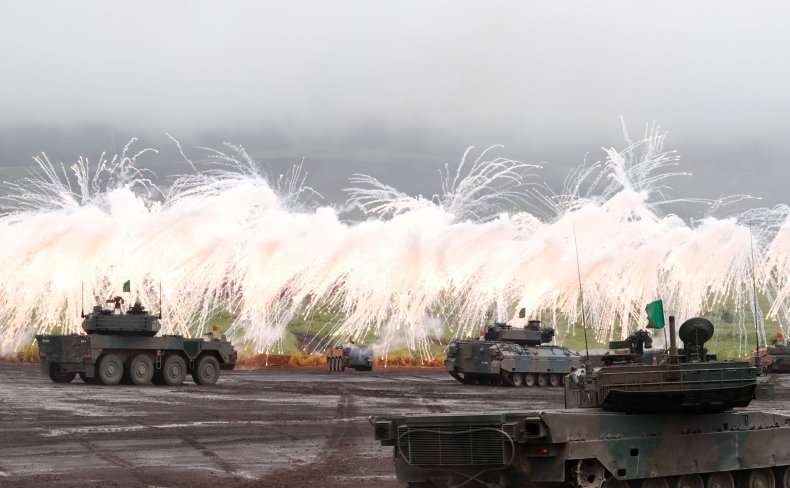 Japan established its first and only cyber force in 2014 and is reportedly looking to expand on its capabilities. Citing a government official, The Japan Times reported last month that the Japanese Defense Ministry was planning to equip its army's western branch with its own cyber unit of about 40 personnel to begin operations by next March. The unit was reportedly intended to guard against cyberattacks targeting Japan's southwestern islands, some of which were claimed by China and have witnessed heightened Chinese coast guard activity.
Tokyo has also sought to expand its regional involvement and last week deployed a naval group led by its Izumo-class helicopter carrier Kaga on a two-month journey through the South China Sea, much of which is also claimed by China as its sovereign territory. The Japanese ships were set to make port calls in India, Sri Lanka, Singapore, Indonesia and the Philippines and began training Friday with the U.S. Navy's Ronald Reagan Strike Group.
The North Korean commentary Tuesday said that these moves, as well as Japan's "Free and Open Indo-Pacific Strategy" announcement alongside the U.S. last year, proved that Tokyo and Washington were pursuing "a joint diplomatic strategy" that is "virtually for creating a geopolitical 'siege' to China." Beijing has long enjoyed close ties to the notoriously reclusive North Korea, but North Korean supreme leader Kim Jong Un distanced himself from China after taking over in 2011. After embarking on an ambitious diplomatic overture with South Korea and the U.S., Kim made his first international visit to meet Chinese President Xi Jinping in March and has seen him twice since.
Kim's landmark summit with President Donald Trump in June has also shaped regional relations. In a reversal from last year when Trump attempted to channel his relationship with Xi to put pressure on Kim, the Republican leader has since launched a trade conflict with China and has cited both Beijing's attitude and a perceived slowdown in Kim's denuclearization as a stumbling block for negotiations.
The U.S. has also suspended joint drills with ally South Korea amid a warming in their ties with North Korea, but reports suggested that such drills—considered provocative by Pyongyang—may resume if Kim does not accelerate his denuclearization efforts. Like the U.S., Japan has expressed skepticism about North Korea's commitments, even as Trump praised the North Korean ruler. South Korea, however, has attempted to press forward with the dialogue, prioritizing peace over denuclearization ahead of an unprecedented third meeting between Kim and South Korean President Moon Jae-in, marking only the fifth such summit between leaders of the two Koreas.