North Korea Says U.S. Is the Target for Its Nuclear Weapons But Does Not Want to Kill Civilians
North Korea has criticized foreign media and other institutions, especially in the West, for suggesting it was planning to harm civilians in a potential nuclear attack, which it said would be launched only in retaliation for U.S. aggression.
Jo Chol Su, director of press at North Korea's state-run Institute of American Studies, was quoted Wednesday by the official Korean Central News Agency as saying there was no truth to press rumors that North Korea was plotting a nuclear attack, especially against South Korea's upcoming Winter Olympics, to be held in February in Pyongyang. He also cited a rumor that North Korea was planning another ballistic missile launch around Christmas.
Jo said such stories were false readings of North Korea's media and would contribute to the ultimate outbreak of total war if not reined in.
Related: North Korea starting a war? U.S. ally South Korea blasts targets after Kim Jong Un's latest missile test
"Recently, some policy research institutions and media of the U.S. and other Western countries publicized the so-called 'merciless nuclear attack plan' of the DPRK and claimed that the DPRK is planning random and indiscriminate attacks on the U.S. and Asian countries drawing no distinction between military and civilian targets," Jo's statement read. (He was referring to his country by its official title—the Democratic People's Republic of Korea.)
"On the other hand, they are prompting the baseless speculation that the DPRK seeks a nuclear attack on South Korea during the Pyongyang Winter Olympic Games and that the DPRK might go for another 'ultra-high level provocation' by conducting a ballistic missile test launch on the occasion of Christmas," Jo added.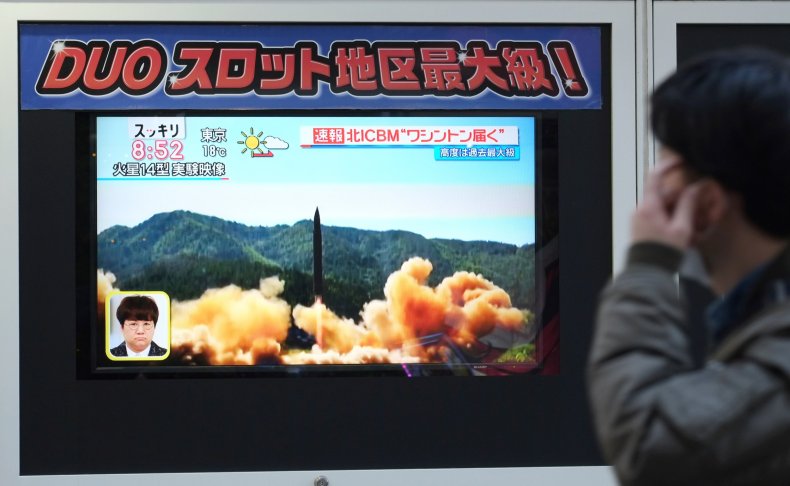 Jo urged journalists to "contribute to international justice by being true to the principle of objectivity and unbiasedness, the very life and mission of the media."
Media outlets abroad have often portrayed North Korean leader Kim Jong Un as an irrational or struggling head of state. The North Korean official emphasized, however, that his country's nuclear forces were aimed at "none other than the U.S."
North Korea has previously reassured other Western countries, especially in Europe, that its nuclear weapons were only "for deterring the U.S. nuclear war hysterics and ensuring peace and security on the Korean Peninsula and the region." The U.S. has long led the international campaign to disarm North Korea's nuclear weapons arsenal and has employed harsh sanctions and diplomatic pressure against the secretive, militarized state.
Despite friendly nations, such as China and Russia, calling on Kim to abandon testing his ballistic and nuclear weapons, the millennial leader has vastly expanded his country's military capabilities by overseeing its first intercontinental ballistic missile launches, in July, and its first hydrogen bomb test, in September. On Tuesday, North Korea launched its third-ever ICBM, reaching a never-before-seen altitude and distance, which means every major U.S. city, including New York and Washington, is now in range.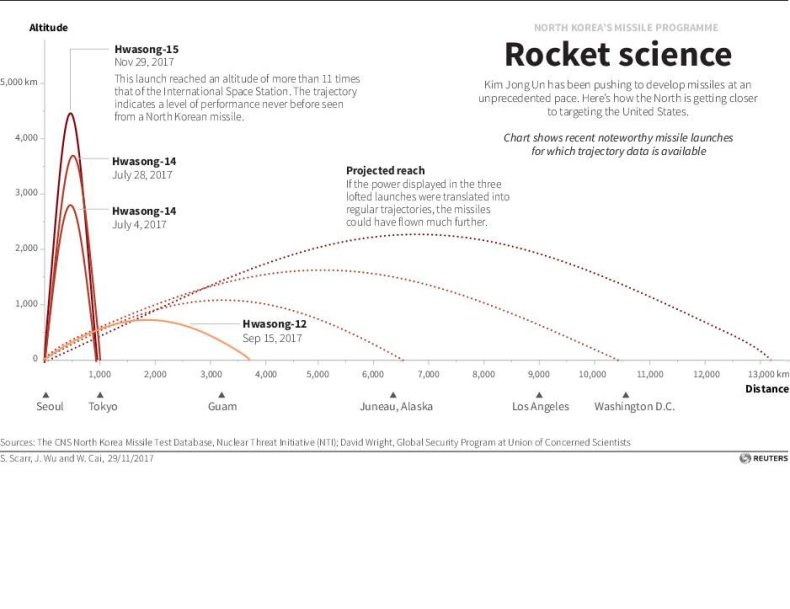 While a North Korea nuclear attack on any major city would easily become the deadliest attack in U.S. history, researchers claim a 2013 photo analysis of a meeting between Kim and his generals shows where North Korea was really planning to strike at the time. The four targets were believed to be Louisiana's Barksdale Air Force Base, the Pacific Fleet's home port in San Diego, the Pentagon in Virginia and Hawaii's Pearl Harbor, the site of the last deadly attack from a foreign country, Japan, which has since firmly aligned itself with the U.S. against North Korea.
Since Trump took office earlier this year, he has doubled down on U.S. efforts to end North Korea's nuclear program and has threatened to use military action to do so. North Korea, aware of past U.S. invasions around the world, has viewed nearby joint exercises by the U.S. and its Pacific allies, South Korea and Japan, with extreme concern and has urged Washington to respect the sovereignty of Kim's government.