North Korea Says U.S. Will Make South Pay More And Use Its Troops to Fight Wars Around World
North Korea warned its southern neighbor Friday that the United States was planning to charge its ally more money for military protection and to force its troops to participate in the Pentagon's conflicts across the globe—issues that have proven deeply controversial in South Korean society.
The warning came in a commentary published by the official Korean Central News Agency in a move by North Korea to capitalize on the strained ties between Pyongyang's two top rivals while Washington demands that Seoul contribute more to their alliance. Not only would the U.S. ask for South Korea "to pay more for the upkeep of GIs," but it would also ask to amend their 1953 mutual defense treaty so that South Korea's armed forces would "become obliged to send its troops to any strife-torn areas in the world beyond the Korean peninsula and the Pacific region," the outlet argued.
"As a result, south Korea will turn into a bigger advanced base and logistic base for the U.S. to launch continental invasion and carry out the U.S. strategy for world hegemony and will have to face horrible war disasters after getting entangled in the world's hottest issues the U.S. interfere in," the Korean Central News Agency wrote.
"The U.S. is to use young and middle-aged south Koreans as a shock force for its overseas wars of aggression, not content with turning south Korea into its giant military base and exploiting a fabulous amount of money as upkeep for GIs," the news agency added. "This is, indeed, the height of impudence."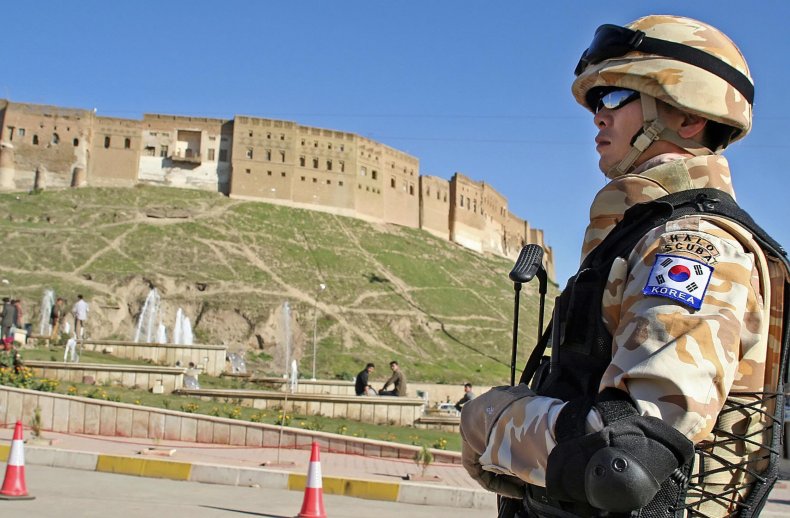 Under President Donald Trump, the troubled ties between Washington and Pyongyang have shown their first real signs of improvement since the devastating war that pitted South Korea and a U.S.-led United Nations command against North Korea and its communist Sino-Soviet allies during the early 1950s. Despite several bilateral summits and ongoing working-level talks, however, the two sides have failed to reach a peace agreement to officially end the Cold War-era conflict.
What has remained in place is the U.S.-South Korea military relationship, although the longtime partners have relaxed joint exercises in a bid to encourage North Korea's denuclearization. Defense Secretary Mark Esper said Wednesday the Pentagon "will adjust our exercise posture either more or less depending on what diplomacy may require."
Esper, however, also went on to call out South Korea days later for not contributing enough. Following talks with his counterpart Jeong Kyeong-doo, Esper said Friday that "Korea is a wealthy country and could and should pay more to help offset the cost of defense."
Reports citing U.S. officials and South Korean lawmakers have suggested the Trump administration was demanding about $5 billion, an increase of nearly five-fold for defense-sharing. The number has not been confirmed publicly, but Trump remarked in February that "South Korea is costing us $5 billion a year."
Asked about this number and any other amendments to the U.S.-South Korea Special Measures Agreement that governs their partnership, a senior State Department official told reporters Friday that the countries' "relationship changes as the security dynamic in the region changes" and that "its linked to North Korea and other security risks and threats."
"We review these agreements over time and we update them in order to ensure that both sides are being treated this workload, this balance is being treated and addressed fairly," the official added. "So as far as the details on the negotiation, it would be exceptionally, exceptionally stupid of me to weigh in on actual numbers and process, but I think you would all would understand that sharing the load is in both countries interest, to make sure the relationship stays balanced and respectful."
Such a decision to raise the cost would be deeply popular among South Koreans. A survey published last week by the state-sponsored Korea Institute for National Unification and shared with Newsweek found that more than 96 percent of South Koreans said they opposed paying any more for defense, with more than 71 percent of respondents content with the status quo.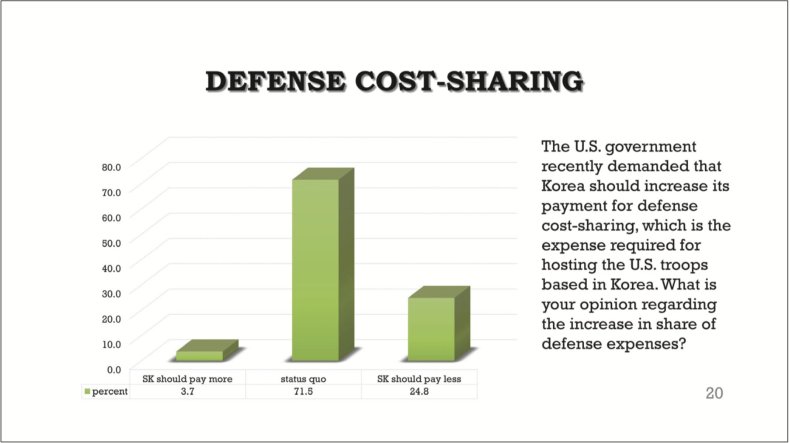 The Trump administration has yet to publicly call for any changes to its1953 mutual defense treaty with South Korea, which in its current form deals primarily with "an armed attack in the Pacific area." At the same time, the State Department and the Pentagon have called for global allies to contribute to a so-called International Maritime Security Construct designed to counter what Washington has perceived to be Iranian aggression in the Persian Gulf region.
So far only Australia, Bahrain, Saudi Arabia, the United Arab Emirates and the United Kingdom have formally heeded the call. While fellow U.S. ally Japan has declined the offer in hopes of maintaining friendly ties with Iran, South Korea has publicly considered it.
The recent Korea Institute for National Unification showed that South Koreans were largely split, with a slight majority of merely 51 percent supporting such a deployment. South Korean personnel have previously participated in U.S.-led missions in Afghanistan and Iraq.
North Korea has expressed deep opposition to U.S. military deployments across Asia and other parts of the world, seeing it as an extension of an imperialist ideology against which it has developed nuclear weapons for deterrence. Kim has agreed to forfeit this arsenal only in the event of the "denuclearization of the Korean Peninsula" and the end of the "hostile policy" of the U.S. toward his government.
This article has been updated to include remarks by a senior State Department official.
North Korea Says U.S. Will Make South Pay More And Use Its Troops to Fight Wars Around World | World