U.S. and Iran Can't Find a Way to Talk, Japan and Pakistan Want to Help
The United States and Iran failed to come together for any talks last week on the sidelines of the United Nations General Assembly, but two countries have been quietly working mediate between the longtime foes.
While French President Emmanuel Macron's ill-fated push to arrange a meeting, or even a phone call, between his U.S. and Iranian counterparts Donald Trump and Hassan Rouhani captured headlines, what received less publicity were statements by Japanese Prime Minister Abe Shinzo and Pakistani Prime Minister Imran Khan suggesting they had been separately summoned to play a role in alleviating tensions in the Persian Gulf. The two leaders explained their positions at events accompanying last week's international gathering in New York.
"Because the situation is tough, there is something only Japan can do here, given its alliance with the United States and the long-standing amicable relations with Iran," Abe told a press conference last Wednesday. "I hope that Japan continues to play a constructive role for peace and stability in the region."
Khan also spoke on the issue at the Asia Society the following day, telling his audience that "with Iran, we hope to play a big part, I have met with Iranian President, of course, President Trump asked me to meditate, Saudi Crown Prince Mohammed bin Salman asked me to play a role." He added, candidly: "It's quite a complex issue, but we'll try our best. I don't know how far we'll be successful."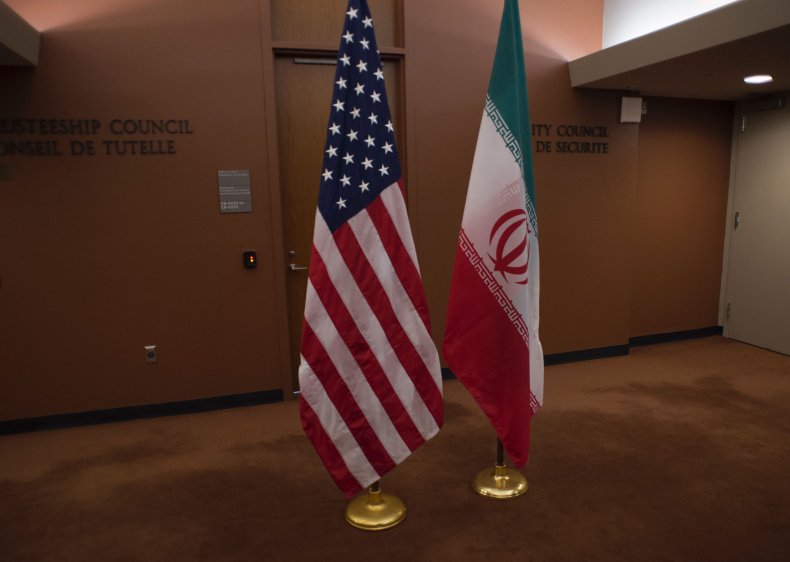 Trump's opposition to his predecessor's 2015 nuclear deal struck with Iran and also endorsed by China, the European Union, France, Germany, Russia and the United Kingdom immediately introduced new tensions to the Middle East, where close partners like Israel and Saudi Arabia opposed the historic agreement. Trump then abandoned the accord last year, claiming it was too soft on the Islamic Republic, which he has targeted with increasingly-tight sanctions ever since.
The situation grew especially dire this year as unclaimed attacks hit oil tankers in the Gulf of Oman, stirring suspicions among regional rivals as Washington and Riyadh moved to blame Tehran. The attacks came shortly after the U.S. announced it would be stepping up its military posture in the region, stoking concerns of a potential clash.
As tensions appeared to be reaching the point of no return, Abe made a historic visit to Tehran, the first of its kind by a Japanese leader since the 1979 Islamic Revolution. Trump downplayed reports that Abe carried a message from him, but nonetheless, the prime minister promised "to play as much a role as possible for peace and stability in the region."
The visit was overshadowed, however, by a second attack against foreign commercial vessels, one of them Japanese-owned, in the Gulf of Oman. With Washington and Riyadh again holding Tehran responsible, Tokyo opted to remain neutral and did so again after last month's strikes against Saudi oil facilities, an operation claimed by Yemen's Zaidi Shiite Muslim movement Ansar Allah, or the Houthis, but once again blamed on Iran by the U.S. and some of its allies.
Japanese Foreign Ministry Press Secretary Masato Otaka told reporters last week that Abe condemned the attack during his meeting with Trump, but had also described it as "subject to further information-gathering and analysis." He added: "We're still looking into it we, we haven't made any judgment on that particular attack as of yet."
With Abe having just held his ninth New York meeting with Rouhani in the past seven years, Otaka said the Japanese leader "was in a position to actually inform the president of the kind of conversation that they had, which included the fact that the prime minister asked President Rouhani to play a constructive role and also to exercise restraint in order to bring about de-escalation and to bring stability to the region as well."
"Knowing what Japan has been doing, knowing the Japanese effort on Iran, President Trump expressed his high appreciation as well as high expectations for Japan's role in this regard," Otaka explained.
Newsweek recently spoke to several leading Japanese experts who suggested it was unlikely that Japan would join a U.S.-led naval coalition so far backed by Australia, Bahrain, Saudi Arabia, the United Arab Emirates and the U.K., but may instead send warships to patrol the Strait of Hormuz independently.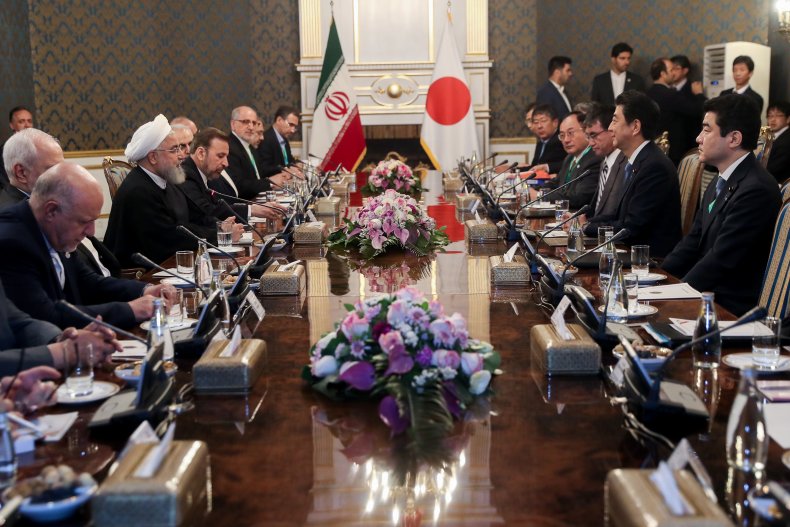 As for Pakistan, home to the second-largest number of Muslims in the world, Khan's administration was also hesitant to choose sides between Saudi Arabia and Iran, which have been competing for influence across the Muslim world for decades. Speaking to Newsweek shortly before Khan's emotional address to the U.N. General Assembly, much of which centered around India's controversial consolidation of power in the share of Kashmir it controls, Pakistani Foreign Minister Shah Mahmood Qureshi discussed his own country's motivation in brokering a Middle East peace.
"Well, Pakistan certainly doesn't want to see another conflict in the region, we've seen enough, we've seen a 19-year war in Afghanistan in fact much longer than that, it's been going on for decades now, but the last 19 years have been very bad, we have suffered on account of that," Qureshi said.
"We also see a hot eastern border with the Indian annexation of a disputed territory and the last thing we want is the third border that we have with Iran heating up so Pakistan would want to play a role in calming people down so that it could be a diplomatic solution to what is going on over there," he continued.
Asked about Rouhani's U.N. proposal for a Coalition for HOPE, officially called Hormuz Peace Endeavor, Qureshi agreed that countries in the broader region had a responsibility to get involved and avoid a war. He explained: "We all have to play a role, because if there's another conflict in the region everyone gets affected if there's a crisis, oil prices go up if oil prices go up the global economy get affected, there'll be more recession, our economy will be affected."
When it came to the recent attack, the top diplomat touted his country's "very good relationship with Saudi Arabia, calling the kingdom's officials "trusted and reliable friends for years, we have a strategic relationship with them so busy when we heard about this attack, we were concerned, we were worried, we condemned it immediately." Qureshi said he traveled alongside Khan to "to express solidarity with the leadership over there, and to hear them out."
"And we did hear them out, we gave them our point of view as well, and we would try and tell all the parties concerned to stay calm wait till the investigations are complete and not get into some kind of a knee-jerk reaction," Qureshi told Newsweek.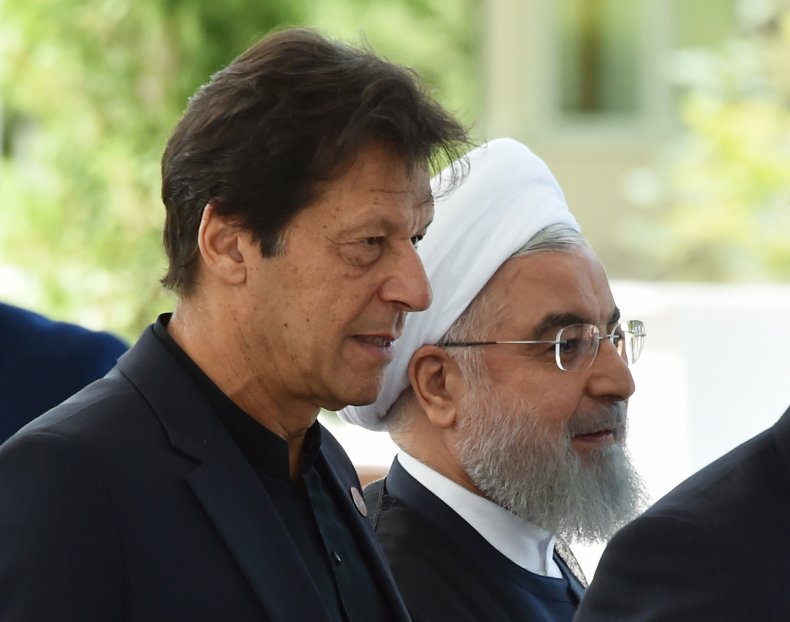 Just two days after Abe's visit to Tehran in June, Khan met with Rouhani in Kyrgyzstan as part of the Shanghai Cooperation Organization, an Asian regional grouping increasingly led by China and Russia. The organization, of which both India and Pakistan are members, managed to bring both rival states together for exercises even as they edged toward another potentially devastating conflict over the issue of Kashmir, the India-administered portion of which has been on lockdown for two months.
Moscow and Beijing have also sought a role in diffusing Middle East tensions, with both governments mostly blaming the current unrest on Trump's unilateral exit from the 2015 nuclear deal. Mediation from fellow signatories Berlin, Paris and London have been met with deepening skepticism in Tehran due to their unwillingness to stand up to Washington's so-called "maximum pressure."
As far as Abe and Khan, the two men may not have much history with one another, but they have both demonstrated a degree of trust with Rouhani. Any final say on diplomacy would also go to Iranian supreme leader Ayatollah Ali Khamenei, the spiritual head of a revolutionary Shiite Muslim system deeply skeptical of Western designs since ousting a monarchy backed by U.S. and U.K. intervention.
In his final appearance in New York, Rouhani described his "good and fruitful, friendly relations" with the Abe administration. He said the Japanese leader was "seeking this particular path from a few months ago, aimed at taking away sanctions implemented by the Americans and, in a way, to bring both sides together and change conditions and atmosphere, Abe is still seeking to move on that pathway which perhaps emanates from some degree from their own unjust occupations."
With Khan, Rouhani—whose country has been one of few to outright to condemn India's controversial Kashmir move—confirmed "discussing relations with Saudi Arabia and the topic of Yemen as well as the problems with the United States of America." He also said he was informed of the Pakistani leader's conversations with Trump and confirmed that Khan had conveyed a message to Iran from Prince Mohammed.
Rouhani said he and Khan "will keep talking." In his final remarks, the Iranian president told reporters that his country's "ultimate objective is to work hard and strive for peace and stability in the region and to make that a reality."
On Saturday, Khan too departed. He boarded a private plane granted by the Saudi royal family. At some point after takeoff, however, the aircraft turned back, reporting technical difficulties and the Pakistani leader was instead forced to take a commercial airliner home in what may be a symbol for a rough ride ahead for diplomatic efforts likely filled with as many more false starts before any potential solutions are reached.