Donald Trump Says 'No' to Iran's New Deal Offer, Will Not Lift Sanctions to Talk
President Donald Trump has refused to accept his Iranian counterpart's recent offer to open talks on potential changes to their nuclear deal, arguing that he was not prepared to lift sanctions ahead of any discussions.
After days of talks, meetings and rare media appearances at the sidelines of the United Nations General Assembly in New York, Iranian President Hassan Rouhani made his final U.S. appearance at a press conference Thursday. He suggested there could be discussions to change the 2015 multilateral agreement—officially known as the Joint Comprehensive Plan of Action (JPCOA)⁠—that was abandoned last year by Trump, who called it "the worst deal ever" and went on to impose tight restrictions against the Islamic Republic's economy.
Rouhani said such considerations would only be made, however, if the U.S. first respected the terms of their original agreement, which granted Iran sanctions relief in exchange for curbing its nuclear activities. He explained: "If we wish to step above and beyond the JCPOA, that is possible, but the proper foundation lies upon the full and exact implementation of the JCPOA."
In an apparent response on Friday, Trump tweeted, "Iran wanted me to lift the sanctions imposed on them in order to meet. I said, of course, NO!"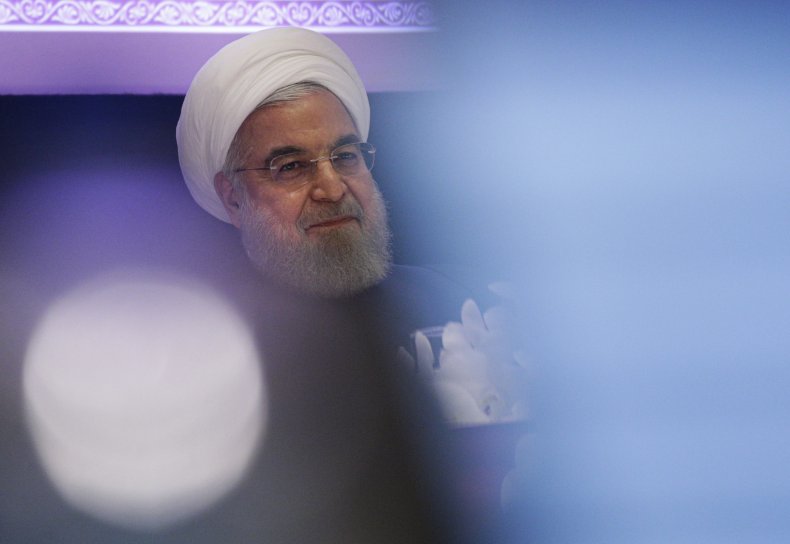 The nuclear deal was still supported by fellow signatories China, the European Union, France, Germany and the United Kingdom. With Rouhani's return to Tehran, these nations' hopes of a direct meeting between him and Trump also departed. Europe, in particular, had pushed for such an encounter in hopes of de-escalating rising tensions in the Persian Gulf region, but both sides proved irreconcilable this year.
"Of course, three out of the six countries, that is the Chancellor of Germany, Prime Minister of Britain, and President of France all insisted for the meeting to be held, saying that the U.S. would lift all sanctions," Rouhani told reporters upon his arrival at Mehrabad Airport. "But the problem here is that under sanctions and maximum pressure, even if we want to negotiate with the Americans within the framework of P5+1, nobody can predict about the end and upshot of the negotiation."
Some U.S. media reports suggested this meant that Rouhani had met directly with U.S. officials during his time in New York, though that was not apparent from what the Iranian leader told reporters Friday.
While Rouhani has criticized the European powers' unwillingness to defy U.S. sanctions and fully live up to their own nuclear deal commitments, he said talks would continue and at least some of these discussions appeared to yield positive results. Days after Rouhani and U.K. Prime Minister Boris Johnson met on the sidelines of the General Assembly, Rouhani said at Thursday's press conference that the detained U.K. oil tanker Stena Impero was "going to through the last stages of its court case and I foresee that it will be freed."
By Friday, the ship's owner confirmed that the vessel "has now left Iranian waters and is on route to Dubai." The ship was accused of endangering maritime traffic in the Strait of Hormuz and captured by Iran's elite Revolutionary Guards, just weeks after authorities in U.K.-administered Gibraltar arrested Iran's Grace 1 supertanker for allegedly trying to transport oil to Syria in an apparent violation of EU sanctions.
The Grace 1—now Adrian Darya 1—was released last month in spite of Washington's pleas to London to keep the vessel.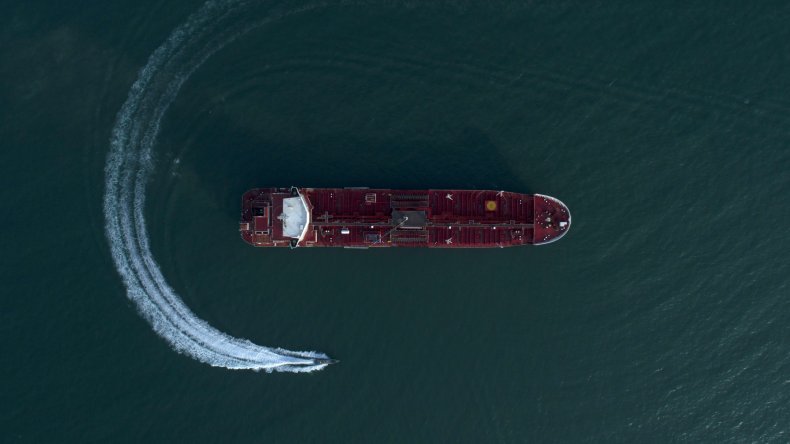 Though the dispute was resolved peacefully, it followed unclaimed attacks against oil tankers in the nearby Gulf of Oman, where Washington has accused Tehran of attempting to disrupt the flow of oil. In the latest assault on the global energy market, key Saudi oil facilities were targeted in strikes claimed by Yemen's Zaidi Shiite Muslim Ansar Allah, or Houthi, movement—but increasingly blamed on Iran by the U.S., Saudi Arabia and, most recently, Europe as well.
"The more Iran lashes out, the greater our pressure will be," U.S. Secretary of State Mike Pompeo told reporters Thursday. "All we're looking for, simply, is the Iranian people to have the peace and brighter future that we've been working on since this administration took office."
Tehran has denied any responsibility for the attack, which Washington and Riyadh claimed was conducted using drones and missiles launched from the direction of the Persian Gulf in the north. Amid the growing regional unrest of the past few months, the U.S. has formed the International Maritime Security Construct, a naval coalition that so far includes Australia, Bahrain, Saudi Arabia, the United Arab Emirates and the U.K.
Iran has condemned U.S. attempts to expand foreign military presence in the Persian Gulf, however, and Rouhani has announced his own initiative, called the "Coalition for HOPE," or the Hormuz Peace Endeavor. The Iranian leader has invited countries dependent on the critical Strait of Hormuz to work together to ensure "non-aggression" and "non-interference of each other's domestic affairs," among other goals, in pursuit of regional peace and security.