North Korea: Trump Promises to 'Replace Horrors of Battle With Blessings of Peace' At Kim Jong Un Summit
President Donald Trump said the U.S. would end its "very provocative" and "tremendously expensive" war games with longtime ally South Korea in a major concession to Kim Jong Un after the two leaders met at an historic summit in Singapore.
Trump said that the U.S. will not reduce its military presence on the peninsula, but that he would like to bring American troops home from South Korea. There has been American military stationed in South Korea since the outbreak of the Korean War in 1950.
He also praised Kim Jong Un as a "very talented" leader of North Korea who "ran it tough" after a historic summit in Singapore between the two men.
"We can replace the horrors of battle with the blessings of peace," Trump said in a press conference, reported the BBC, after he signed an agreement with Kim.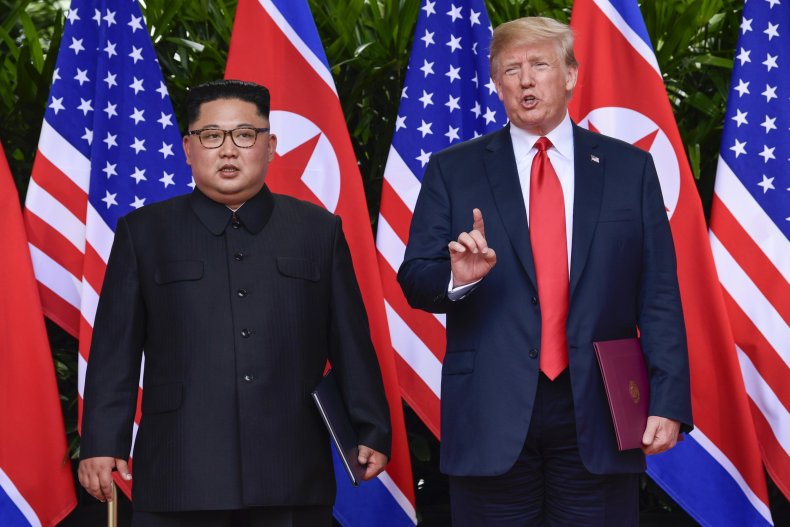 That agreement heralds a new U.S.-North Korea relationship based on "peace and prosperity" and reaffirms Kim's commitment to the eventual denuclearization of the Korean Peninsula.
"There's no limit to what North Korea can achieve when it gives up its nuclear weapons," Trump said. He also said he wanted North Korea to denuclearize as "fast as it can mechanically," while accepting this could be a lengthy process.
The president called his meeting with Kim "honest, direct and productive," and said Pyongyang promised to demolish a "major missile site" though this was agreed after the deal was signed, explaining its absence from the document.
Trump also hit back at critics of the agreement, which analysts called sparse and underwhelming and said it gifted North Korea the legitimacy it craved in exchange for very little. "I gave up nothing," Trump said.
But Trump said he secured the release of hostages, Kim's commitment to denuclearization, and the recovery of the remains of American soldiers who fell in the Korean War during the 1950s.
The president said Kim accepted his offer of a visit to the White House some time in the future when it is "appropriate."
Asked about the prisoners in North Korea's notorious gulags, Trump said: "I think I helped them. At a certain point I believe [Kim] is going to do things about it. I think they are one of the great winners today," CNN reported.
In Pictures: Key Moments in North Korea-U.S. Relations
These are the four key points from the document signed by Kim and Trump:
1. The United States and the DPRK [Democratic People's Republic of Korea] commit to establish new US-DPRK relations in accordance with the desire of the peoples of the two countries for peace and prosperity.
2. The United States and the DPRK will join their efforts to build a lasting and stable peace regime on the Korean Peninsula.
3. Reaffirming the April 27, 2018 Panmunjom Declaration, the DPRK commits to work towards the complete denuclearisation of the Korean peninsula.
4. The United States and the DPRK commit to recovering POW/MIA remains including the immediate repatriation of those already identified.
"Having akcnowledged that the U.S.-DPRK summit—the first in history—was an epochal event of great significance in overcoming decades of tensions and hostilities between the two countries and for the opening up of a new future, President Trump and Chairman Kim Jong Un commit to implement the stipulations in this joint statement fully and expeditiously," the deal says, adding that there will be subsequent high-level negotiations.
There is already much debate about who is the biggest winner out of the meeting.
Some credit Trump's tough line on North Korea, amounting to nuclear brinkmanship, for bringing Kim to the negotiating table and potentially solving the problem of a nuclear-armed Pyongyang. It was Trump's unique and maverick approach to the North Korean problem, they argue, that yielded results nobody anticipated.
But others say this is a clear victory for North Korea, which was in reality rewarded for its nuclear weapons program with the Trump meeting, elevating the regime to the top tables of diplomacy despite its behavior—including grotesque human rights abuses—sending a troubling message to other rogue states and groups.
The summit is a "huge win for Kim-Jong Un… the optics literally couldn't have been better if he had tried to stage it himself," Jenny Town, Korea analyst and editor at 38North, told the BBC. "The fact is this is Kim Jong Un—six months ago he was one of the world's most hated leaders, and now he's a political rockstar."
Other analysts and academics are underwhelmed by the agreement because of its lack of detail and specifics.
"Wow. If this is it... this is depressing," tweeted Robert E. Kelly, Professor of Political Science at Pusan National University in South Korea. "This is even thinner than most skeptics anticipated. I figured Trump [would] at least get some missiles or a site closure or something concrete...This looks pretty generic."
He added: "God, this is just depressing. All that hype for this? All that drama and the Nobel talk? Come, art of the deal. This is it? This is, well, pathetic given that the US president was personally involved."
Viping Narang, associate professor of political science at MIT and an expert on nuclear proliferation, said North Korea has committed to denuclearization for 25 years, citing the 1993 deal with the U.S. "Everyone walks away happy—Kim having met POTUS as an equal—having committed to nothing. Can. Kicked. Down. The. Road," Narang tweeted.
This article was updated to include more of President Trump's comments.